Tokyo is filled with museums, alternative art galleries and exhibitions. But that doesn't mean you need to pay to see some of the best art in the city – heck, to see these pieces, you don't even have to go indoors. Here's our list of some of the best outdoor art around town.
Maman (pictured above)
One of the city's most iconic outdoor artworks, Louise Bourgeois' 'Maman' ('Mum' in French) at Roppongi Hills greets visitors to the Mori Art Museum and the Tokyo International Film Festival (held in October) – though 'greets' might be the wrong word for the imposing metal spider, over nine metres tall. Created as a tribute to Bourgeois' mother (both weavers, you see), 'Maman' comes complete with a sac of marble eggs attached to the body. She has siblings too, which you can find spidering around at the National Gallery of Canada, the Guggenheim in Spain, London's Tate Modern and the Leeum, Samsung Museum of Art in Seoul.

Closest station: Roppongi Station, Roppongi Hills exit
Works by Taro Okamoto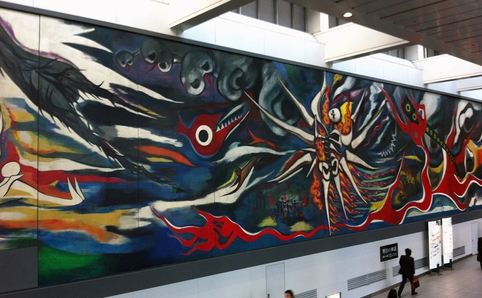 'The Myth of Tomorrow'
One of Japan's most noted avant-garde artists, Taro Okamoto is perhaps best known for the 'Tower of the Sun' sculpture he contributed to Osaka during its famous 1970 Expo, but there are examples of his work scattered throughout Tokyo too. 'Tree of Children' (1985), a series of happy faces extending from tree branches, can be found, appropriately enough, in front of the National Children's Castle in Aoyama (which unfortunately closed in early 2015).
Then there's the 'Young Clock Tower' (1966), created four years before the Osaka Expo, which stands in Sukiyabashi Park in Ginza. Try to check it out in the evening, when its tendrils light up.
And perhaps the most impressive work on the list is 'Myth of Tomorrow'(1969), a colossal depiction of an atomic bomb blast. Originally created in Mexico and long assumed to be lost, the 30m by 5.5m painting was found abandoned in a building materials yard in 2003 by Okamoto's wife. Painstakingly restored over a period of three years, it can now be seen inside Shibuya Mark City at Shibuya Station.

Closest stations: 'Tree of Children', Omotesando, exit B2; 'Young Clock Tower', Ginza, exit C2; 'Myth of Tomorrow', Shibuya, on the concourse leading to the Keio Inokashira line

Godzilla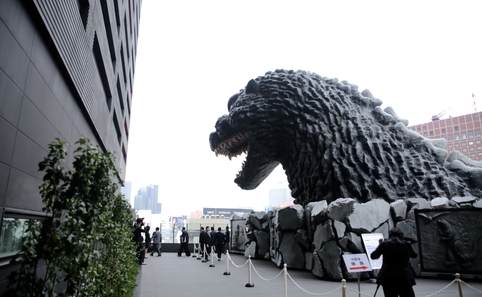 Photo: Toho Co. Ltd
Those less fussed about fine art and more in the mood for tracking down the king of monsters should first make their way to Hibiya Chanter Square, where a 1.2m-tall Godzilla has been protecting the area since 1994, the Big G's 40th anniversary.
Next, head to Kabukicho, where a significantly taller Godzilla (or his head, anyway) towers over the new Toho Cinemas movie complex, which opened in April this year. The adjacent hotel features a special Godzilla room, where a monstrous hand hovers over the bed. Sweet dreams.
Finally, truly hardcore fans should make the pilgrimage to Toho Studios in Setagaya, which boasts a two-metre-tall bronze statue and an 11-metre mural of Godzilla. As a bonus, there's another mural depicting the main characters from 'Seven Samurai'. www.tohostudio.jp/en
Closest stations: Chanter Square, Hibiya, exit A5; Toho Cinemas, Shinjuku, east exit; Toho Studios, Seijogakuen-mae, south exit
Geidai Taito Sumida Sightseeing Art Project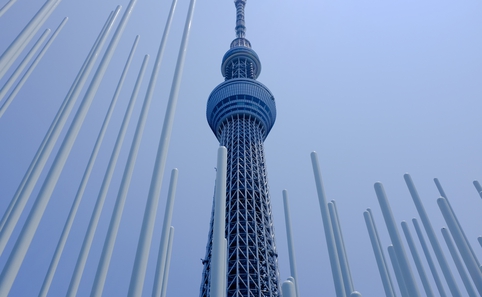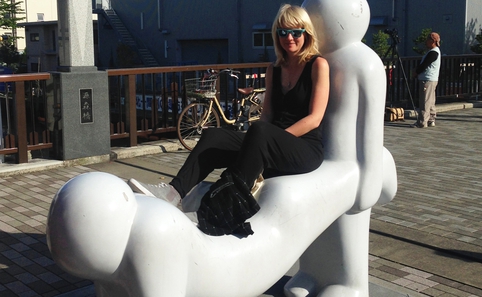 'Sasaeru'. Photo: Mnandi Ridley
Created by students and professors at Tokyo University of the Arts, the Geidai Taito Sumida Sightseeing Art Project (or GTS for short) is a series of art pieces that run along the riverside walk between the capital's oldest temple, Senso-ji, and its newest megatower, Tokyo Skytree.
Our favourite pieces include 'Sora-chan', a giant beckoning cat, 'Oboroke', a series of 161 rods jutting into the air that look almost like a frozen water fountain, and 'Ha Ha Ha', an abstract piece perhaps named in anticipation of any poor Time Out writer who might attempt to describe it. We also have to give special mention to 'Sasaeru' – it means 'supporting each other', but when you look at the picture you'll understand why several crude nicknames have cropped up.
A walk between the pieces featured in the GTS brings you into contact not only with 12 works of contemporary outdoor art, but also one of Tokyo's most impressive engineering feats, and its most historic neighbourhood. Win-win- win-win. gts-sap.jp

Closest stations: Tokyo Skytree, Asakusa
Three more crazy clocks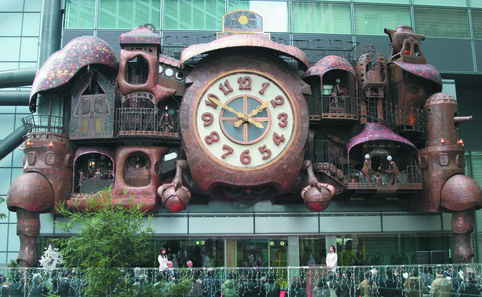 'Really LARGE Clock'. Photo: courtesy of Studio Ghibli
Taro Okamoto's 'Young Clock Tower' didn't satisfy your craving for large outdoor timepieces? We hear you. One additional chronometer you might hunt down is the 'Countdown 21st Century Monument' in Akasaka. Designed by Austrian artist Friedensreich Hundertwasser, the clock, as the name implies, was created to count down to the new millennium. Nowadays it just tells the time, but still retains that classic Hundertwasser funkiness. Look for it behind the shops on Akasaka-dori, just next to the TBS building.
If Rube Goldberg machines are more your thing, check out the 'Magic Clock' in Aoyama, designed by kinetic artist George Rhoads. Less a traditional clock and more a series of moving gears, chains and tubes, it's a delight to watch when it's in operation – though the schedule unfortunately appears to be pretty random.
Lastly, and perhaps our favourite, is a clock designed by none other than Hayao Miyazaki, the co-founder of Studio Ghibli and director of films like 'Castle in the Sky' and 'Spirited Away'. Reportedly the largest mechanical clock in the world (the official name is 'Really LARGE Clock'), the titanic timepiece sits outside the NTV headquarters in Shiodome. When the time strikes – just before the hours of 12pm, 3pm, 6pm and 8pm on weekdays, plus an additional 10am slot on weekends – there are 32 separate mechanical motions involved.

Closest stations: 'Countdown 21st Century Monument', Akasaka, exit 3B; 'Magic Clock', Aoyama Itchome, exit 5 or Nogizaka, exit 1; 'Ni-Tele Really LARGE Clock', Shiodome or Shinbashi
This article appears in the summer 2015 issue of Time Out Tokyo magazine