Tokyo loves a good subculture, pouring passion into a hobby so that it becomes a way of life. I often wonder how many buildings I've passed while roaming the streets without realising that inside lay a project or artwork that someone has devoted their life to creating.
It's a shame I'll never get to see it all, but it's also one of Tokyo's main attractions – just knowing that all around us there are passionate people chipping away at their creative dreams. It's no different in the skateboarding community. The scene has spilled over into the art world, giving rise to edgy artists like Haroshi, whose 'pop art' sculptures created from recycled skateboards have attracted worldwide attention and given rise to a burgeoning subculture.
It makes sense that there would be this crossover – after all, both forms of expression require determination and resilience in the face of repeated failure. To gain more insight into the scene, I met up with three skateboarder artists in Tokyo, discovering a corner of the city that's buzzing with inspiration – across a multitude of mediums. I'd go so far as to say that they're providing a template for how creatives will operate in future.
With internet culture shortening attention spans and giving people easier access to art than ever before, artists will likely begin working across more and more mediums. Some might see this as a negative, because we stand to lose auteurs, but the passion I registered in these guys – for both skateboarding and their art – is full of lustre, which can only be a positive thing.
Toshikazu Nozaka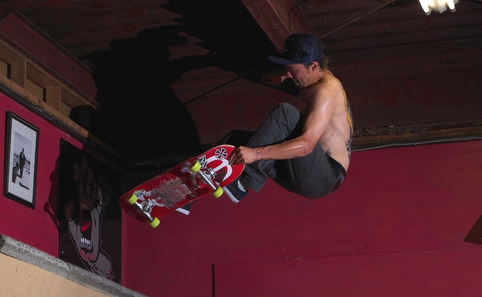 Multi-talented artist Toshikazu Nozaka is what I'd like to call a 'skating Renaissance man'. He's transformed himself from teen pro skater (in the '90s) to artist who balances his passion for skateboarding with running his brand Asian Wave Skates, tattoo studio Asian Wave Tattoo, and pursuing other creative endeavours including sculpture, painting and deck design.
Since 2003, he has had solo shows and taken part in group exhibitions annually, and on a commercial level he has contributed works to Red Bull and Asahi beer. I meet with him at his tattoo studio in Musashi-Sakai, in a room covered with his artwork. 'Skateboarding is not my work – it's my life. If you are a professional skateboarder, there is too much stress,' he tells me. 'I've managed to find a good balance now.'
Nozaka has been skateboarding for over 20 years and continues to enjoy skating, especially in Hasunuma skatepark in Chiba. After winning a series of amateur contests, he became pro by the age of 18 – 'although only Japanese pro,' he says modestly. A lot has changed about the scene in Tokyo since then, but Nozaka believes now is the best time to be a skateboarder in Japan. 'Right now in Tokyo there are many highly skilled skateboarders – they're world class, it's amazing. There are also lots of skaters involved in art or setting up clothing companies and concrete parks. The scene has changed and grown up a lot.'
Why does he think the worlds of art and skateboarding collide? 'Skateboarders also have to be creative people – to find the gaps and spaces for skating,' he says. His art style is influenced by traditional Japanese painters such as Hokusai, Kuniyoshi, Kyosai and Yoshitoshi. 'I like to use a traditional style and add about 20 per cent of my own individual style.'
toshikazu-nozaka.com
Kami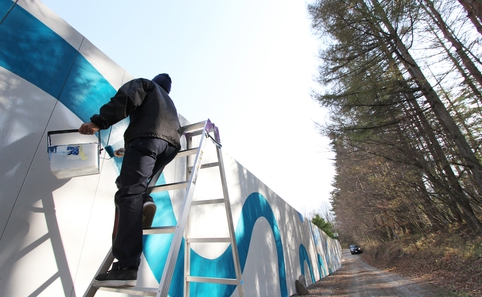 I meet up with mural artist Kami at a leather shop in Nakameguro. The owner of the shop is an old friend of his and Kami's paintings decorate the walls. The black swirling lines daubed on the shop's walls are his, too. 'I want my art to fit within the surroundings of daily life,' he tells me when I ask about his style. Kami began skateboarding in his hometown of Kyoto over 20 years ago. He moved to Tokyo in 1996, and now counts Shibuya's Miyashita Park as being one of his favourite skate spots. After taking inspiration from skateboard graphics, he began painting walls and creating his own paintings.
He creates graphics for decks and uses his patterns on a range of products available on his website. Kami also paints in collaboration with his wife, 'Sasu', under the name Hitotzuki, meaning 'sun and moon' – an expression of their union both as artists and partners. Their mural work was featured in an exhibition at Nakamura Keith Haring Collection in Yamanashi in September 2014.
Naturally, his artwork is strongly tied to skateboarding: 'When I skate, I skate both in curves and straight lines, so I try to do the same thing when I paint. For me, skating is about expressing strong, positive feelings and that's what I want to do with my painting, too. The physical experience of skating is important, but through painting I experience the same positive mentality in a different way. I also want people to experience something positive when they walk past my paintings on the street.'
He takes me for a walk to see one of his murals in nearby Yutenji, which he completed in April 2013. It was cherry blossom season at the time, and blooming petal-like images are a focal point of the mural, their pink colour contrasting vibrantly with hues of light and dark blue. As an artist, Kami has a desire to merge with natural everyday life: 'My art comes from my surroundings, such as sudden changes of scenery, or crossroads of people,' he says. The mural stretches across a wall that sits just in front of a house. 'Were there any problems getting permission for this?' I ask him. 'Well, they said no at first, but we tried again,' he says with a laugh.
www.hitotzuki.com, instagram.com/kami_htzk
Daisuke Tanaka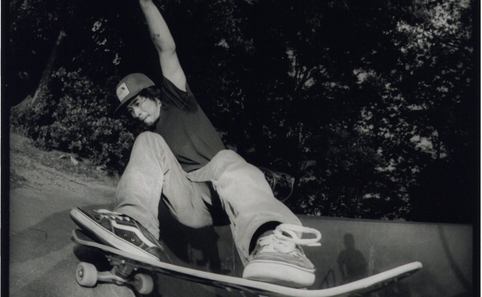 Photo by Yuri Shibuya
Daikon, as he is known to his friends, was born and still lives in Ebisu. The area has changed a lot in the past 20 years, he tells me. Here members a childhood where it was more like the countryside – far removed from the fashionable urban sprawl of today. He started skateboarding by chance. When he was young he used to roam around shops and streets, venturing at random into unlocked houses. One of these youthful excursions saw him opening a door and finding a skateboard, and thus the passion was born, taking him all the way to pro status.
'After I found that skateboard, I was also largely influenced by my senpai (mentor). He was so fashionable – he had good sense of style and he could paint anywhere and skate really well. He taught me all about skateboarding culture and art.' Daikon cites Dogtown style (made famous in the acclaimed 2001 documentary Dogtown and Z-Boys) as inspiration for his transition skate style.
After his skater days ended back in 2000, Daikon got involved in painting and street photography. His painting style focuses on a black and white palette, something he claims began due to lack of skill but then turned into a stylistic choice. He uses similarly stark colours in his street photography, which I notice seems to hold a sense of sadness. When I mention this to him he laughs and says, 'My friends say the same thing.' He's also influenced by punk and music culture and occasionally uses this as inspiration for his photography.
Although he lives in Tokyo, he prefers to skate outside in areas such as Ibaraki and Nagano, which he says helps steer his artwork. 'I like taking trips outside of the city to absorb energy, then I come back and use that energy when I paint.'
www.diskah.com
This article originally appeared in issue 5 of Time Out Tokyo magazine.