The party season is finally upon us, so it's time to get out the dancing shoes. Living up to its reputation as 'the town that never sleeps,' Tokyo is host to all kinds of parties and all-night events all year round, but with New Year there are even more places to enjoy a night out. With amazing guest performers and special projects on offer, any venue or line-up is jam-packed this season. So we'd like to introduce the top New Year Countdowns and New Year's parties. Music genre, location, size of the event… there are many factors when deciding which party you should go to and if you can't decide, why not party-hop? After all New Year only happens once, so it's the best time to get some serious partying done.

New Year Countdowns, December 31st
ageHa COUNTDOWN 2010
AgeHa's New Year's Eve countdown party is overwhelmingly popular, with its comprehensive line-up of dance music, with house, techno and hip hop. On this year's Arena main stage DJs Ken Ishii, DJ Emma and Dexpistols will be joined by live act Boom Boom Satellites. Their explosive fusion of electronic music and rock is an incredible physical experience not to be missed. On the night, the four stages in the Arena, Island Bar, Tent and popular Water Bar/Pool area will be in full operation. Join the crowds and bring in the New Year with a bang. Dance until the early morning and, if the weather is good, at the end of the night you might be able to see the first sunrise of the year.

Genre: house, techno
Performers: live act Boom Boom Satellites, DJs Ken Ishii, DJ Emma and Dexpistols, VJ flapper3, and others

When: December 31, from 9pm
Where: ageHa
Phone: (03)5534 2525
Prices: 6000 yen pre-purchased, 7000 yen on the day
(no entry for those under 20, photo ID required)
Website: www.ageha.com/

ELECTRONIC TRIBE YEBISU NEW YEAR'S PARTY 2010
We highly recommend Electronic Tribe for those looking to spend an entire night with purely electronic music. As you can expect from its name 'electronic tribe,' this event has an amazing line-up packed with artists at the forefront of the genre, such as Laurent Garnier, who is considered one of the top three DJs in the world, and ambient DJ and chillout king Mixmaster Morris. It will be interesting to see how the artists convert The Garden Hall in Ebisu— often used for concerts and live performances —into a rave party. Expectations about what kind of grooves will be created on the night are limitless.

Genre: house, techno
Performers: DJs Laurent Garnier, Mixmaster Morris a.k.a. The Irresistible Force, DJ Krush, 80Kidz, DJ Baku and others; VJs So in the House, Sakota Haruka and 100LDK

When: Dec 31, from 8:30pm
Where: Ebisu The Garden Hall/Room
Phone: (03)5424 0647
Price: 6800 yen pre-purchased, 8000 yen on the day
(no entry for those under 20, photo ID required)
Website: www.electronic-tribe.com/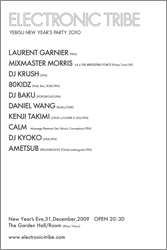 MILD SEVEN presents 'Blue Windy Night' 2009-2010 COUNT DOWN SPECIAL
If the location of an event is as important to you as the music, we'd really recommend 'Blue Windy Night,' which is going to drop on the 52nd floor of Roppongi Hills. Taking the stylish and well known Mado Lounge as its start off point, this event will spread across the entire Tokyo City View observation deck floor and feature sets from leading Japanese DJs such as DJ Nori, Toshio Matsuura, and Shuya Okino. Get dressed up and enjoy an evening of elegant luxury and excellent beats.
Genre: house, techno, jazz
Performers: DJ Nori, Toshio Matsuura, Shuya Okino, Yama a.k.a. Sahib (JazzBrothers Production), Eiji Takehana (JazzBrothers Production) and others.

When: Dec 31, 9pm–5am
Where: Mado Lounge and Tokyo City View, Mori Tower 52nd floor, Roppongi Hills
Phone: (03)3470 0052
Price: 4000 yen pre-purchased, 5000 yen on the day
(no entry for those under 20, photo ID required)
Website: ma-do.jp/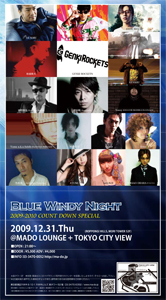 LIQUIDROOM presents '2010 LIQUID'
'2010 LIQUID' and 'House of Liquid GODFATHER x Mixrooffice - 20HOURS' as a 22 hour long countdown and count up event, which will take place at the 1st floor LIQUIDROOM and 2nd floor LIQUIDLOFT. Over 20 artists will vie for attention, including the techno sounds of Takkyu Ishino and Fumiya Tanaka, as well as stimulating imagery from 'Mixrooffice VIDEO syndicate,' lead by Naohiro Ukawa. LIQUIDROOM's New Year celebrations promise to be not just long, but pretty hot.

When: Dec 31, from 8pm (Loft 2nd floor from 10pm)
Where: LIQUIDROOM & LIQUIDLOFT
Phone: (03)5464 0800
Price: 5000 yen (no entry for those under 20, photo ID required)
Website: www.liquidroom.net/pickup/1091231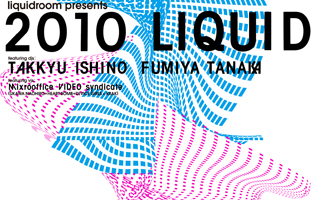 New Year 2010
702NEW YEAR'S SESSION
DAY1 MASANORI MORITA×HIROSHI NAKAMURA
DAY2 KEN ISHII×SUGIURUMN

The increasingly popular Warehouse702 is staging an impressive two night party, starting on New Year's Day. The first day will set Masanori Morita against Hiroshi Nakamura, key figures in the house scene and resident DJs at Warehouse702 since 2009. Day two will present a special session from Ken Ishii and Sugiurumn. The competing performances of these master DJs— who have made not only party people in Japan, but also all over the world, dance —is not to be missed. With its capacity of 1000, as well as it's unique projects and sophisticated atmosphere, this remarkable venue is the perfect place to hit the dance floor. After hatsumode (the year's first visit to a temple or shrine), why not turn up for even more partying?

Genre: Day 1 – House, Day 2 – techno, house
Performers: Day 1 – DJs Masanori Morita (Studio Apartment / Season), Hiroshi Nakamura (i-dep), Daijiro (Liszt), Ayumi (Liszt) and others. Day 2 – DJs Ken Ishii, Sugiurumn, Hatori (Butterfly Effect), Yona, Iori and others.

When: January 1 and January 2, from 10pm
Where: Warehouse702
Phone: (03)6230 0343
Price: 2500 yen, 2000 yen with flyer
Website: www.warehouse702.com/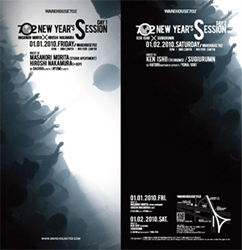 LIQUIDROOM & root and branch PRESENTS MORITZ VON OSWALD TRIO - Vertical Ascent Japan Tour 2010
Moritz von Oswald, who has had a career spanning over 20 years in the German techno scene, released his solo album 'Vertical Ascent' this summer under the Moritz von Oswald Trio name. This trio is coming to the LIQUIDROOM as the New Year begins. Moritz has helped establish many of the techno art forms like hard-minimal, minimal techno, minimal dub and deep house. Pitched against him in the trio are friends Max Loderbauer on analogue synths and Vladislav Delay on drums and percussion. This band, which could be said to represent a moment in electronic music history, is definitely worth checking out with your own eyes.

Genre: techno
Performers: Live act Moritz von Oswald Trio featuring Vladislav Delay aka Luomo and Max Loderbauer (Sun Electric, NSI), DJs DJ Nobu (Future Terror, The Game), DJ Tasaka, DJ Wada (Co-fusion)

When: January 8, opening and start times on enquiry
Where: LIQUIDROOM
Phone: (03)6230 0343
Price: 4000 yen
Website: www.liquidroom.net/pickup/1100108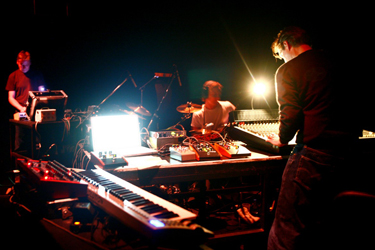 Translated by Virginia Okno