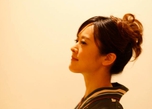 Nine years ago, Japanese artist Sakae (left) was not an artist. Back then she was a dietician with no creative background to speak of, yet a simple observation on an ordinary day sparked an idea that would see her changing her career and creating an original line of exquisitely handcrafted kanzashi (hair ornaments traditionally worn with kimonos). 'I saw a girl wearing a kimono and I just thought to myself, "That outfit would look so much better if she was wearing a blue butterfly hairpin",' recalls Sakae over a cup of coffee at Nakano's Good Morning Café, which is just near her home-come-studio.
As she delicately unwraps the package in front of her to show me one of her flower kanzashi, she tells me that she didn't expect to end up making the accessories herself. 'I searched everywhere for one, but I couldn't find any, let alone one with a blue butterfly. So I decided I would try to make one from scratch.' The hairpin she gently lifts from the box on the table is a flourish of transparent, white and pink petals, which are made from liquid synthetic resin and are fragile enough that she asks me not to touch them. Held up against her black hair, the flower is possibly even prettier than the real thing.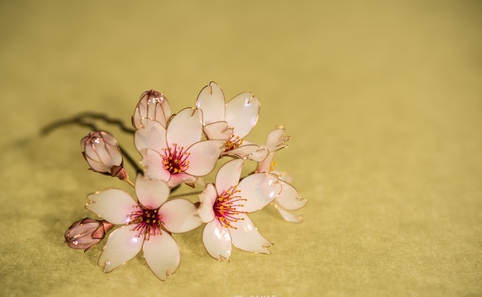 Sakae began researching the American Dip Flower technique and bought a book to help her learn the skill. She fashions the incredibly realistic petals out of the liquid resin, shaping them one by one and drying them using a hairdryer. She then colours them with her own secret technique and adds a thin brass wire to outline and hold everything together. It takes between three and 30 days to make one item, with the sakura (cherry blossom) hairpiece – which is her favourite to make – taking 100 hours. As a result, she is only able to complete two pieces per month.
'I received encouragement and advice from friends who work as designers and photographers, as well as from a former teacher who is a curator for a store that deals in Japanese products. As a result, I was very lucky to be able to create a professional product,' she says modestly when I ask what gave her the confidence to pursue the art. Not believing she was skilled enough to sell in stores, Sakae decided to try and sell her first piece on Yahoo Auction. 'I thought perhaps there would be someone out there who liked the blue butterfly hairpin as much as me, and I thought that it would be good to see how many people bid on the piece – if many people bid, that would mean that others felt the same way as me about the hairpin.' The response, she says, was quite overwhelming, with her early pieces fetching around ¥14,000. These days, her hairpins sell for between ¥100,000 and ¥500,000, with one of the most popular pieces being the purple peony.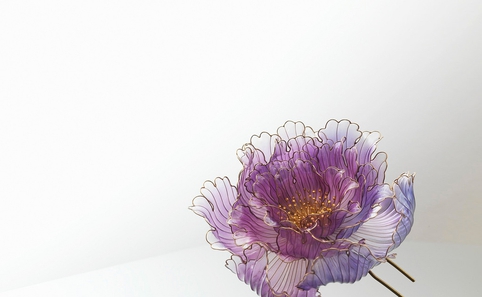 Kanzashi soared in popularity in Japan during the Edo period, but since then the tradition has slowly faded as kimonos went from everyday-wear to occasion-wear. I ask Sakae if she thinks her hairpins will help to revive the tradition. 'I would be very happy if they do!' she says. 'In fact, I've noticed it is slowly becoming popular again since the release of a video game and anime series that features characters dressed in traditional clothing, with some wearing kanzashi. Recently, a store that specialises in hairpins did a collaboration with the creators of this series.'
Does she think those who buy her hairpins only wear them when they don their kimonos, such as on January's Coming of Age day? 'I think they wear them for all kinds of special occasions, including weddings. But even if they're not wearing them, I think they sometimes just like to look at the flowers, to lift the spirit.'
As we wrap up our interview, Sakae demonstrates how to wear the kanzashi. She sweeps her mid-length black hair into a pony, twists it upwards, folds it in half and then pushes the delicate hairpin through the centre. It reminds me of how my friends and I used to knot our hair using pencils at junior school. Except, of course, a pink and white cherry blossom is infinitely prettier than an HB #2.
For more information, visit Sakae's blog at sakaefly.exblog.jp. To purchase one of Sakae's kanzashi, watch her Facebook and Twitter pages for updates on upcoming sales on Yahoo Auction. Unfortunately they are only available in Japan at the moment as Sakae is still considering how to best package the hairpins for overseas posting.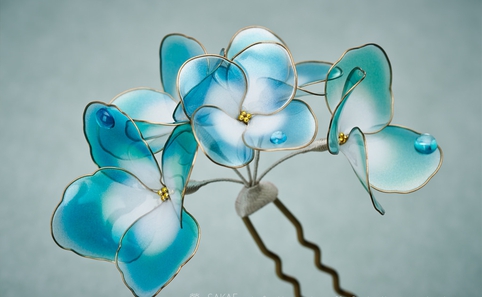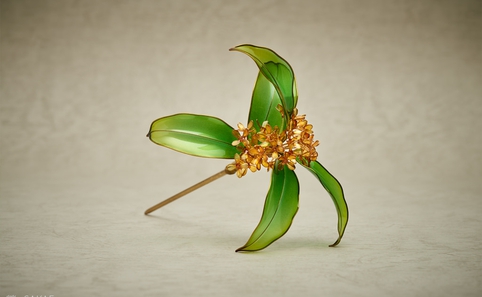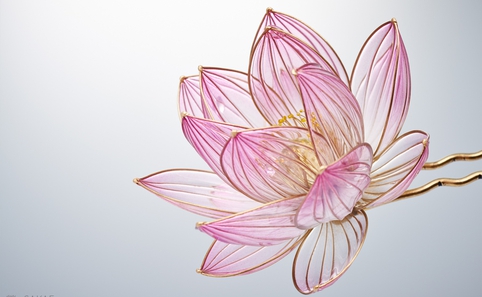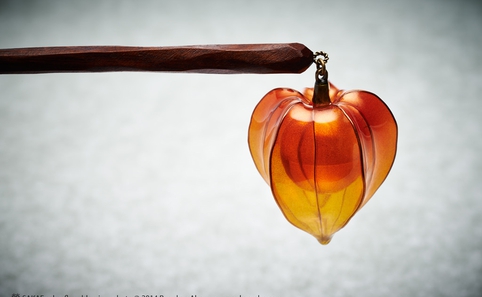 Kanzashi photos (except the peony) by Ryoukan Abe (www.ryoukan-abe.com)