If you've watched any variety show on Japanese TV lately, you'll have noticed there's usually at least one male entertainer dressed up as a woman. The trend has become so popular that it's even spawned its own genre: onee talent. The slang term onee refers to 'girly men', who are thought of as feminine either because of their appearance or behaviour, regardless of whether they're in full drag or not. It's an odd cultural development when you consider that prejudice against sexual minorities remains strong in Japan, with very few public personalities being openly gay. How, then, have these cross-dressers come to be so warmly welcomed on TV?
Introducing Bourbonne and Esmeralda, pioneers of the drag show scene in Shinjuku's Ni-chome – Tokyo's premier gay neighbourhood – and, consequently, of 'josou' (the Japanese word for anyone dressed as a woman). Bourbonne, who also works as a freelance writer, has gone from events organiser, to editor of a gay magazine, to host at a mixed bar with rotating drag performers. Esmeralda is a TV screenwriter by day and a 'horror drag' performer by night, showing off gory moves to welcoming audiences.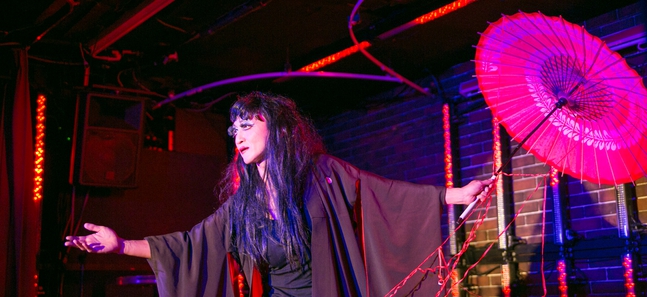 The duo's drag careers first took off in 1994, at an anniversary party for UC-Galop, an online bulletin board set up by Bourbonne for the LGBT crowd.' It was a gay party, so dressing up like women seemed like an obvious choice,' says Bourbonne. At the time, drag shows were rare in Tokyo, with performers as few as suitable venues. However, as the forward march of Japanese club culture in the late '80s and early '90s led to an increase in gay-friendly parties, a need for performers arose and homegrown cross-dressers proved popular.
According to Esmeralda, the infant scene lacked reference points: 'Nobody here even knew the word "drag queen" back then. It wasn't until '94, when "The Adventures of Priscilla, Queen of the Desert" came out and RuPaul got his big break [that the idea of drag queens found traction].' Along with fellow UC-Galop member Saseko, Bourbonne and Esmeralda founded Uppercamp, a drag performance group with comedic elements – their show often included parodies of Japanese actresses and pop 'idols'.
Deliberately setting themselves apart from other drag queens, they say they prefer to be called josou. 'We don't call ourselves drag queens. There are a lot of conditions associated with that term, while josou simply refers to our appearance. I guess it's a bit of a cop out,' says Esmeralda. Still, this doesn't mean they don't encourage all kinds of cross-dressing styles, including those that go against the usually extravagant yet formalist world of orthodox drag. After all, both Esmeralda's horror-heavy show and Bourbonne's cosplay- incorporating comedy draw on a more liberal approach to dressing as a woman. Upper camp's success saw the group's style earn acceptance, with that style eventually forming a basis for the scene in Tokyo. While refined drag obviously remains a tradition-rich, central part of gay society, the diversity of performers and styles is one of the most attractive facets of Tokyo's josou culture. Which is how it's come to spill over into the social mainstream.
The impact of josou celebrities, along with the saturation of the cosplay trend, has led to a notable increase in cross-dressers. Many have begun wearing women's clothing and make-up purely as a hobby, as opposed to being an expression of gender identity or sexual preference. It's not uncommon for straight men to work at josou bars or dress up as female anime characters or cute pop idols. There's even niche heterosexual porn in which the male performer is referred to as an 'actress'. But those who are dressing up as women for fun are bound to be ignorant of or indifferent to the origins of drag and the social pressures faced by sexual minorities. How, then, do Bourbonne and Esmeralda, who have battled against discrimination for decades, view this developing trend?
Bourbonne points out that even such casual forms of expression can help make minorities more acceptable in the public eye: 'A person's gender and sexuality aren't things that can be clearly demarcated – they're matters of degree. Showing the public that these [homosexual or otherwise] desires exist and are shared by a significant amount of people just might be meaningful in itself.'

This opinion emphasises the idea that cross-dressing involves far more than just drag queen shows: it challenges the belief that gay men are the only true representatives of josou. Even more than its status as a way of overcoming social prejudice, the most potent driving force behind josou culture may be its tolerance of all forms of human desire. Going beyond the entertaining flamboyance of drag queens and the message of social justice, the scene is popular because it is so liberal, promoting a healthy level of irresponsibility. In short, the message of josou can be summed up like this: accept the diversity found in people, but don't forget to have a good time while you're at it.
This article originally appeared in issue 5 of Time Out Tokyo magazine.