To say Josh Klinghoffer is a busy man is a bit of an understatement. Since 2009 he's been juggling roles as guitarist for the Red Hot Chili Peppers and frontman for Dot Hacker, the band he formed in 2008 along with Clint Walsh, Jonathan Hischke and Eric Gardner. They're all pretty busy, in fact. Altogether, Dot Hacker's members can reel off an impressive array of side gigs with bands like Gnarls Barkley, The Shins, Tom Morello, Beck and Broken Bells, to name a few. Yet they've still managed to release two albums: their 2012 debut, 'Inhibition', and last year's 'How's Your Process', which was split into two parts, 'How's Your Process? (Work)' and 'How's Your Process? (Play)'. They've also found time to go on tour, and later this month they touch down in Tokyo for two shows. We asked Josh about balancing commitments, songs and one very bejewelled snail on a nipple for their latest album cover.

Moving from guitarist to frontman, did you feel like you were stepping out of your comfort zone?
I'm not sure I've known of or had a comfort zone since I was a small child. I feel like ever since I started playing guitar, I've been playing catch up.
Do you think the change has impacted your role as guitarist in Red Hot Chili Peppers?
I like having the responsibilities that come with being a singer and lyricist. I think it allows me to (hopefully) understand Anthony's process more than I could if I didn't have similar situations to compare it to. Similar responsibilities. The more experience you have working and creating with all manner of different people, the better you can understand and relate to the people around you. I'm lucky to have these two very different bands to draw experience from.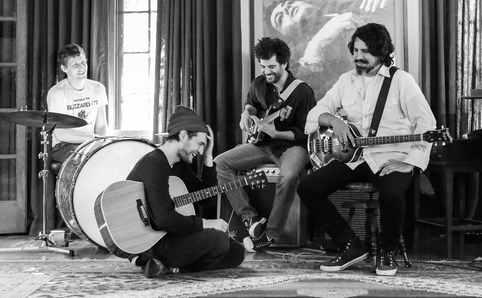 You and your band members have plenty of other commitments. What happens if something's gotta give?
Nothings's gonna have to give. I don't see anyone down the road producing a weapon and forcing a choice to be made between the two bands.
Dot Hacker has been called an experimental rock band, but you've also described some of your songs as pop and there are a number of other musical influences on your albums. For the genre obsessives out there, how would you sum up the sound?
What is a 'genre obsessive'? That sounds like the kind of person I'd argue with until the sun came up. If our music doesn't have an impact on a person, that means they probably don't need to listen to it again. I happen to be a 'genre repulsive'; they sicken me.

What is it about the bejewelled snail on a nipple that made you choose this image over every other image out there?
Are you asking what our process was in choosing such an image for the cover(s)? How our process was? How was our process? Precisely.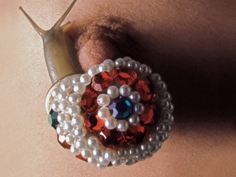 For (Work) and (Play), you guys wrote all the songs first, and only then divided them up into two albums. But you still managed to arrange them so that each album has a different feel. How did you go about this?
All the songs were recorded and completely finished before the decision was made to release them as two albums. Originally we were planning on picking about 45 minutes worth of music. It became too difficult for us all to agree on which to leave off. Jonathan suggested the two album idea in the eleventh hour. I can't say I recall there being too much of a discussion on which songs were gonna go on which. I guess (Play), is that the first one? I don't even know. The first one is sort of the ones that were generally considered by everyone the core of the record. The well-rounded, example of a child. The second one was sort of the weird little savant kid who says things that no-one understands but resonates with you and makes sense later. Does that make sense? Who knows?
This is your first time playing in Tokyo as Dot Hacker but you've played here before with RHCP. How do you like it?
I love it. I absolutely love it. I have been several times and had a number of incredible experiences in Japan. I'm very happy it's not July and I look forward to seeing as many lovely people as I can.
Interview by Annemarie Luck