When Yoko Ono's Plastic Ono Band played at Glastonbury in July, her performance (read: trademark primal screaming) was ridiculed across the internet as the 'worst live performance ever'. One particularly cruel netizen said her performance of 'Don't Worry, Kyoko' was 'worse than Rebecca Black's song "Friday"'. A few weeks later she and her band would travel to her home country to headline the Red Marquee Stage at Fuji Rock Festival. Would she still be smarting, I wondered? Of course not, I reminded myself: this was the same person who had brushed off a lifetime of snide criticism, not least for being 'that woman who broke up the Beatles'.
I shot off an email to her manager hoping to score an interview, already fantasising about what I would pick her brain on. My interview was granted, and as I suspected, the 81-year-old Tokyo-born artist – who has been an activist for everything from peace to feminism to anti-fracking – clearly couldn't care less if Glastonbury-goers, or anyone else for that matter, doesn't get what she is about. Ono was also interviewed on InterFM DJ Peter Barakan's morning radio show while in Japan. She explained that her screeching is in fact an unveiled challenge to men's expectations of demure femininity among women, and attributed her ability to withstand years of media and public criticism to her own 'samurai spirit'.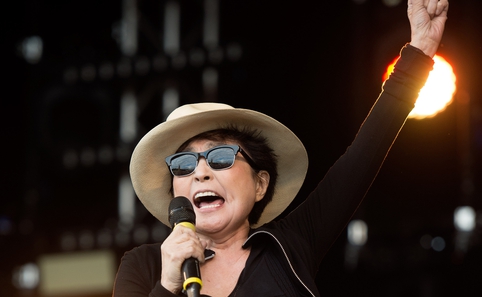 During my own interview, when I asked her thoughts on the recent hawkish moves by the Japanese government, she responded, 'Japan cannot suddenly militarise itself by changing its Constitution. That is a big move, which threatens some countries and will be welcomed by some. It's all part of the world game.'
Quintessential Ono.
When I asked her what it is that allows her to keep alive the hope that despite continuing global wars and injustices, we will eventually achieve a world of peace, love and freedom – as she continues to insist upon on her website – she replied, 'First of all, you should know that the skirmishes created in small countries do benefit the big countries. Check the weapons where they are made.' Erm, okay then. Although I get her point – she's encouraging us to connect the dots that the power establishment prefers us not to – I'm not entirely sure how this reply engenders hope. But that is the cryptic beauty of Yoko Ono, isn't it?
In a final attempt to unravel her inner workings, I followed her to Fuji, hoping to eke out more insights via her performance. On home ground, the reception to her show was in stark contrast to that of the Glastonbury crowd. Both the audience and her backing band – all clad in trademark Lennon-Ono 'War is Over' T-shirts – were clearly drinking in the presence of a legend. At one point, Ono said she 'felt a breeze despite the heat'. Perhaps she was referring to John Lennon's spirit, to which she is known to make vague allusions. Or, maybe she just felt a breeze. She also said, 'Sometimes you think you've failed at something, and it might not be until much later that you find out you've actually succeeded.'
Was this comment about her reunion with her daughter Kyoko, from whom she was estranged for 20 years? Or was it a small injection of hope into the world's elusive search for peace, or maybe something else altogether? With Ono, one just never knows.
Catch up with Yoko Ono's latest news or ask her a question via Twitter or Facebook at imaginepeace.com.
THE MAKING OF YOKO ONO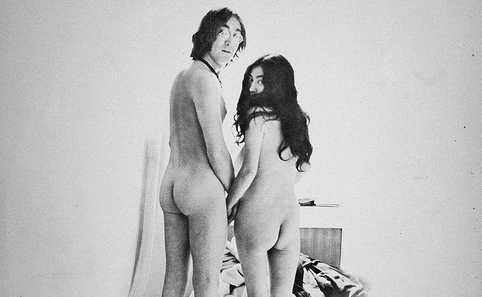 1960s
A pioneer of 'destruction art', she sets fire to a painting during a performance. Meets John Lennon and they record 'Two Virgins' together, appearing naked on the album cover.

1970s
Releases her first solo album, 'Yoko Ono/Plastic Ono Band', and three more albums. Completes her 16th experimental film. Loses custody of her daughter Kyoko to ex-husband Anthony Cox after being declared an unfit mother due to drug use. Cox 'kidnaps' Kyoko. Sean Lennon is born.
1980s
Goes into seclusion after witnessing Lennon's murder. Releases five albums, including a concept album 'Starpeace', intended as a reaction against Ronald Reagan's 'Star Wars' Missile Defence System. Wins a Grammy Award for Album of the Year ('Double Fantasy').
1990s
Releases six-disc box set 'Onobox'. Produces off-Broadway musical 'New York Rock', featuring renditions of her songs. Collaborates with her son Sean and his then-band Ima on the album 'Rising', which spawns a world tour. Is reunited with Kyoko, who had grown up in a cult with her father.
2000s
Her songs get remixed as dance tracks and consistently hit no. 1 on the US dance charts. Releases four albums (up to 2013). Award-winning 40-year retrospective of her art, 'Yes Yoko Ono', is held.

This article appears in the autumn 2014 issue of Time Out Tokyo magazine. Get your copy here