Mathew Jonson has always been on the pulse of the international techno scene. His constant, cutting-edge output throughout the past ten years has established himself as one of the most innovative electronic music artists – even now, halfway into 2010, he's already achieved a lot. Jonson released a sophomore album as highly acclaimed jazz-influenced project Cobblestone Jazz, and another full album, 'Agents of Time', under his own name. Surprisingly, 'Agents' is his first s-olo album ever. Considering the fact that he has been supplying numerous hit singles to the dance floor for so long, it seems rather odd; however, the outcome is worth the wait. 'Agents of Time' offers a listen into his deeper and atmospheric side. Time Out Tokyo caught up with the Canadian producer, who is getting ready to make it come alive in Tokyo on July 10.

Where are you now, and what are you doing?
MJ: I'm sitting on the beach with The Mole drinking Campari Orange. I'm going to go for a swim after I finish this interview up.

You're coming back to Tokyo again very soon. Excited? You've been here many times before. Tell us your favourite spots and favourite ways to spend your time in the city.
MJ: I love Japan so much I think it's my favourite place to play for sure! I love the food and the people and the technology and the culture etc, etc; it's such an amazing place I hope one day I get to live there for a few years! My favourite place in Tokyo is Five G [a synthesizer shop, www.fiveg.net]. I also like going and watching the mixed martial arts, and spending time in the art galleries.

Have you ever made any of your music in Tokyo or has the city inspired to make any of it?
MJ: It was the main inspiration for a lot of my music recently. The album itself is highly influenced by Tokyo. Especially the 'Agents of Time' track. I love the balance between technology and nature in Japan – it's a very special place.

Many people say that Tokyo is like 'Blade Runner' in real life and a perfect backdrop to electronic music. Do you feel the same?
MJ: Funny, because Vangelis is one of my favourite producers and musicians when it comes to electronic music. That movie has been a big inspiration to me since the time it was made. It's one of my favourite films of all time. Tokyo is a really great place to pull inspiration from.

I personally think electronic music sounds better and more fitting in an urban environment. Do you agree?
MJ: My favourite place to listen to electronic music is actually in the forest! There is nothing like hearing a big Funktion One system set up when you are surrounded by trees. The Labyrinth Festival is a good example of this. I'm coming back in September for the 10 year anniversary, and for me that's the biggest highlight of my summer.

You've already released two albums this year. One is 'The Modern Deep Left Quartet' as Cobblestone Jazz, and the other is 'Agents of Time' as Mathew Jonson. Can you tell us how they're musically different?
MJ: The music I make on my own is very personal. It's a very deep exploration of myself. With the band it's something that's really about having fun in the studio. It's more of a party when we write, whereas with myself it's more of a meditation.

What kind of situation is each album suitable or recommended for?
MJ: The Cobblestone Jazz album is made for the clubs. My album has a bit of everything. A lot was written for the movie soundtrack for 'Faust' so it's quite different than my dance singles. Some is just nice music to listen to at home.

You'll be performing in the band as well as playing a DJ set at your coming Tokyo gig at Club Eleven. What can we expect in each performance?
MJ: Actually I'm playing live solo and also live with the band. I'm really happy that the club has opened back up again it's really my favourite place to play in Tokyo. I'll be performing a lot of new material from the album and lots of unreleased stuff – as always writing new drums and bass lines on the fly. With the Modern Deep Left Quartet it's always 100% improvised. As there are four of us in the band it leaves a lot of room to experiment.

The summer party season has started. I assume you will be very busy for the next few months. What other events or festivals are you especially looking forward to?
MJ: Monegros festival in Spain is coming up. It's a really crazy place. Twenty-four hours with 40,000 people there. Labyrinth, as I mentioned before, is outside of Tokyo. I've just been to Sonar in Barcelona and then Ibiza for Space. It's the busiest I have ever been. Sometimes I think I must have been crazy to put out two albums at the same time, but it seemed like if I didn't do it then my solo album would never have come out.

Do you ever get a vacation? If yes, what would you like to do?
MJ: I have a house in Goa that I spend my downtime in. I love it there. It's such a nice balance from my life on the road and in Berlin. My days there usually consist of waking up doing yoga then riding my motorbike to the sea and spending the day swimming and reading books. I also really like to snowboard in the winter.

Mathew Jonson will play at Eleven on Sat July 10 (http://go-to-eleven.com/schedule/detail/80/2010/7) and at The Labyrinth 2010 (www.mindgames.jp/).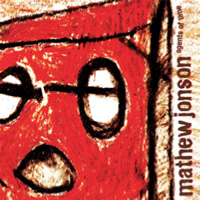 'Agents of Time'
Released: June 2010, Wagon Repair Ltd, UK