When it comes to hobbies, scuba diving is often up there with vintage motorcycle collecting in terms of expense – especially if you choose to go further afield on your hunt for the perfect dive site. So the combination of affordable flights from Tokyo to Manila and the wonderful array of dive sites across the islands that comprise the country makes the Philippines an attractive proposition.
One place in particular has recently seen a rapid swelling in the amount of dive centres. Puerto Galera-Manila is a town on the north side of Mindoro Island, 130km south of the capital and usually accessed via car then boat (see travel details, below). It's not hard to see why – on arrival from the ferry boat the postcard-worthy image of the beachfront where the Club Mabuhay La Laguna dive resort (which is in the process of changing its name to Aura) lies, is inspirational. We're not the only visitors – friendly South Korean owner Jay Park explains that turtles recently chose the beach to lay a batch of eggs on. However, we are here for the diving rather than the beach, and for this Park takes guests out to coral-covered sites around the coast. There are zebra lionfish, eels, sea snakes, cardinal fish, thorny seahorses and turtles to spot, and the water feels bath-warm.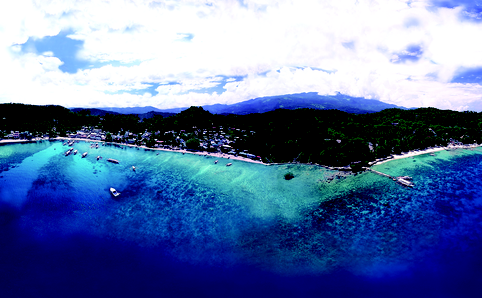 As evenings draw in, the tranquility of the day in the Sabang area next to the resort fades as quickly as the light. With most bars populated by go-go dancers and the kind of people they attract, it's hard to escape the seediness. Also, the country's retirement-friendly financial plans make it an attractive spot for older European men to relocate to and the kind of relationship dynamic this results in. The locals seem accepting of this modern tradition, though. 'For many of these men, their cleaner here goes on to become his wife!' our guide happily explains.
Still, by sticking to the resort bars in and next to Club Mabuhay, this doesn't cast too much of a shadow, and visitors here will be coming for the underwater rather than night-bound thrills. Those who get bored of life under the waves do have a few further options. There's a rickety go kart track a short drive away, while a trip to use the nine-hole Penderosa golf club (around 300PHP/person depending on time and equipment required) is a must even if you hate golf. The views over the island from the relaxing club bar are spectacular, and offer a fresh perspective to those from the beach. There's a zip wire too – speak to the resort staff for the latest opening times and prices.
You can get around via the wonderfully garish Jeepneys: military vehicles converted into makeshift buses that criss-cross the island. Motorbike hire starts at 15USD for four hours, while hiring an MPV for half a day costs 80USD – speak to resort staff to book. The hotel is well-run and relaxing. Many of the villa-style bedrooms come connected to separate lounges with TVs and there are two swimming pools in the courtyards. One is abandoned to the frogs, but the other can be enjoyed when divers aren't busy earning badges in it. The beach front bar, meanwhile, is a great spot to unwind away from the aforementioned seedy elements day or night, with fantastic South Korean-style barbecue meals served (20USD a head – they accept PHP equivalent) along with mango shakes: a specialty of the region.
Overall, Club Mabuhay La Laguna is a great spot to submerge into a couple of days of diving, when all you really care about is spending as much time underwater as the nitrogen levels in your blood will allow.

Essential info
The four-hour flight from Tokyo (Haneda) to Manila in summer costs from around ¥60,000 return on Philippine Airlines. From Manila you'll need to charter a car to Batangas Pier – the journey takes around two hours, contact the resort to help book and for prices based on how big a vehicle you need. The hourly ferry from Batangas Pier to Sebang, where Club Mabuhay La Laguna is, costs 320PHP/person (with the last departing at 4pm) but you can charter a private boat – again speak to the resort about options based on party numbers. Call them on +63 43 287 3098 or visit their website at www.auradiveresort.com.
Rooms at Club Mabuhay La Laguna cost 85USD/night for a standard and 95USD for a superior. They are spacious and comfy although the hot water can be hit and miss at certain times of the day. A set menu meal (often Korean barbecue) costs 20USD/person. Diving costs 30USD per fun dive, with a PADI Open Water course costing 495USD and the Advanced Open Water course priced at 420USD.
Three more great Philippines diving areas to consider
Apo Island, Dauin
A regular fixture in run-downs of the best dive spots in the world, the island is home to one of the best-run marine sanctuaries globally, boasting great views of hundreds of species of fish and other underwater life. The island is tiny, with electricity for only three hours a day, but it's worth the lack of comparative luxury.

Monad Shoal, Malapascua
The awe-inspiring thresher sharks that call this place home are the main draw of Monad Shoal. Manta rays, devil and eagle rays are also often spotted as well as hammerhead sharks on a seasonal basis. Because of the site depth this is a place only suitable for advanced divers.

Coron Bay, Palawan
A fleet of World War II Japanese supply ships was sunk in 1944, with the remains providing the main attraction here. The visibility is great, with ample snorkelling opportunities as well as those for diving. See www.coronwrecks.com for details of the vessels including sketches.