In this article
• Ha Long Bay
• Angkor Wat
• The Mouth of Hell
• Desert forts of Rajasthan
• Luang Prabang
• The Himalayas
• The Kingdom of Bhutan

1. Ha Long Bay area, Vietnam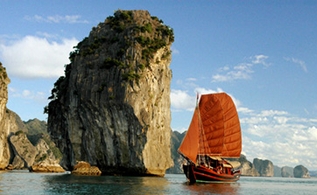 With its lengthy coastline, Vietnam has long been vulnerable to attack by sea. Knowing this, an emperor long ago sent a dragon to spit thousands of pearls into the sea as the enemy ships approached, which turned into a myriad of jade islands to block the would-be invaders. That, at least, is the legend. The real origin of Ha Long Bay's countless karst islets – the result of weathering under Vietnam's humid climate – is more prosaic, but that hasn't limited their appeal.
Ha Long Bay is the centre of a larger zone that also includes Bai Tu Long Bay to the northeast and Cat Ba Island to the southwest. Most visitors see Ha Long Bay from one of the boats that bring thousands of tourists to this breathtaking site each year. 'Local' stops include caves and floating villages filled with other tourists and pearl and postcard sellers. Exploring the Bai Tu Long area is highly recommended for those in search of a more authentic experience.
In contrast to Ha Long's density of boats and photo-snappers, Bai Tu Long will charm you with its wild beauty: its caves, long sandy beaches, corals, forests and fishing villages. Choose from private one-cabin to small group 'junks' (traditional sailing vessels) which offer one-to-four-day excursions. To the south, Cat Ba – the largest island in Ha Long Bay – is a good base for exploring the beaches and caves of Lan Ha Bay. Travellers here are often invited to drink tea or rice wine with locals living in floating houses.
A novel way to see the dramatic landscape is to view it from above. Asia Outdoors has gained a name on Cat Ba Island for operating safe and sustainable rock climbing (¥4,200 for a half-day climb). The company also partners with Vietnamese tour operator Buffalo Tours to offer unique adventure itineraries including kayaking, climbing and trekking throughout Cat Ba Island (three-day, two-night cruising and rock climbing adventure from around ¥23,000).
Return flights from Narita to Hanoi start from ¥25,600 with No.1 Travel.
Kathy Dragon is an adventure and sustainable travel consultant. She runs traveldragon.com, a searchable database with thousands of travel experiences offered by small tour providers worldwide.

2. Angkor Wat, Cambodia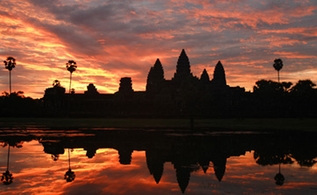 Angkor is the world's largest religious monument and the centrepiece of the Khmer Empire, which ruled from the ninth to the 15th century. This wonder, located near the modern-day Cambodian town of Siem Reap, consists of hundreds of temples scattered over more than 200sqkm. The sheer scale of these buildings and the magnificent intricacy of their Hindu-Buddhist decoration is impressive enough. The fact they were reclaimed from the jungle after being abandoned for hundreds of years adds to their romance.
Not surprisingly, on a typical day, the complex receives thousands of tourists. But, if you know when to visit which parts, you can still enjoy Angkor's treasures in peace. One morning, we drag ourselves awake to watch the sun rise over the soaring lotus flower towers of Angkor Wat itself. On another, we hop on bicycles to explore some of the outlying temples and picnic in front of one, Ta Keo, almost alone, with birdsong as our only soundtrack.
Knowing how to avoid the crowds at Angkor's temples turns what could be a bewildering experience into one that's breathtaking, and it is made possible for us by Bunchhay, our expert guide from AboutAsia, a travel company based in Siem Reap. Better still, by using AboutAsia's services, we are giving something back: the company funnels all its profits into the local community, supporting schools, providing textbooks and coordinating volunteers. It can also arrange visits to the schools it is helping – a real insight into a nation that is emerging with renewed confidence after the twin traumas of war and genocide.
A two-day, two-night trip with AboutAsia, including accommodation, entry fees and transport from the airport, but excluding flights, costs from around ¥20,000 per person. See www.aboutasiatravel.com for more information.
Return flights from Tokyo to Siem Reap start from ¥34,000, booked via No.1 Travel.
Amanda Woodard is a freelance journalist. Her work has appeared in Vogue, The Guardian and The Sydney Morning Herald. Her travel writing can be found at amandawoodardartpr.com.

3. The Mouth of Hell, Turkmenistan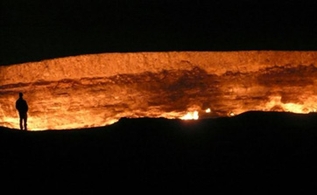 Four decades ago, when resource-rich Turkmenistan still languished under Soviet control, an unspecified 'industrial accident' occurred deep in the Karakum Desert. This left the Darvaza Gas Crater, known affectionately as the 'Mouth of Hell'. The nature and even the exact year of the accident remain mired in classified history, but this phenomenon supposedly exhales enough gas daily to power a small town. Officials lit what became an eternal flame to burn off toxins and avoid asphyxiating the now-relocated neighbouring village; today, it's a tourist destination worthy of any serious traveller's bucket list.
Located four to five hours from Ashgabat, the country's capital, it's best to arrange local guides and 4x4 transport; travel takes you along bad or non-existent roads and over sand dunes, but the view of this chasm of fire is nothing short of spectacular, especially at night. Follow the shimmering air, then brave the wall of heat and take an unforgettable look over the edge. If you can imagine a shallow brook tripping over a rocky stream bed, but instead flowing uphill and made of fire not of water, you'll have some idea of what awaits you at Darvaza. Even jaded travellers go into transports of delight. That the site lacks a guardrail makes for more striking photos, but erosion is a problem made worse by heat drying the earth; keep back at least two metres for safety – and drink responsibly.
Besides a barbeque dinner, your guides can provide a tent and sleeping bag, but it may be worth packing another, along with an air mattress – sure, it's only one night, but temperatures can plummet. A headlamp is also a good investment; the campsite is usually about half a mile from the crater, and firelight only reaches so far. Also, keep your shoes inside the tent, as scorpions seek their own warmth, and beware the falanga spiders, reportedly the size of a man's hand, with a bite that is benign, but still painful. Both are rare, but worth watching out for.
According to the locals, Turkmenistan has more natural gas than Iran, but, until recently, the country's sole pipeline headed through Russia – which also controls the price. The government opened an additional pipeline into China in late June, and has plans for another into Turkey. This development could mean tapping off Darvaza's gas flow and channelling it into a new source of income. Good for Turkmenistan maybe, but tourists will never recover. There's no definite closure date, but it's best to catch the Mouth of Hell now.
For travel information, check out Koryo Tours' October 22-29 tour (approximately ¥130,000, excluding flights) or arrange your own through the Ayan Tourism & Travel Company.
Return flights from Tokyo to Ashgabat start from around ¥250,000 with Turkish Airlines.
Nancy Pellegrini is Time Out Beijing's classical and performance editor, and works as a guide/arts officer for Koryo Tours.

4. Desert forts of Rajasthan, India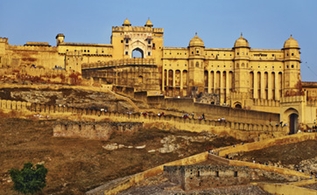 Scattered throughout northwest India are the world's greatest sandcastles: the desert forts of Rajasthan. The Taj Mahal to the east may have a prettier profile, but it's these desert strongholds, with their mesmerising blend of strength and decadence, that best represent India in its pomp.
Built as trading posts and power bases for Rajput princes, today the forts are easily visited on tours heading west from Delhi (17-day tours from ¥185,000, excluding flights, with www.transindus.co.uk). The big three are Meherangarh in the 'blue city' of Jodhpur; Amber just outside pink-hued Jaipur; plus Jaisalmer in the far west.
Fifteenth-century Meherangarh combines the bluff exterior of a Crusader castle with the sensual play of a Moorish palace. Towering over the city's pungent sprawl, its 12m-thick, cannonball-pocked walls scoff at the very idea of capture. A cobbled path zig-zags (to prevent elephant charges) up through massive gates into the inner palaces. Today, a peacock parade of Indian visitors mingles with camera-toting Westerners, but find a quiet corner and the drama of the place is overwhelming.
If you want to be really seduced, though, head for Jaisalmer. Here, the attraction is not so much the centrepiece palace and 99 bastions (impressive as they are) as the daily lives of the walled city's residents. Stroll the backstreets at dusk and you get the full Indian sensory experience: mooching cows and whining rickshaws, the scents of garam masala and over-ripe fruit, the yells of street cricket players – and the whole scene lit up in orange stripes by the setting sun.
Sadly, Jaisalmer now faces perhaps its greatest threat: subsidence caused by water seeping into the fort's foundations. If you do visit, find a hotel outside the fort itself, so you don't add to its water usage, and support other tourism projects in the area (camel trekking, for example) to help the local economy diversify.
While in Rajasthan, seek out some of its smaller forts too – many are now converted into intimate hotels. Chandelao Garh (¥6,000 per night for a double room) is a 300-year-old garrison outside Jodhpur, roamed by peacocks and swathed in bougainvillea. Proceeds from your stay support the local villagers, so you can dine on the battlements, enacting your own Maharajah fantasy, and know you have impeccable eco-tourism credentials too.
Return flights from Tokyo to New Delhi start from ¥64,000 from No.1 Travel.

Dan Linstead is the editor of Wanderlust.

5. Luang Prabang, Laos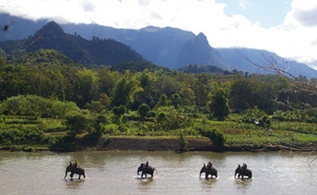 Few places combine architectural and natural beauty like Luang Prabang. Laos's second city lies pincered on a peninsula where the Mekong and Nam Khan rivers meet, and amounts to a sleepy grid of French colonial villas interspersed with gilt-crested Buddhist monasteries.

Unesco World Heritage status, granted in 1995, launched the ancient capital into the world of full-on international travel so that middle-aged tourists, along with scruffy backpackers, can sometimes outnumber locals. Despite this, the city has not lost its charms and there are countless ways to sneak off and sample its wonders accompanied only by the sounds of the throaty chorus of 5am cockerels and the sabadee call (a friendly hello in Lao).
Breathe in the city's history and culture by ambling around one of the monasteries (remember to dress respectfully: no cleavage, bare arms or legs). Early morning and evening is the best time to escape the crowds, listen to the prayers and be free to chat to the novice monks. Wat Xieng Thong, with its raspberry-painted walls and glittering murals, is the most famous of the monasteries, but each has its own magic. For a bird's eye view of the town, climb Phu Si Hill during the day to avoid the hordes that come here for the sunset. Instead, do sunset sipping a chilled beer at one of the dozens of restaurants alongside the Mekong and soak up Laos's beauty.
Outside of the city, you can go for forest treks, village homestays, white-water rafting and elephant rides. Do some research beforehand to make sure your operator is a reputable one in terms of animal welfare. If you hanker after a more unusual pachydermal experience, try Shangri Lao; it offers a trek in the footsteps (elephant steps?) of 19th-century explorer Dr P Neis, who made a 15km meander along the Nam Khan (half-day expeditions from ¥7,000, including lunch).
Return flights from Tokyo to Luang Prabang start from ¥63,000 with No1 Travel.
Dinah Gardner is Time Out's Gay & Lesbian editor and the author of Footprint's Laos Handbook.

6. The Himalayas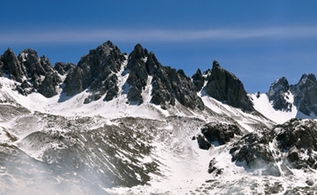 The hands and minds of ambitious men have toiled eternally to ascend into hallucinatory spaces, but they had no part in constructing the Himalayas. Separating the Indian subcontinent from the Tibetan plateau, this 2,400km-long mountain range not only contains 8,848m Mount Everest, but is home to over 100 peaks above 7,000m – no small feat considering that, outside of Asia, not a single mountain exceeds this height.
Beyond the inevitable stats is the sheer physicality of the range. There is a rare silence, with only the wind to accompany the vistas. Here, the moods of the weather and Mother Nature rule, and reward and risk are offered up in equal measure. A trip to the Himalayas is not to be embarked upon lightly. World-class alpine climbers endorse Ibex Expeditions, which has a long history of trips setting off from the Indian states of Ladakh, Zanskar, Himachal, Sikkim and Garwhal, with an emphasis on adventure and exploration (five-day treks start from ¥60,000, excluding flights). Elsewhere, One World offers access to Everest's base camp via routes in Nepal, Tibet, India and Bhutan (20-day Kangshung Face of Mount Everest Trek, ¥350,000, excluding flights).
In stark contrast to the snowy spires are the temperate valleys at the base of the Himalayas, where fertile fields remind travellers that the softest of touches can be found in the most daunting terrain. As well as taking you climbing above 7,000m, PureQuest has Himalayan expeditions for all budgets, including birding tours, two-wheel adventures and mounted safaris (six-day trips from ¥37,000).

Jeff Fuchs is editor-at-large of Outpost. His work can be found at www.jefffuchs.com and www.tea-and-mountain-journals.com.

7. The Kingdom of Bhutan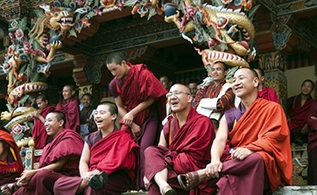 Nestled deep in the heart of the eastern Himalayas, the Kingdom of Bhutan is set like a jewel between India and China. Bhutan is about the same size as the Netherlands but has a population of only 750,000. The dramatic peak of Mount Everest in nearby Nepal is visible from hiking routes in and around Thimphu, the capital city.
But while her giant Asian neighbours race towards the future, a visit to Bhutan feels more like stepping back in time. Under the monarchy's policy of controlled modernisation, it was not until 1999 that TVs were allowed into the country. Today, men and women continue to wear their national dress as a way of life (not to make a quick buck off tourists), there is no rumble of traffic, and front doors are left open during the day, allowing the warm smell of tea and steaming momo dumplings to drift into the street.
Outside the towns, large, fortress-like monasteries perch on sheer cliffs and mountaintops, with brightly coloured prayer flags fluttering against the clear sky while young monks play on the steps in their deep red robes. The mountainsides are a rugged, rocky grey and the valleys are lush green, full of flowers and icy blue streams. So it comes as no surprise that hiking and enjoying the great outdoors is how most travellers choose to experience this untouched country and its breathtaking scenery.
Bhutan works hard to preserve its traditions and natural beauty. The king famously values the kingdom's Gross National Happiness over its Gross Domestic Product, and – to develop the economy in an environmentally responsible way – the entry of foreigners is strictly limited. There's a minimum spend per night of ¥16,000, which sounds steep, but includes food, accommodation, transport and a guide. Travellers must be accompanied by a guide at all times, but you don't have to travel in a group and can arrange your own itinerary (bear in mind the ¥3,100-per-night surcharge for solo travellers and ¥2,300-per-night surcharge for couples). You'll have to book through a registered travel operator. Ibex Expeditions can provide further information.
Flying directly to Paro (Bhutan) from Tokyo is not possible. We recommend heading for Bangkok and then booking flights from there. Drukair flies regularly between the cities for around ¥40,000.

Pia Gadkari is a Reuters correspondent for Asia. Follow her travels at blogs.reuters.com.