While scuba diving is a much-loved pastime in Japan, the world of free diving is not so well explored. The trained free diver doesn't use any air tanks, relying on little but an outsized fin to reach ear-popping depths of many tens of metres. It's a formidable feat of endurance, and the great news is that anyone can get involved. Time Out Tokyo met up with Japan's female free diving champion, Misuzu Hirai ('Mimi' to her fans), to find out just what it takes to plumb such depths, and just what it feels like to be trapped 52m underwater with only a lungful of air...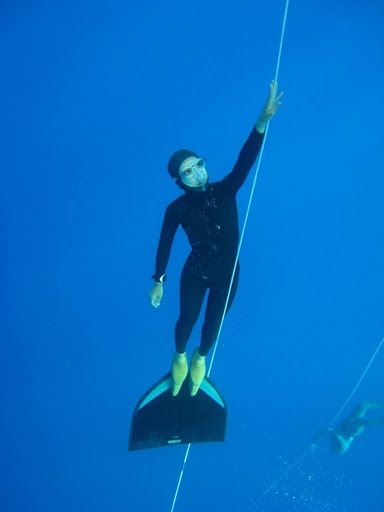 How did you encounter free-diving to begin with?
In 1999, I went on a trip to the Ogasawara Islands, though at the time I couldn't swim. So, when we went off on a tour to see dolphins in the wild, I had to wear a life jacket. I remember looking at the other girls swimming freely, and I really wanted to be a part of that. On the plane home, quite by accident, I found myself sitting next to a guy from the Free Diving Association in Japan. Normally I wouldn't chat with the person next to me on the plane, but the plane was delayed by an hour or so, so we ended up chatting. I thought it was fate. As soon as we touched down safely in Tokyo, he called the Free Diving Circle and asked them to get in touch. They did. It was perfect timing.

So, anyone can get involved? It certainly sounds like it...
You have to have the basic equipment – a wetsuit and a fin – but there isn't an age limit, so basically it's a sport in which anyone can get involved. We have free diving meets in pools, so even little kids can do it.

What's the deepest you've been as a free diver, either in an official meet or otherwise?
My personal best is 80m.
How long would you have to hold your breath to reach that kind of depth?
The roundtrip is 160m, of course, so that means holding your breath for about three minutes.
I'm surprised 160m can be swum so quickly...
Yes. But if you're moving around so much under water, three minutes can seem like a long time!

Don't you get nervous?
If I think about the dive calmy, I'm not afraid. But before a competition it can get pretty tense, and occasionally a bit nerve-wracking. You have to control it, and it's possible to do that if you focus on the dive, keep calm, try and reduce your heart rate and oxygen consumption...
Once you're down there, how do you know when to turn and come back to the surface?
At a competition, you have to state your intended depth before you dive. Then they lower a kind of frisbee on the end of a rope to that depth, and that becomes your goal. You probably wouldn't dive any deeper than that point. Of course, if you feel during the dive that something isn't right, you can return at any time of your own accord.

Have you ever found yourself in a dangerous position during a free dive?
I once had trouble with the equipment. I escaped safely, but I was submerged and got stuck. It was about 52m down. You have to dive with a safety cable, but the cable got caught on my wrist.
Cripes! Didn't it put you off diving?
No. I was OK. I figured the longer I put off diving after that, the scarier it'd become... so I just went down again and again to kind of counteract the feeling of terror.
What kind of training do you have to do for free diving competitions?
There are two types of competition – pool events and ocean events. You can train for both static apnea (holding your breath motionless) and dynamic apnea (holding your breath and moving with fins and equipment) in the pool. You practice swimming with fins, getting your movement smooth – 'fin work' is an important part of practice. If you can work well with the fin, you can swim without much resistance, which is important for conserving oxygen. Practicing this in the sea is also important.
How do you teach someone to do all this? Where do you begin?
A lot of beginners get nervous about holding their breath in the water, so it's important to start by relaxing and then building up your strength. They should have the experience of floating in the water, and seeing how good it feels. After that they can start diving and descending in the ocean. It depends on the person, really. Some finish by saying they can't wait for their next lesson, and others say, 'Well, OK, maybe another time...' Of course, a fun and interesting dive will change their image of what free diving can be.
Where do you most enjoy free diving around Tokyo and the Kanto region?
For sports practice, I dive in Manazuru, Kanagawa Prefecture. For skin diving or snorkeling, I like Tateyama in Chiba Prefecture.
When is your next tournament and how can Time Out Tokyo readers support you? Free diving isn't exactly a TV sport...
It's at the Deep Water Cup 2011, and it's in Okinawa, July 16-17. No, it's not a TV sport, but I have an official website. Please take a look!

Click to go to the Misuzu Hirai official website. Mimi offers three-hour free diving lessons for beginners for ¥15,000. Appointments can be made via her website

Return to the water sports in Tokyo article