Whether you are a long-time fan of professional wrestling or just like the idea of seeing some big men grappling in spandex, the Japanese wrestling scene offers an unforgettable experience. While American pro wrestling tends to be more concerned with cartoonish physique and dubious acting skills, the opposite is true in the East where the art of wrestling is still very much alive.
Rather than concentrating on sensational soap opera-esque 'storylines' and well-marketed packages, puroresu (the Japanese pronunciation of pro wrestling) maintains the atmosphere of a more authentic fight. The distinction between the good guys and the bad guys is not so clear-cut; it's more about respect, fighting spirit and a strong bond between the fans and the wrestlers. That's not to say they disappoint in entertainment – puroresu has colourful characters, incredible manoeuvres and a very creative approach to the sport.
'Strong style' vs the death match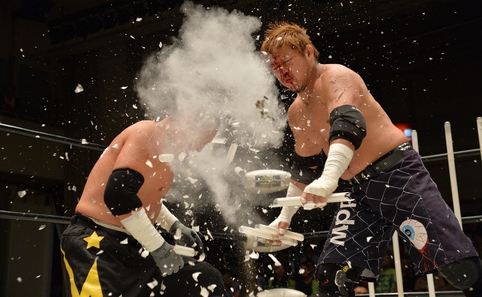 NJPW (New Japan Pro-Wrestling), founded by Antonio Inoki in 1972, is one of the biggest wrestling promotions in the world. While they maintain a Japanese approach, their association with overseas companies and the large number of foreign wrestlers on their registery make them accessible to fans across the globe. Two of their Japanese wrestlers, 'High Flying Star' Hiroshi Tanahashi and 'The Rainmaker' Kazuchika Okada, are household-name wrestlers of the moment. NJPW is also home to the flamboyant 'King of Strong Style' Shinsuke Nakamura – 'strong style' is a type of puroresu that incorporates full-force strikes and submission holds, usually employed by wrestlers coming from a martial arts background.
BJW (Big Japan Wrestling) is a well-respected independent promotion which distinguished itself from competition in the late '90s by specialising in extreme hardcore 'death matches'. As well as tables, ladders and steel chairs, a death match can include more unusual weapons such as lightbulb tubes, panes of glass, barbed-wire ropes, fire, explosions and, notoriously, once even a tank full of piranhas. Death match fighter Jaki 'Black Angel' Numazawa's face paint makes him surprisingly popular with children, and fan favourite Ryuji Ito recently celebrated his 15th year in the business with a match against 144kg Abdullah Kobayashi. BJW is also known for its classic strong-style fighters including Japan's 'Muscle Monster' Daisuke Sekimoto and recently retired Strong Heavyweight Champion Shinya Ishikawa who favoured an English-inspired 'catch wrestling' technique.
The wrestlers don't just work hard in the ring – after a match, you can get up close and personal with them at the merchandise table, where they'll sign autographs, pose for photos and sell you a T-shirt, even if they're still covered in blood, sweat and broken glass!
What the women are up to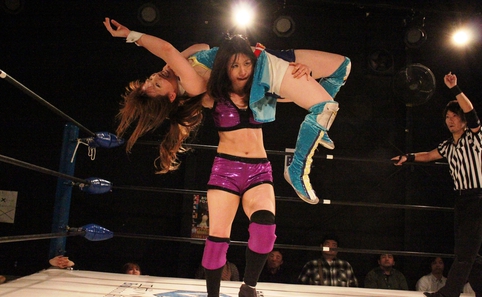 You couldn't be more wrong if you think female wrestlers are just playing at the sport. There is strict training and dedication involved, which has led to Japan producing some the best female wrestlers in the world. Popular joshi puro (women's wrestling) company Ice Ribbon holds regular intimate events at its training dojo (training place) in Saitama. Ice Ribbon is known for recruiting and nurturing original talent, introducing aspiring actresses and models to life in the ring as well as notably debuting very young girls – for example, current favourite Kurumi, now 14, debuted at just nine years old. Thanks to the company's more feminine image and their recent collaboration with pop idol group hy4_4yh, they have a dedicated otaku (geek)-type fanbase.
If you prefer something a little less girly, Mayumi Ozaki is a legend of women's wrestling who worked for several promotions in the '80s and '90s. Ozaki describes herself as 'the bad girl you love to hate' and is one of the few female wrestlers who has competed in hardcore matches. She founded her own company, Oz Academy, in 1998 and, even at 45 years of age, she still wrestles – while apparently also studying towards a qualification as a nursery school assistant. Imagine the playtimes…
A poltergeist wrestler and the champion love doll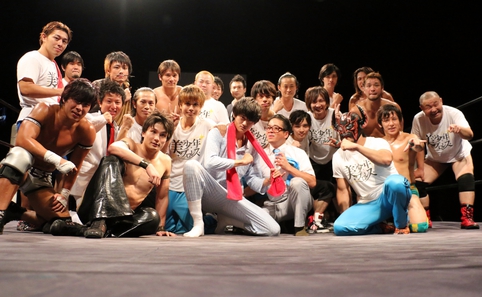 Some of the independent promotions are introducing new innovations (and possibly insanity) to the world of wrestling. 666 (Triple Six) is a company founded by a wrestling poltergeist named Onryo (his billed weight is 0kg) and 'The Crazy SKB', the outrageous frontman of a punk band who also wrestles and is widely known for his love of setting off fireworks during matches. Their gang of oddball talent includes 'bisexual nymphomaniac' Shinobu whose finishing move is called 'Sex Bomber', and real-life delinquent gang leader turned death match fighter Yukoh Miyamoto. The company, which is especially known for holding a spectacular Halloween show each year, also created a spin-off gay wrestling company, Nichome Pro Wrestling.
While puroresu fans are predominantly male, there are specific events aimed at attracting more women to the sport, one of these being a new group called Bishounen Puroresu (the word 'bishounen' roughly translates as 'handsome male youth'). Their concept? Take a dozen good-looking young guys and train them to become wrestlers, while letting fans follow their progress through social networking and videos. Several of the trainers and senior members relocated from Osaka pro wrestling, and with the Kansai region being known for its comedy skills, they are clearly more concerned with laughter than skill. Because all women love to laugh, no?
DDT (Dramatic Dream Team) has carved out a position for itself as a 'variety' wrestling promotion, the emphasis being on entertainment and amusement. They've held hardcore wrestling matches on remote beaches, construction sites, busy shopping streets and inside apartment complexes, and their events tend to parody American wrestling combined with ridiculous match rules and stipulations. Their Ironman Heavymetalweight Championship title, for example, has changed hands more than 1,000 times since its introduction in the year 2000. Previous champions include a ladder, a three-year-old boy, a monkey and one of DDT's most beloved wrestlers Yoshihiko, who happens to be an inflatable love doll. Don't be fooled into thinking it's all fun and games; what they bring in bizarreness they match in phenomenal talent. DDT's 'Golden Star' Kota Ibushi became the first wrestler in Japan to be co-signed on a dual contact to two companies when top dogs at NJPW snapped him up last year.
WHERE TO WATCH PURORESU
Every week there are several live wrestling events happening across Tokyo. Here's where to find them:

Korakuen Hall Building
Considered by fans to be the centre of Japanese pro wrestling, this is where every puroresu promotion aspires to hold at least one event. Since opening in 1962 it has seen decades of historic matches take place, not only in the realm of wrestling but also in boxing and mixed martial arts. For all its reputable grandeur, it's actually located on the 5th floor of a rather modest building at Tokyo Dome City. www.tokyo-dome.co.jp/e/hall.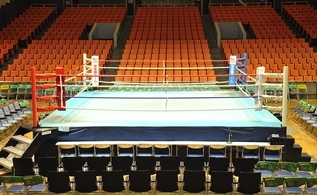 Shinkiba 1st Ring
This intimate training dojo is a staple venue for a lot of the smaller, independent promotions and provides a chance to get really close to the action. You are guaranteed a great view from any seat – just be ready to move out the way if a wrestler comes flying in your direction! tinyurl.com/TOT1st-ring.

Shinjuku Face
Located on the 7th floor above a game centre in Shinjuku's slightly seedy Kabukicho, this versatile venue operates as a cabaret space and live music hall as well as a mini wrestling arena. Drinks are served inside the room and the two built-in bar counters often get used as the perfect launchpad for a moonsault or a flying crossbody. tinyurl.com/TOTface.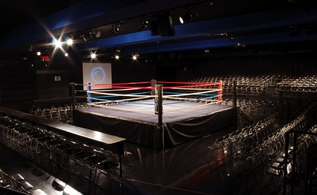 Ryogoku Kokugikan
The prestigious sumo hall in Sumida is steeped in tradition. Outside of sumo season, it hosts many of the bigger wrestling events, allowing you to experience traditional boxed seating, where your seat is a segregated square, or standard seating on the upper balconies of this 10,000-capacity hall. If you're lucky you could spot a couple of local sumo wrestlers in the audience too. tinyurl.com/TOTkokugikan.

This article appears in the autumn 2014 issue of Time Out Tokyo magazine. Get your copy here