Chiba
Sawara
If you only do three things...
The Inoh Tadataka Museum
Japan's mapmaking pioneer acquired a taste for cartography after retiring from the family business in 1794, and created a map of the country's coastline so detailed that it would remain in use for another century. This museum dedicated to Inoh's life and work sits just across the river from his old house. Tue-Sun, 9am-4.30pm; closed Mon (except national holidays). Adults 500 yen, kids 250 yen. 1722-1 Sawarai, Katori, Chiba (0478 54 1118; www.city.katori.lg.jp/museum)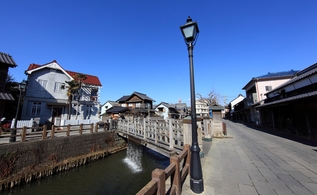 Gutter Bridge by TANAKA Juuyoh, on Flickr Canal trip
Sawara was once a thriving centre of commerce, and its old canal still survives today. Take a boat ride past the traditional buildings of Chiba's 'Little Edo', and under the famed (though not particularly awe-inspiring) twelve bridges of Sawara. Daily, 10am-4.30pm (May-Sep). Adults 1,200 yen, kids 600 yen. Boats depart from outside Inoh Tadataka's Former Residence (0478 55 9380; www.kimera-sawara.co.jp)
Sawara Municipal Aquatic Botanical Gardens
The 100-metre wisteria tunnel is at its peak in late April and early May, but that's just a prelude for the Iris Festival that runs for a month from late May, with 1.5 million flowers in bloom. Daily, 9am-4.30pm. Adults 500 yen, kids 250 yen (during Iris Festival: adults 700 yen, kids 350 yen). Transport: Yodaura line bus from Sawara Station bound for Itako, getting off at Suisei Shokubutsuen-mae.
Where to eat
Koboriya Honten
It's a tourist trap, sure, but it's got pedigree: the original Koboriya opened 220 years ago, and its current home dates back to 1892. The house speciality is kurokiri soba, buckwheat noodles made with added seaweed that turns them squid-ink black (900 yen). 505 Sawarai, Katori, Chiba (0478 52 4128; http://koboriya.jp).
Where to stay
Ichiranso
This homely ryokan compensates in price for what it lacks in elegance: full board costs a not-unreasonable 6,800 yen per person. 3839-1 Sawarai, Katori, Chiba (0478 55 2029; www.ichiransou.com)
How to get there
The trip by JR takes just under two hours from Tokyo Station, changing at Narita Station (1,620 yen).
Minamiboso Area
If you only do three things...
Shell fishing
The tidelands of the Boso Peninsula are prime territory for clamming, and at low tide hordes of parents and kids go ferreting in the mud for shellfish. There are a few spots around Kisarazu, Nakanoshima being the easiest to reach by train. Until Aug 3. Adults 1,400 yen (up to 2kg), kids 700 yen (up to 1kg). Nakanoshima, Kisarazu, Chiba (0438 23 4545; www.jf-kisarazu.jp). Transport: 20 mins walk from Kisarazu Station (JR Uchibo line)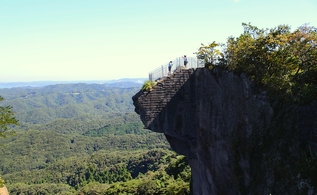 Nokogiri Mountain by simimasa, on Flickr Mount Nokogiri
This dramatic peak's name literally translates as 'Sawteeth Mountain', a reference to the exposed outcrop at its top (the view from which is dubbed 'jigoku nozoki' – peeping into hell). It's also home to a Buddha statue that dwarfs Kamakura's in size, towering to 31 metres. Transport: Nokogiriyama Ropeway from Hamakanaya Station (JR Uchibo line). (Daily, 9am-5pm. Adults (12 and over) 900 yen round-trip, kids 450 yen. 0439 69 2314; www.mt-nokogiri.co.jp)
Mother Farm
A perennial family-pleaser since 1962, Mother Farm sprawls across 250 hectares of rolling countryside. The animal attractions include a sheepdog show, duck dash, and the chance to milk cows, though you can also stroll through fields of flowers – or go bungee jumping, if you're so inclined. Mon-Fri, 9.30am-4.30pm; Sat-Sun and national holidays, 9am-5pm. Adults 1,500 yen, kids 800 yen. 940-3 Tagura, Futtsu, Chiba (0439 37 3211; www.motherfarm.co.jp/en). Transport: Shuttle bus from Kimitsu Station (JR Uchibo line); call 0439 37 3211 to reserve
Where to eat
Sushi no Kaede
You'll have to reserve at least a day in advance if you want to snag one of the six counter seats, but if you're looking for top-notch seafood, it's worth it. Omakase sets start from 5,000 yen. Open by reservation only. 1-19-7 Gion, Kisazaru, Chiba (0438 98 5504; www.geocities.jp/sushi_kaede). Transport: Gion Station (Kururi line)
Where to stay
A popular option with group parties, the no-frills Futtsu Misakiso is housed within a park that stretches across a natural cape extending into Tokyo Bay. Full board starts from 6,900 yen per person. 2342-2 Futtsu, Futtsu, Chiba (0439 87 2611 www.tschiba.com/misaki). Transport: Nitto Bus for Futtsu Koen from Aohori Station (JR Uchibo line)
How to get there
The west coast of the Boso Peninsula is accessible by JR line from Tokyo via Chiba and Soga stations. The Tokyo-Wan Ferry runs once an hour between Kurihama, near Yokosuka (8-17-20 Kurihama, Yokosuka, Kanagawa), and Kanaya (4303 Kanaya, Futtsu, Chiba). Adults 700 yen one-way, kids 350 yen; cars from 2,300 yen one-way