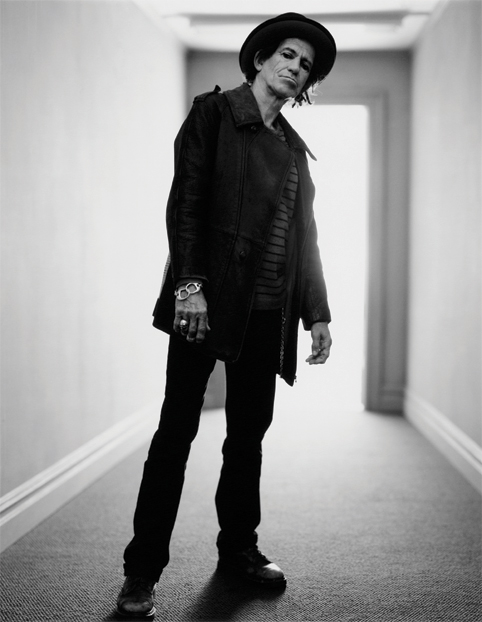 A few minutes before our interview with Keith Richards, the phone rings and a female voice tells us that we can expect his call shortly. When the phone goes again, rather than hearing Richards' distinctive drawl, we pick up to a burst of female laughter. 'Sorry,' the voice eventually recovers. 'I'm being entertained here.' Richards' distinct rasping, Muttley-like chuckle subsequently comes over the line. It's clear that, at the age of 70 and having just become a grandfather for the fifth time, The Rolling Stones guitarist is still as dastardly charming as ever.
A name synonymous with rock star excess, it almost seems like an anomaly – albeit a happy one – that Richards is still with us. Yet here he is, as playful as ever, as he warms up for a mammoth tour that will bring him and fellow septuagenarians Mick Jagger and Charlie Watts, plus the relatively youthful 66-year-old Ronnie Wood, to Tokyo and then Macau in March. After a typically British exchange of pleasantries and discussion about the weather back in the UK ('it's all underwater at the moment!' he chuckles), Richards begins by discussing the band's 14 On Fire preparations in Paris.
Hey Keith, it's a pleasure speaking to you. We're really looking forward to seeing you in Macau.
Oh yeah, that's going to be interesting – we've never been there before.
It's very exciting. So, you're in the midst of rehearsals for your upcoming tour. How are things going?
Oh man, we're really on top form. I mean we're kind of waltzing it. Rehearsing's always great fun because you can 'stop here' and 'check this out' and it's an interesting process. At the moment, everybody's in top form and I'm amazed. I don't know why by now but I'm always amazed at The Stones when I get back to playing with them at how damn good they are. [Laughs]
Is it something you slip back into very quickly?
Yes it is. There's always a point when you arrive at rehearsals on the first day, you're always wondering is it all gonna click together. But the minute you're in the room and Charlie Watts starts to hit the drums, it's like breathing, man, it's so natural. All we do in rehearsals is really try and improve on what we've done before and work out a few possible songs that we can throw in to just change up the set list here and there. Otherwise, it's a doddle. [Laughs]
When you've got a discography that goes back 50 years, where do you start when composing set lists?
Basically what I do is I listen to what Mick [Jagger] has to say, because it's very important that the singer feels confident about what he's going to start with. After that, it's a matter of pacing. Y'know how many fast songs you want, how many slow ones, so it's really a matter of trying to balance a set list so that it works throughout two hours. You have just the right amount of energy and the right amount of melodies and songs and then the final part which is obviously going to be all systems go and both barrels blasting. [Laughs]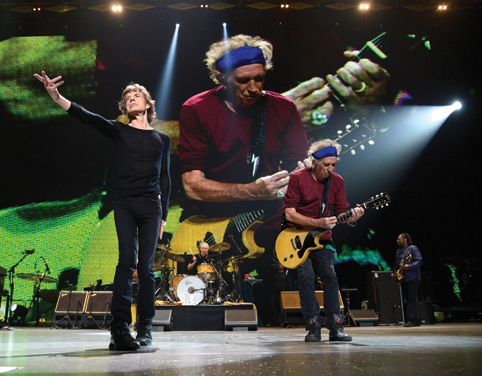 When you're preparing, do you relish going out on the road again?
Yeah man, I love it. I mean, after 50-odd years of it, it's almost like home. Sometimes you feel that you're more at home doing this than you do at home.
Is there ever any reluctance from other band members?
Very little, no. We only do this when there's an obvious desire. Mick'll call me and say 'isn't it about time we did something?' and I'll say 'I've been waiting for this call, how does Charlie feel?', and usually it's almost a group desire to do it. We did have five years off the road in the early part of this century and, for a while, I was wondering if I was going to get the call again. But I actually do wait for Mick Jagger to say 'I feel like rocking', and then it's 'okay mate, I'm right behind ya'.
Do you see a point in the future where you won't get those calls again?
It's always possible I suppose. I mean we are kicking along now. [Laughs] I think we're all pensioners – officially – although I don't feel like it and I don't think anybody else does. I think it's in the blood, y'know – you love your job and there's nothing like really standing in front of a load of people and going 'come on, yeah, yeah, yeah' and them giving you encouragement. I mean it's one of the best jobs in the world man. And I'm pretty well paid too. [Laughs]
On that note, how did it feel playing Glastonbury for the first time last year?
Oh man, that was so cool. Y'know, it was always one of those gigs that we were almost about to do for years and years, and it never happened. But last year finally it did and it was also some of the best weather that Glastonbury ever had. It was brilliant. I mean, we picked the right time. I was blown away by the size of it and I've played a lot of big gigs, but Glastonbury is pretty mind-blowing when you look at all the audience going over the hill and they're still there. It's amazing. It was great fun. I loved it. That and Hyde Park were fantastic.


Yeah, those shows were huge, too.
Yeah, man. And it's your home town too, y'know, so you're playing to your locals. It's a great welcome you get, it's fantastic.
I guess there aren't really many places left for you to play now…
Apart from Macau! And Abu Dhabi – they're both new gigs, but sometimes it's very interesting to go back to places.
When you're on these long tours, does it tend to blur into one a little bit?
Well, no, because every country is different and you do come away with distinct memories of different places, y'know? I can't say that everything isn't a blur. That's probably more my fault. [Laughs] But I'm always incredibly interested in travelling and if you want a job, you can't do better than the Royal Navy – you see the world, mate, and I've certainly seen it a few times. What's interesting is the return to places, seeing what's changed and what's going on. Once you've been somewhere and worked there, they're always somewhere in the back of your mind and in your heart.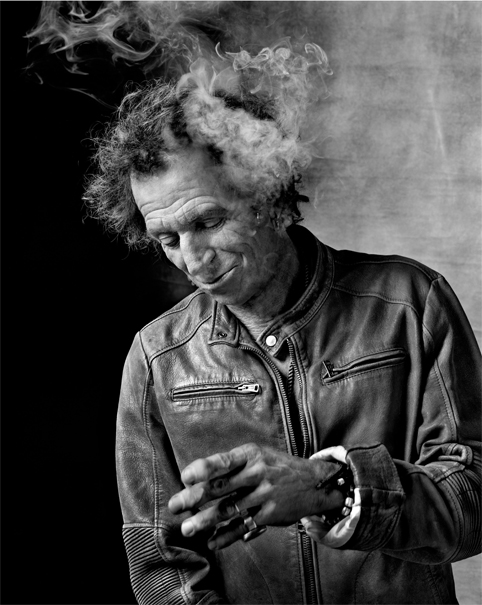 You've never come to Macau before, but you did play Hong Kong in 2003. Do you have any memories from that trip?
Yeah. It's amazing. The energy. And I also remember being able to get shirts made in 24 hours, which was amazing. [Laughs] Just really the energy is the first thing that comes to my mind when I think of Hong Kong. Just incredible, teeming, bustling, non-stop energy and I'm sure it hasn't changed in that way.
Obviously music is a huge part of your life still. How often are you picking up a guitar these days?
Every day, man. I've got to keep my chops together. Also every day I get an idea. Sometimes it might be just for five minutes, but usually every day I play a little bit and if not, I go to the piano.
So do you feel like you're still growing as a musician in that sense?
I think you have to, I think you have to. Even though you might be fooling yourself, but I think you have to feel that you're still learning every day or just you know, that things are moving forward.
This is an edited version of an article that originally appeared in Time Out Shanghai.