Travelling down the escalators to see 'Crystallize', there is an overwhelming sense of descending into a world of frost, of looking out from inside an iceberg. In the atrium, the 'Rainbow Church', a large-scale structure made from 500 crystal prisms, seems to capture natural light and intensify it, before bouncing it out to flood the space. In another area, crystals form inside water-filled cabinets, and the air blows about as though the room itself is breathing. It is the biggest testament so far to Yoshioka's skill in giving form to the intangible – light. He tells us about how it came about.
What was your initial reaction when you were approached by the Museum of Contemporary Art Tokyo to do a solo exhibition?
I was first asked in 2009, but it was later, after the Great East Japanese Earthquake in 2011, that I seriously returned to the idea. I began to feel very strongly that I could help in some way. I wanted to create a type of expression that would prompt people to think about the relationship between humanity and the terror and vitality of nature. At the time, I thought this would be a very good opportunity to do this.

Your work has been exhibited at shows such as 'Second Nature' (21_21 Design Sight, 2008) and 'Sensing Nature' (Mori Art Museum, 2010). How do you feel about public perceptions of art?
Like Isamu Noguchi [internationally active Japanese-American sculptor, 1904-1988], I personally do not think about categories like art, design and so forth, but rather, I create purely what I want to create. I think of the finished work as a form of free expression, which may sometimes be art, and which can be perceived in terms of architecture, design and a variety of forms. I hope people who see my work will agree with that. I would like to create works capable of transcending history.

There is something noble about your work that really draws the viewer in. Where does your sense of beauty come from? What occupies your mind?
I create works not merely to be beautiful, but rather to practically imbue them with the vitality of nature, in view of the magnificent power of, and terrifying energy brought forth by, nature. This is because I see beauty and attraction in that which goes beyond the realm of human imagination. I always want to create something that is only possible in a particular place. I had the large atrium space at the Museum of Contemporary Art Tokyo in mind when I conceived the 'Rainbow Church'. This work came about through careful study of and experimentation with light. In addition, I have been using transparent material for about 20 years now, because that is the material closest to light, and I want to create something that will go straight to people's hearts in a form that feels very similar to light.

What meaning does light hold for you?
For humans, light is something both universal and mysterious. It gives us no answer about the relationship between nature and humanity, which we are unable to figure out. That is precisely why I find light so fascinating.

Tokujin Yoshioka 'Crystallize' is at the Museum of Contemporary Art Tokyo.
This interview appears in the launch issue of Time Out Tokyo magazine, out now.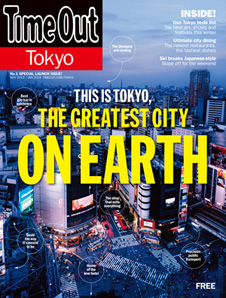 Interview by Chisai Fujita