Given the chance to do a residency at one of Tokyo's most famous bars, the average mixologist would probably treat it as a victory lap. Not Jim Meehan, though. When he and his staff get to work at the Park Hyatt's New York Bar this week, the 36-year-old bartender won't just be reprising the greatest hits from his acclaimed Manhattan speakeasy, PDT (Please Don't Tell). Instead, they've gone and made a whole new menu of Japanese-influenced cocktails for the occasion.
'I feel like if I'm coming to Japan, I want to bring the approach that I have to cocktails to Japan,' he says, nursing a glass of beer at the 52nd floor bar immortalised in that Sofia Coppola film. 'There's no point in trying to recreate PDT here.'
That's probably for the better: the glitz of the Park Hyatt's signature watering hole couldn't be much further removed from what Meehan calls the 'shabby chic' of PDT. Opened in 2007, the East Village bar initially gained attention as much for its unorthodox location – customers have to access it via a phone booth in the adjacent hot dog restaurant – as for the drinks themselves. But it's the drinks that have kept people coming back: PDT was proclaimed the World's Best Cocktail Bar at the Tales of the Cocktail awards ceremony in 2009, then won Outstanding Bar Program in last year's James Beard awards, the Oscars of the US food industry.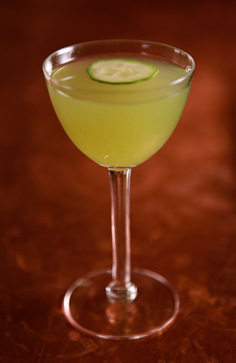 Meehan's approach to cocktails isn't as easy to define as at other voguish New York hotspots like Booker & Dax – where electric pokers and centrifuges are a standard part of the bartenders' artillery – or the recently opened Dead Rabbit, which offers authentically 19th century tipples like bishops, possets and toddies. In his 2011 guide, The PDT Cocktail Book, Meehan combines a historian's interest in the origins of each drink with a determination to make them taste even better, and a commitment to premium spirits that might leave the casual reader scratching her head. ('These are drinks you could make in your home,' he says. 'The big difference is that you would have to go shopping.')
Whether he's making brand-new cocktails or an old classic, though, the basic philosophy remains the same. 'I think what [revered Japanese bartender] Kazuo Uyeda said in Cocktail Technique was that when he makes a cocktail, he thinks about the person who created it, the way he likes it and thinks it should be made, and the guest in front of him,' he says. 'That's a very simple and elegant way of describing what a serious bartender should do every time they make a drink.'
Meehan talks admiringly about Japanese cocktail luminaries like Tender Bar's Uyeda and Bar High Five's Hidetsugu Ueno (also a close friend), though admits that his approach is necessarily rather different: 'At a cocktail bar here, they spend five minutes on a drink. In New York, you'd go out of business if it took you that long to make drinks. Every drink has to be made in a minute or less. If [customers] order six drinks, those drinks need to be on the table in eight minutes, or they'll just order a beer or a gin and tonic the next round.'
There's also the minor issue that, unlike his Japanese (and, indeed, many American) counterparts, Meehan doesn't work the bar on a regular basis. 'A lot of bartenders – young bartenders especially – when they realise I haven't tended bar at PDT in three years, they almost look at me like Jesus jumping off the cross for a beer and jumping back on,' he says with a chuckle. 'Because I own the bar, I could work behind the bar tomorrow. It's almost like you miss what you don't have, but when you still have it, you don't miss it in the same way.'
Taking a more executive role has allowed Meehan to share the spotlight with his staff, which he says explains the relatively low turnover at PDT. It's also left him free to pursue publishing projects (in addition to The PDT Cocktail Book, he co-authors the annual Food & Wine Cocktail guides), develop an iPad app, and become a regular fixture on the worldwide drinks circuit. He'll be back in town again next month, in fact, to appear alongside Peter Dorelli, Takao Mori and Fumiyasu Mimitsuka at the Tokyo International Bar Show in Shibuya – something for which he'll be preparing at the Park Hyatt.
'Most of the cocktail bars you see [in Tokyo], they serve classic American cocktails, and in some ways it's surprising that you don't see them incorporating more Japanese ingredients – things that are part of the food culture – into the drinks,' he says. 'Given that I'm coming back in three weeks to speak at the International Bar Show to a bunch of Japanese bartenders, I want to see if this works: serving Japanese twists on classic American cocktails.'
The 'twists' devised by Meehan and his staff – PDT veterans John deBary and Jeff Bell – range from inspired to slightly gimicky. A daiquiri variation called Green Thumb gets its deep green colour from powdered matcha tea; the Kome-Kome Klub blends melon liqueur Midori with Skal yoghurt soda and Kamoizumi KomeKome saké infused with barley tea; the tiki-style Oki-Nomi incorporates awamori and – more bizarrely – a dash of okonomiyaki sauce. Oh, and they've also brought the hotdogs with them.
'Is the reason why you don't see that more often in Japan because it doesn't work, or because people just aren't doing it?' ponders Meehan. 'Thankfully we have an amazing opportunity, on a grand stage, to conduct this noble experiment. We'll see how it goes. It's going to be fun.'
The Tao of Cocktails runs until March 23 at the New York Bar, Park Hyatt Tokyo. Jim Meehan returns for the Tokyo International Bar Show on April 20-21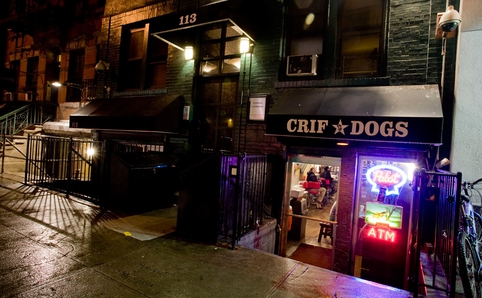 Crif Dogs at 113 Saint Mark's Place in New York's East Village. (Photo by Noah Kalina)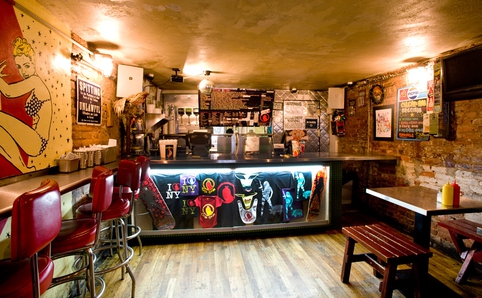 At first glance, it's just a gourmet hot dog restaurant. (Photo by Noah Kalina)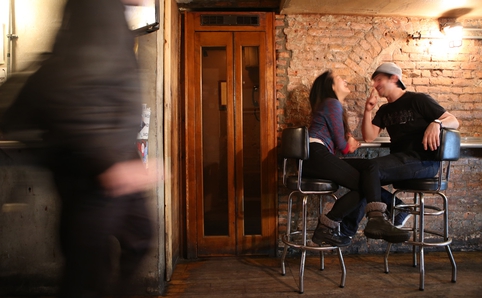 Step inside that innocuous phone booth, however... (Photo by Nick Brown)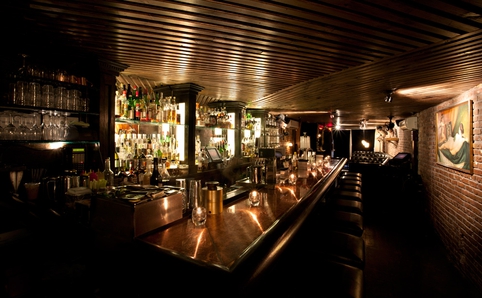 ...and you'll find yourself in award-winning cocktail bar PDT. (Photo by Michael Taft)