This is a good time to be a craft beer drinker in Tokyo. Where even five years ago, finding a bar that stocked something more interesting than Yebisu or Asahi Super Dry could require some serious trekking, the city is now rife with watering holes that realise there's more to suds than thin-tasting pilsener. Long-running favourites like Popeye and Ushitora are finding themselves in an increasingly vibrant marketplace, with Roppongi's Ant 'n Bee, Toranomon's Craft Beer Market and Kanda's DevilCraft just a few of the notable names that have popped up over the past 18 months. And now you can add a new microbrew Mecca to that list: the clunkily titled Goodbeer Faucets, which opened in central Shibuya last December with a dizzying 40 draught beers on tap.
If you want to understand why Japan's beer culture has lagged behind what you'd find in many other countries, you need only look at its laws. Until 1994, when the alcohol tax regulations were revised, breweries had to produce at least two million litres of beer a year in order to obtain a license. The amendment of this rule opened the gates for a wave of microbreweries, many of them coming from a saké-making background, though it would take a while for them to produce anything worth drinking. 17 years later, however, you can find craft beers such as Yoho's Yona Yona Ale and Ginga Kogen's Komugi no Beer in many supermarkets, while a growing section of the drinking public are demanding brews with a bit more personality.

Time Out talked to the people behind two of this year's most exciting new openings, then headed off on a crawl around Tokyo's best craft beer bars. It's a tough job, but someone's got to do it.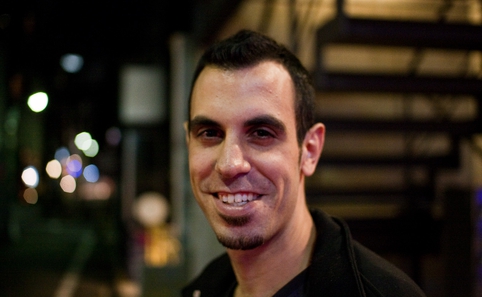 Eldad 'Dede' Bribrom, Goodbeer Faucets
You can forgive Eldad 'Dede' Bribrom for looking forward to the coming weekend: on Sunday, he'll be manning the taps at the opening night of Goodbeer Faucets, a voluminous craft beer bar located smack in the middle of Shibuya. And speaking of taps, there are going to be a lot of them: 43, on Dede's count, with brews from Japan, the US and Belgium alongside farther flung destinations like Scotland and Italy. 'I've already became a fanatic,' says the Israeli hophead, who uses the Twitter handle @BEERpreacher. 'I'm 24/7 on Goodbeer Faucets, I'm loving it. If I'm this excited before opening, it's going to be great.'

Hardened boozers may recognize Dede from American eatery Roti in Roppongi, which he helped transform into a go-to spot for fans of US craft beer, or from his earlier stint working as a chef at Yokohama beer pub and restaurant Cheers. Charged with overseeing the selection of brews at the new Shibuya bar, he plans to take in a wide swathe of the global craft beer scene – and steer well clear of the standard commercial offerings. 'I'm not going to have any Japanese major companies on tap,' he says. 'No Kirin, no Asahi, no Yebisu, just craft beers that are similar. If you ask me for Asahi, I'll have something on tap that is similar, but is craft beer – then maybe I can change your mind about it.'
Goodbeer Faucets is the first in a planned series of bars to be opened by Teruya Hori, a heavyweight on the Japanese craft beer scene who sells domestic and import brews via the Goodbeer.jp website, including his own Nide Beer (produced at Baird Brewing in Shizuoka Prefecture). 'He's a craft brewer, he's an engineer,' says Dede. 'Many of the places you might have visited related to beer in Tokyo, he did the system – if it's in Roti, Craft Beer Market, Pizzakaya. The guy's like a beer master.'
As if to confirm Hori's technical credentials (and justify the bar's oh-so-geeky name), Goodbeer Faucets will come equipped with a cleaning system of his design which allows three types of beer lines to be cleaned at once – a world first, apparently. More importantly to prospective imbibers, it also promises to offer drinks at prices that err on the right side of eye-watering.

'After five years in the industry here in Japan, I know how much Belgian beer costs, I know how much American beer costs and how much Japanese beer costs,' Dede says. 'And I can go to some places and automatically, just by looking at the prices, [say], "Ah, that's not right." I will pay the price, I will drink it, but that's not necessarily a place I will go or recommend to a friend. Even if the staff were amazing, even if the food was great, it's abusing beer.'

Goodbeer Faucets opens on December 18. Shibuya Crossroad Building 2F, 1-29-1 Shoto, Shibuya-ku, Tokyo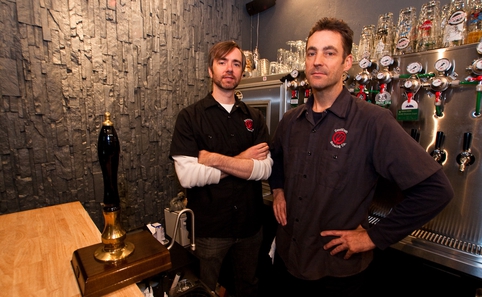 Jason Koehler and Mike Grant, DevilCraft
Rare is the homebrew enthusiast who hasn't dreamed at some point of opening their own bar. Earlier this year, American hopheads Jason Koehler, Mike Grant and John Chambers went ahead and did just that, transforming an intimate corner building in Kanda into a craft beer oasis that will also provide a home to their own brewing operation from next year.

It's all quite far removed from when Grant first arrived in Japan in the early '90s, and found a country that was entirely devoid of microbrew beer. 'You couldn't get it,' he recalls. 'You had to bring it over in your own suitcase… The whole playing field has changed so much that what's conceivable now is anything: there are unlimited possibilities with combinations of restaurants and craft beer. But at that time, it didn't exist, so people didn't think it was possible.'

'I think the attitude was so negative towards it,' concurs Koehler (Chambers, the third member of the operation, couldn't make it on the day of our interview). 'Even five years ago, when I came here, everybody said, "Oh, that can't be done, so don't even try." I've seen such a change in just the time that I've been here. It's a completely different environment now.'

Though they're still jumping through the legal hoops required to start producing and selling their own brews, the trio have already secured their spot as an essential destination on any Tokyo microbrew pub crawl. DevilCraft has a rotating selection of 15 draught offerings, which might include Japanese breweries like Iwate Kura and Swan Lake alongside America's Ballast Point or Italy's Birra del Borgo. But what really sets it apart from the competition is the food, including that rarest of culinary offerings: Chicago-style deep dish pizzas.
'We try to make almost everything that we can, food-wise, in house,' says Koehler. 'We grind our own sausage, literally, with a crank.' The pizzas, now one of the most popular items on DevilCraft's menu, demanded a lengthy process of experimentation: 'I think I tortured my wife for about a year and a half with failure after failure until it started to get pretty good.'
'We kind of want to take that same approach to local beer,' he continues, riffing on the food theme; 'having our beer made here, in the same building where it's served, and being able to control the quality as well as we can.'

For now, they're keeping quiet about exactly what form those beers will take, although DevilCraft customers were treated to an early taster this year when the trio got Baird Brewing to make a 250 litre batch according to their own recipe (it was a big hit). Grant also talks about the possibility of doing tie-ups with Japanese breweries, who are no longer protecting their own turf as jealously as they once did. 'Bringing a sense of fun into the craft beer thing is going to help, for sure,' he says. 'It's going to bring in new people: people who are not just beer geeks and hop heads, [but] that are curious to try something new, and want to join a fun, happening event. We want to be a part of that.'
DevilCraft is holding a Maui Brewing event on December 17-18, with 12 draught beers from the Hawaiian microbrewery. 4-2-3 Nihonbashi-Muromachi, Chuo-ku, Tokyo

Continue to: Tokyo's best craft beer bars