There are few more attractive times of year to be in Tokyo than when the cherry blossom comes into bloom, making even the grimmest parts of the city look like something out of a sumi-e painting. The hanami (literally, 'flower viewing') season generally only lasts a week or so – sometimes even less than that – so the city's residents know to make the most of it. While tens of thousands flock to hotspots like Yoyogi Park, you'll find smaller blossom viewing parties taking place throughout the city, most of them involving copious amounts of booze and bonhomie. Read on for our tour of Tokyo's 10 top hanami destinations and some of the best places farther afield, plus a few tips for newbies, suggestions for unorthodox cherry blossom experiences, and a playlist of sakura-themed songs.

10 classic cherry blossom spots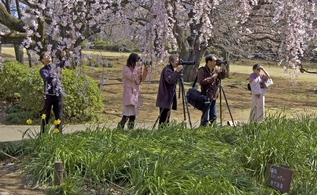 Shinjuku Gyoen
The ¥200 entry fee and early closing time help deter the riffraff from this elegant Shinjuku park, making for a slightly classier hanami experience. Go the whole hog and stock up on picnic food at Isetan on the way. Note that you aren't actually allowed to bring alcohol into the park, so if you plan on drinking, be discreet.
Access: Shinjuku-Gyoenmae Station (Marunouchi line); short walk from Shinjuku Station (Yamanote, Shonan-Shinjuku, Chuo, Marunouchi, Odakyu, Keio, Oedo, Shinjuku lines). Details and map


Chidorigafuchi
The 260-odd trees lining this stretch of moat on the north-east side of the Imperial Palace have turned it into a singularly picturesque sakura spot. You'll need to rent a rowboat to make the most of it – and it's popular enough that the local boathouse can get away with jacking up its prices during hanami season.
Access: Kudanshita Station (Hanzomon, Tozai, Shinjuku stations), exit 2; Hanzomon Station (Hanzomon line), exit 5. Boat rental 11am-5.30pm (¥800 for 30 mins)

Rikugien
Don't even think about unfurling a tarpaulin at this traditional Japanese garden – though if you're looking for a hanami experience more in keeping with the kind of thing that Basho described, you're in luck. The main attraction at Rikugien is its gorgeous weeping cherry tree, which is illuminated until 9pm each evening during sakura season.
Access: Komagome Station (Yamanote, Namboku lines). Details and map


Sumida Park
Hundreds of cherry blossom trees line both sides of the Sumida River around the aptly named Sakura-bashi bridge. Those looking for an authentically old-school experience can charter a yakatabune pleasure boat and take in the view from the river instead, just like they did in the Edo era. Access: Asakusa Station (Ginza, Asakusa, Tobu Isegaki lines)

Asukayama Park
This hillside park close to Oji Station has been popular for sakura since the early 18th century, when shogun Yoshimune Tokugawa ordered blossom trees to be planted there and bring hanami 'to the people'. How very enlightened. The 650-odd trees are lit up at night, from 5-9pm.
Access: Oji Station (Keihin-Tohoku, Namboku lines), Asukayama Station (Toden Arakawa line). Details and map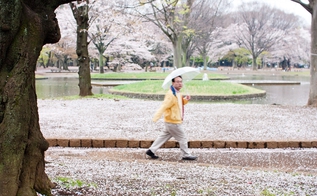 Yoyogi Park
Ponder the fleetingness of existence while forcing your way through the crowds at Harajuku Station, then dwell on it some more as you wait in line for the toilets. Yup: there's nothing quite like doing hanami in Yoyogi Park. Anyone looking for peace and serenity would be advised to steer clear, but for sheer unruliness it's hard to beat.
Access: Harajuku Station (Yamanote line), Meiji-Jingumae Station (Chiyoda, Fukutoshin lines), Yoyogi-Koen Station (Chiyoda line). Details and map

Meguro River
You know you've probably been in Tokyo too long when you find yourself rhapsodising over a concrete canal lined with blossom trees. But if you can overlook its obvious shortcomings, the waterway running from Nakameguro all the way down to Osaki is rather lovely at this time of year.
Access: Nakameguro Station (Hibiya, Tokyu Toyoko lines), Meguro Station (Yamanote, Namboku, Mita lines), west exit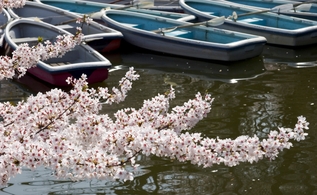 Inokashira Park
The narrow pond at the centre of Inokashira Park begins to look more like a traffic jam during hanami season, as rowboats and swan-shaped pedalos struggle to manoeuvre in the crowded water. It's probably safest just to watch from the bank, where you can better appreciate the 250-odd blossom trees ringing the water's edge.
Access: Kichijoji Station (Chuo, Keio Inokashira lines), park exit; Inokashira-koen Station (Keio Inokashira line). Details and map

Aoyama Cemetery
When the profundity of blossom fluttering from trees isn't quite enough, you can up the stakes by throwing your hanami party in a graveyard. There are nearly 500 blossom trees scattered around Aoyama Cemetery, and while many visitors are content with a slow saunter along the central road, you'll also find some irreverent revelers boozing amongst the gravestones.
Access: Gaienmae Station (Ginza line), exit 1B; Nogizaka Station (Chiyoda line), exit 5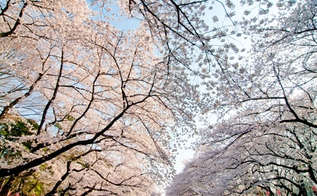 Ueno Park
Think: Yoyogi Park with added shitamachi vibes. Ueno has been a popular hanami spot since the early Edo era, and today there are around 1,000 blossom trees running along the central path. It's one of Tokyo's most crowded and chaotic spots for blossom viewing, though that's part of the appeal. Hundreds of paper lanterns will be lit from 5.30-8pm each evening during the Sakura Matsuri, from March 23-April 7.
Access: Ueno Station (Yamanote, Keihin-Tohoku, Joban, Hibiya, Ginza lines), park exit. Details and map

Don't forget to bring…

– Something to sit on. Plastic tarpaulins are the norm
– Warm clothing. It may be balmy when you leave home, but the temperature dips sharply once the sun goes down
– A bottle opener. You'd be amazed how many people bring bottles of wine and beer only to discover they can't open them
– Rubbish bags and a portable ashtray
– Toilet paper
– Food and drink (natch). The convenience stores nearest to major parks often struggle to keep up with demand, and if you buy everything from street vendors, you're asking to get ripped off

Sakura sounds

People have been penning odes to cherry blossoms for centuries now, and each year sees a fresh crop of 'sakura songs' that double as a soundtrack for school graduation ceremonies. Here are a few of the better examples, plus some spring-scented J-pop for the ages...

Hanami activities

Don't fancy spending the whole day sitting around in a park? You don't have to...
Cherry blossom cruise
Hop aboard one of Tokyo Cruise's evening boat tours, which take sakura lovers on a 45-minute tour of the waters around Asakusa. There are up to six trips each evening (¥1,200 per person; minimum 15 people), with the option of having a drink and hors d'oeuvres served by a kimono-clad hostess (¥2,500 per person; minimum 2 people).
Bookings via Tokyo Cruise (Japanese only).

High-speed hanami
We wonder what Basho would have made of Yomiuri Land, whose 1,000 blossom trees are reduced to a high-speed blur when seen from the park's 'Bandit' roller coaster. The gondola offers a more sedate viewing experience, and there are nightly illuminations. If you're going after 4pm, opt for the ¥1,500 'yozakura' pass, which includes entry and unlimited rides (gondola excluded).
Access: Yomiuri Land Station (Keio Sagamihara line). Open 9am-8.30pm during hanami season (March 22-April 7). Details and map

Streetcar sakura
It takes 50 minutes to cover the 12km stretch between Waseda and Minowabashi in Arakawa-ku – or at least it does when you're riding Tokyo's last remaining streetcar line. The Toden Arakawa's is a scenic route for cherry blossom lovers: keep an eye out for sakura around Omokagebashi, Gakushuinshita and Asukayama stations, then enjoy the splendour of Arakawa Shizen Park, near Arakawa Nanachome station. A one-way trip costs ¥160, or you can pay ¥400 for an all-day pass.
Toei Streetcar (Toden) Arakawa Line

Top hanami destinations around Japan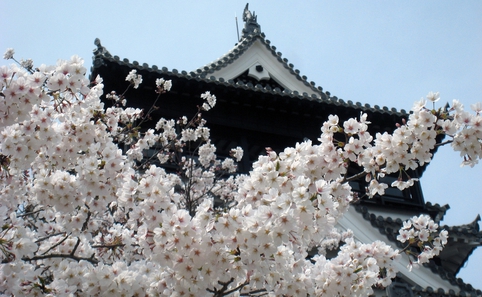 Sakura at Kumamoto Castle by JoshBerglund19, on Flickr

Sure, you could stay in Tokyo throughout cherry blossom season, but why stop there? Here are some of the nation's favourite sakura spots – including the place where the whole craze first started...

Kumamoto Castle, Kumamoto
Photographers just can't get enough of Kumamoto's imposing black citadel, especially when its 800 cherry trees are in full bloom, creating a striking visual contrast.
Peak Season: Late March to early April
Access: A-Line Tram from JR Kumamoto Station to Kumamoto Castle/City Hall stop

Mount Yoshino, Nara
The slopes of Japan's original blossom-viewing destination – now also a World Heritage site – are home to 200 varieties of cherry tree, numbering 30,000 in total.
Peak Season: Early to late April
Access: Yoshino Station (Kintetsu Minami-Osaka/Yoshino line)

Kema Sakuranomiya Park, Osaka
Nearly 5,000 cherry trees line the 4km stretch of river between Kema Lock Gate and Temmabashi Bridge, creating a petal-flecked promenade that goes on and on and on.
Peak Season: Late March to early April
Access: Sakuranomiya Station (Osaka Loop line)

Kimiidera temple, Wakayama
Though renowned for its early-blooming trees, Kimiidera temple doesn't draw the crowds that you'll find at nearby Wakayama Castle – and is all the better for it.
Peak Season: Late March to early April
Access: Kimiidera Station ( JR Kinokuni line)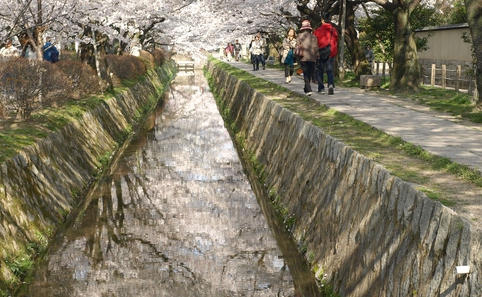 20080405 哲学の道・鴨川の桜 048 by merec0, on Flickr

Philosopher's Path, Kyoto
Always a well-trafficked tourist spot, the 2km trail from Ginkakuji temple to Nanzenji bursts into bloom at the start of April, making it Kyoto's most attractive stop for hanami fans.
Peak Season: Early April
Access: No. 100 City Bus from Kyoto Station to Ginkakuji-mae stop

Matsuyama Castle, Matsuyama
Among Japan's few extant castles, the former home of the Matsudaira family is also popular for its cherry trees, which are attractively illuminated each night.
Peak Season: Late March to early April
Access: No. 5 Tram from JR Matsuyama Station to Okaido stop

Megijima, Takamatsu
Just a short ferry ride from Takamatsu, the so-called 'Demon's Island' of Megijima transforms into a dazzling hanami destination in early April, complete with sweeping views of the Seto Inland Sea.
Peak Season: Early April
Access: Ferry from Sunport Takamatsu

Saitobaru Burial Mounds, Miyazaki
This historical park – home to over 300 burial mounds – looks particularly spectacular during the spring, when the colors of its 2,000 cherry trees mingle with vibrant fields of rape blossom.
Peak Season: Late March to early April
Access: Bus from Sadowara Station (JR Nippon line) to Saito Bus Center stop
Hirosaki Castle, Aomori
Not for nothing does Hirosaki bill itself as 'Castle and Cherry Blossom and Apple Town': its three-storey fortress and surrounding park boast the most picturesque blooms in the whole of the northern Tohoku region.
Peak Season: Late April to early May
Access: Dotemachi Loop Bus from JR Hirosaki Station to Shiyakusho-mae stop

By Time Out Tokyo Editors