Every March, confectioner's shop cases and windows are lined with an unmistakeable spring sight: delicate rounds of sticky rice cake wrapped in a preserved cherry leaf and topped with a cherry blossom. These sakura-mochi are one of Japan's most anticipated and best-loved spring treats commemorating the coming cherry-blossom (sakura) season.

Sakura-mochi were first made during the Edo period, legend has it, at Mukoujima's Choumeiji Temple on the Sumida River in Tokyo. The story goes that Shinroku Yamamoto, the gatekeeper, got frustrated with the fact that the fallen sakura leaves couldn't be used and seemed a waste. He flashed onto the idea that he might use the leaves, pickled in salt, to wrap around rice cakes, and so the sakura-mochi was born. For 300 years people have been lining up each hanami (cherry blossom viewing) season at Choumeiji Sakuramochi Yamamoto-ya to get a mouthful of their favourite spring treat.

Whether you're trying your first sakura-mochi or have been enjoying them for years, there's nothing quite like tasting the essence of spring Japanese-style. Here are some of our favourite sakura-mochi shops in the Tokyo area.

Kyougashi Misaki-ya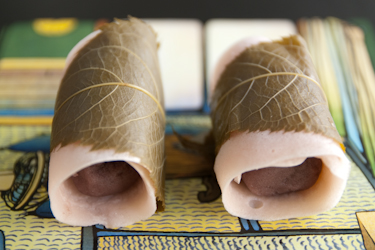 Dense, and with a lightly toasted skin, these Kyougashi Misaki-ya's sakura-mochi are carefully enrobed in bean paste (an) and are an elegant specimen of the Kanto area speciality. The balance of saltiness and sweetness, plus the petite morsels' size are enough to make you want to eat one after another. The postage-stamp-sized shop is a neighbourhood favourite, with customers constantly coming and going and these seasonal confections selling out in the blink of an eye.
(Full details & map)

Nihonbashi Mihashi-do
At first glance, the most notable thing about these sakura-mochi is their square shape, which ups the novelty factor of the humble sakura-mochi. Available in two varieties, pink smooth bean paste (koshi-an) and white crushed bean paste (tsubu-an), these cakes use leaves from Izu's fragrant Oshima cherry trees and make a great gift. On sale from February until mid-April, the treats run ¥220 per piece.
(Full details & map)

Kanmi-dokoro Okame Kojimachi
Located in the vicinity of Chidorigafuchi Koen (well-known for its cherry blossoms), here you can partake of sakura-mochi of the an-covered ohagi variety the size of a (feminine) fist. These sweets are plump, made with cherry blossom pink-tinted mochi rice and engulfed in an bean paste which is well matched to the saltiness of the sakura leaves. Available from February until May, each piece costs ¥220.
(Full details & map)

Onkashishi Shiono
Parceled into mochi the thickness of a crepe, this sakura-mochi is made in two styles, the square Kanto-style Choumeji Temple variety, and the round Kansai-style Doumyouji Temple variety, both with koshi-type bean paste. In addition, there is a variety of sweet, called Hanagoromo, made to resemble a fluffy double flowering cherry blossom (yaezakura) with a yellow-bean paste stigma set inside. At Shiono, each confection is carefully placed in its own plastic case to make sure that the delicate shape and artistry is preserved until its ready to be eaten, making for a luxurious gift. ¥320/piece.
(Full details & map)

Taneya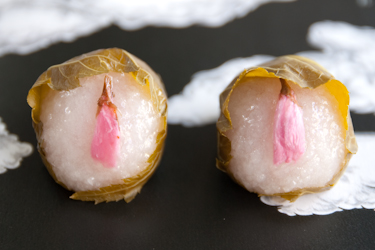 Taneya originally hails from Shiga prefecture, with Kansai-style Doumyouji sakura-mochi. Not only are the petite, jewel-like sweets wrapped in sakura leaves, but they are also adorned with preserved cherry blossoms for added charm. Though their size may be dainty, they are indeed sufficiently large to hold enough pink-tinted white adzuki an to add the right amount of sweetness. ¥189/piece.
(Full details & map)

Related articles:
・10 hotels touting traditional tatami
 Japanese-style rooms to make you WA
・Luxe hotel breakfasts (part II)
 Gourmet Japanese breakfasts for less
・Tokyo's charms
 Cool charms with blessings and beauty

Translated by Virginia Okno