The global advance of 'fast fashion' has made it possible to stay on the cutting edge of trends without breaking the bank, and the resulting triumphant march of multinational retailers shows no signs of slowing down. At the same time, however, more and more consumers are looking for high-quality garments that last and stay stylish for decades. Denim is a great example: it's always fashionable, supremely casual and indispensable for everyday outfits. You'll be hard pressed to find someone who doesn't own at least one denim item. This guide lets you in on Tokyo's best denim shops, all of which deal in top-quality, carefully crafted domestic wear and pay the utmost attention to detail in everything from manufacturing to presentation.
Warehouse Ebisu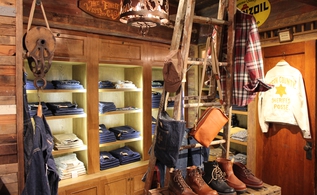 If it's 'faithful reproductions of vintage garments' you want, this Ebisu shop is your stop. They go to great lengths when researching actual vintage pieces, recreating originals down to the threads and the production process. Warehouse products can really make you feel the past, as their textures and looks are practically indistinguishable from real vintage items. The focus here is more on experimentation than trends – something that tends to attract denim enthusiasts, many of whom visit from great distances. Their classic '1001XX' line is based on the design and colour calibration of actual 1950s items, and was recently updated for the first time since its 1995 launch. Warehouse also stocks simple-looking but authentic items based on traditional workwear – a stylish line that appeals even to those of us who aren't denim connoisseurs.
Archives Ebisu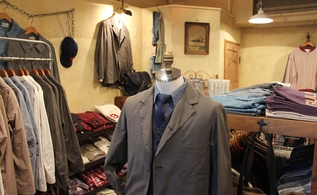 Archives specialises in the Heller's Cafe brand, a collaborative venture by Larry McKaughan (the 'King of Vintage') and the aforementioned Warehouse store. This label deals in American workwear and offers lines designed on the basis of different eras, allowing customers to get a taste of the historical background and imagery behind the items. Their '1880s-1900s' series is based on the Old West, and displays the ingenuity of craftspeople who worked with limited techniques and resources around the turn of the century. You'll be able to trace the history of jeans through items like waist overalls, while those who aren't too interested in workwear may find the 1930s-style sportswear and military clothes more worthwhile.
Kapital Ebisu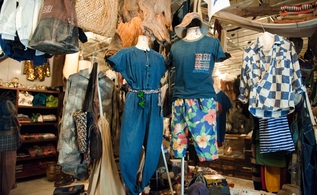 The Kapital brand hails from Okayama Prefecture's Kojima, known as the birthplace of Japanese-made jeans. Ever since its founding in 1984, Kapital has consistently emphasised exclusive use of manual processes, with all techniques – from thread dyeing, material production and sewing to washes and decoration – developed and produced by the company itself. Their distinctive designs, skilled craftsmanship and careful manual finishes are widely recognised internationally. Classic items and collection lines are both available at this Ebisu store, with the latter created to match seasonal themes and including denim-focused casual wear brimming with originality. The curiously named 2014 Summer collection 'Denim Men Love Cats' includes white-on-white items made with Japanese Boro denim, pop t-shirts infused with a vintage essence, accessories inspired by hippie culture, and cat motif jewellery made using Navajo techniques. Items for every occasion can be found here, be it summer festival wear or everyday pieces you're looking for.
Kapital Legs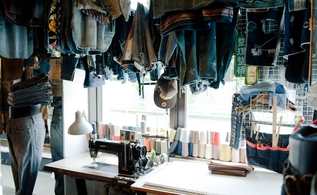 Another outpost of the Kapital brand, this shop focuses on manual craftsmanship, jeans and skirts. Its signature denim piece is the 'TH Zipang Real Indigo' model, which comes packaged in a paulownia box. Woven using an old-style loom, these jeans are made with original selvage denim and designed with a thick waist in a relaxed-fit, straight cut. The threads are indigo-dyed using skein dyeing, a particularly labour-intensive process ensuring a fade that develops over a long period. The 'Century Denim' is another highlight, as these jeans are made with the aim of lasting a full 100 years. The fabric is dyed with a blend of natural Japanese persimmon, inks and other dyes, with quilting also added. The shop offers hemming and repairs to meet the specific needs of individual customers.
Kapital Duffel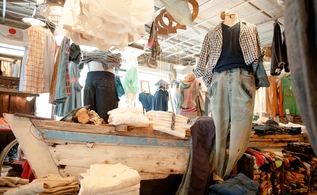 Kapital's 'lifestyle store' sells a selection of original goods in a homely atmosphere, with exhibitions, workshops and pop-up events regularly held at the shop as well. A wide variety of both men's and ladies' items are on offer, allowing customers to mix and match freely. The 'Amish All-In-One' turns the popular Amish pants style into a relaxed all-in-one made with light material and featuring a gentle, feminine silhouette, while the 'Akutagawa Pants' are a creative mix of American workwear and Japanese hakama pants.
Daikanyama UES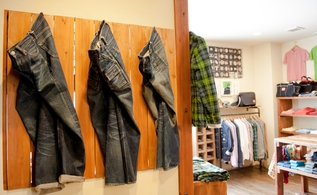 Conveying the joy of 'cultivating' denim, UES is another Japanese brand emphasising high quality, natural materials and domestic manufacturing. The brand name is supposed to be derived from the word 'waste', expressing the hope that their items will be worn down to rags instead of languishing in a closet. Woven from Zimbabwe cotton, their material is flexible and strong, and is appreciated for its slowly adjusting fade. We recommend the '400T' raw denim with its modern, tapered silhouette that comes with a little extra room between the hips and the thigh. The first hand wash will remove the starch, while subsequent washes will allow fading and breaking in to occur along the creases, meaning that you can experience the process of 'cultivating' the item for yourself. The shop also does repairs, and provides information on washing and customisation through in-store samples. You can of course ask the knowledgeable staff too.
Nigel Cabourn The Army Gym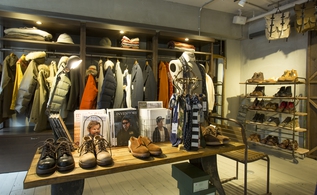 British designer Nigel Cabourn is known as an international collector of vintage military and outdoor wear, and is said to have amassed a collection of more than 4,000 vintage items over 30 years. His treasures reportedly include a British-focused collection of European military and outdoor wear from 1910 to the '50s, test samples and many other pieces. Items based on these specimens form the basis for his products, with items divided into an 'Authentic' line manufactured in England and a 'Main' line centring on Japan. All items maintain the practicality and functionality of the originals, and the attention to detail is apparent throughout. The 2014 Spring/Summer five-pocket jean collection consists of vintage denim reborn for the modern era: 'warp' materials with randomly varying thread counts give a distinctive look and texture. These so-called abnormalities are a product of wartime material shortages – every piece thus conveys a real story, adding to the already considerable appeal of these items.
Porter Classic Ginza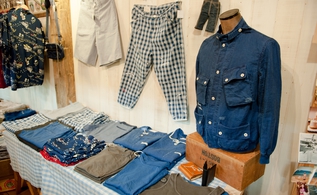 Managed by renowned Japanese bag designer Katsuyuki Yoshida and his son, Leo Yoshida, this brand is committed to the 'Made in Japan' spirit. Porter Classic was founded in 2007 with the aim of conveying Japan's traditional culture and craftsmanship to the world, and with a collection focused on simple items that gain character the longer they're used, they seem to have accomplished their goal. An overwhelming favourite here is the 'Kendo-gi' series, which includes material from kendo uniforms, i.e. extra-long staple cotton dyed with indigo. These items have earned a dedicated following, with fans appreciating them not only for their design but also for their comfy feel and texture. Porter also carries denim based on workwear, including coveralls, jumpsuits, overalls and work pants, with details like patchworking added to give the items a used feel. Their new linen 'Hand Work' series and retro-patterned aloha shirts are worth checking out too.
Kuro Flag Shop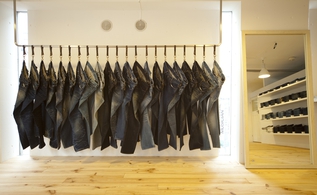 Both stylish and thoroughly detail-focused, this 'Made in Japan' brand was founded in 2010. The 'Black Flag' utilises world-class domestic techniques in spinning, sewing, dyeing and manufacturing: Yoshikawa fabric from Okayama and Japanese cotton are woven using shuttle looms, the skilful stitchwork shines through on Oikawa denim from Miyagi, while Okayama's Mito and Hang Loose are responsible for all manual manufacturing processes. Kuro's new brand 'Historicism' features slim, straight silhouettes, with materials, thread, iron buttons, rivets and other parts reconstructed from 1950s or earlier denim wear. If it's a minimal style you're looking for, look no further.
Rugged Factory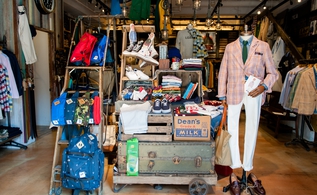 Developed as a collaboration between the World brand and Free & Easy magazine, Rugged Factory keeps it distinctly casual. Prices here are very reasonable, while the selection includes long-running classics like pullover jerseys, chambray button-down shirts, chino pants, single-breasted jackets, items with workwear-inspired materials and gear-like elements such as blouson jackets and vests, and items that can easily be adjusted to seasonal trends. Standard five-pocket jeans can be found for around ¥10,000. These simple designs work for everything from classic Ivy League to oh-so-fashionable preppy styles.
Museum Of Your History Minami-Aoyama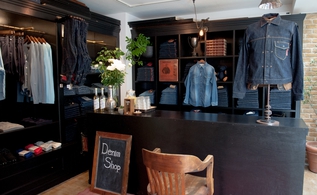 Designer Hiroshi Kato's unique worldview is on display at Museum Of Your History, which primarily sells the in-house brands Kato', AAA and Grandma Mama Daughter, all of them going above and beyond the latest trends. Among these three, the long-running Kato' reflects the designer's careful attention to design, material, sewing, washing and feel, a combo that's earned him international recognition. As for a recommended item, try the 'Straight Denim', which uses original selvage denim and has been a constant seller since it came out along with the launching of the brand in 1999. The tapered silhouette and the positioning of elements such as pockets, patches and rivets is exquisite. This flagship store offers the most complete collection of Kato-designed items, ranging from limited-run jeans to shirts and jackets that work nicely with denim, so you'll be able to enjoy putting together entire outfits here.
Momotaro Jeans Aoyama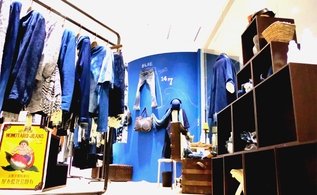 Momotaro Jeans, another popular brand from Okayama Prefecture's Kojima ('the birthplace of Japanese jeans'), can be found on the second floor of the Ao shopping centre along Aoyama-dori. Their jeans are made of Zimbabwe cotton, which is also commonly used for high-quality dress shirts, have a flexible feel, excellent durability and are famous for their characteristic fade when worn. Both men's and ladies' wear and gear is available, making this shop a nice option for couple visits.
By Time Out Tokyo Editors