Think Tokyo, think skyscrapers and shopping, but spare a thought for the humble vending machine – undoubtedly an icon in its own right. And drinks aren't the only things you can buy from these metal markets. Here are 10 other, rather more surprising, items you might find.
Kasumigaseki: Apple packs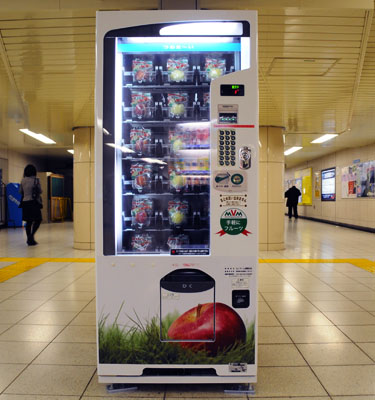 The banana vending machine at Shibuya Station caused such a stir that Kasumigaseki Station felt they had to get in on the act. Found inside the station itself, this machine sells half-size apples that have the cores cut out and are chopped into easy-to-eat slices, with vitamin C added during the packaging process. The vending machine's makers have expressed the hope that people will have the pre-sliced apples for breakfast, or as a healthy snack. A bit like regular apples, then.
Location: Kasumigaseki Station (Marunouchi line), close to exits B1 and B3 (outside the ticket gates)

Translated by Virginia Okno