On July 17, Prime Minister Shinzo Abe told the world: 'I have decided to scrap the current plan for the new national stadium, which is the venue for the Tokyo 2020 Olympics and Paralympics, and to start from scratch.' Even though the stadium design and cost have been under fire for nearly three years now, the announcement flummoxed not only the public but also the designers at Zaha Hadid Architects (ZHA), who weren't officially informed but had to read about the decision in the press. The firm was under the impression construction of their design was to begin in October and, considering Tokyo's old stadium was demolished in May, everything seemed to be on track.
Amidst the government's fresh claims that the extravagent design was to blame for mounting costs – pushing the budget up from ¥130 billion to ¥252 billion – ZHA released a statement on July 28 to 'set the record straight'. World Rugby is not too happy either since starting from scratch means that the stadium won't be ready in time for the 2019 Rugby World Cup. A spokesman said the group was 'extremely disappointed' since they had been repeatedly assured that the new stadium would host the tournament.
In the meantime, of course, the media and public have gone wild with speculation as to the real reasons behind the sudden decision, leading to a kind of Team Zaha versus Team Japan effect. There are those who agree that the design – which has been called all kinds of names by leading Japanese architects – is to blame for the cost nearly doubling. (It's worth noting that Tadao Ando, the architect in charge of the 2012 competition judging panel, is still firmly Team Zaha – he was quoted as saying, 'We shouldn't drop Ms Hadid's design, otherwise we'll lose credibility internationally.') Others are more practical about the jump in cost and have explained that this is very normal in Japan's construction business where one group of contractors oversees pretty much all large building ventures. The situation was further muddied when Yoshiro Mori, current head of the 2020 Tokyo Olympics' organising committee, held a press conference and gave a decidedly contradictory speech.
To gain more insight, we spoke to ZHA's Jim Heverin who has served as the project director since the firm's design was chosen in 2012.



It must have come as a shock to hear about the government's decision to scrap the design, especially considering you weren't informed
Yes, it was a shock, not just to us but to other organisations in Japan too. Just a week earlier, everything had been signed off. We have no idea why it was so suddenly reversed. To date, we've only been told that a review will be held. I agree, a review should be held, but the government should keep all options open before pre-determining the solution.
ZHA won the competition in 2012, but since then your firm has been in more of a supervisory role. Could you explain how that works?
When the competition was held in 2012, it was made clear that the winner would win the right to supervise and that there would be a more limited tender for architects and contractors restricted to Japan. The project is now a joint venture between four large architecture and design companies in Japan, including Nikken Sekkei, and it's their responsibility to develop the design and the cost estimates. It's our responsibility to review their work.
Doesn't this make it harder to realise the original vision, especially in terms of costs?
No. It makes sense to use Japanese architects since we are based in Britain and therefore have limited understanding of Japanese markets. However, the circumstances are universal in that when you're building infrastructure – particularly for sporting events – there is a bubble effect with the costs. We've had direct experience with this in other Olympics so we know it's hard to predict how the building market will respond. The ¥252 billion cost estimate was provided by two contractors on the job. This differs from the original cost of ¥130 billion because government rates were used for the original budget and also because of inflation and what the market demands for building an Olympic structure. Essentially, it's a chain of economics that determines the final cost.
We have always been open to modifying the design to cut costs. We've already done this once and we focused on reducing the brief. The original brief was for 290,000m². We took a third of this out and reduced it to 220,000m². We discussed a palace of other options with the client but many of the suggestions were not taken up.
[Ed's note: An interview with one of the original general contractors on the project supports Heverin's comments. The person chose to remain anonymous but stated: 'There was a long list of requirements, including a retractable roof, moveable seats, the structure being earthquake-proof and having barrier-free access. If some of the requirements were relaxed, it would be possible to lower the costs, but the Japan Sports Council refused.' They went on to say: 'Currently, there is a shortage of labour and materials in the construction world, and the prices are also several times higher than a few years ago. Because of this, you need to secure the contractors early, and hence they decided to not wait for the design to be fully completed.']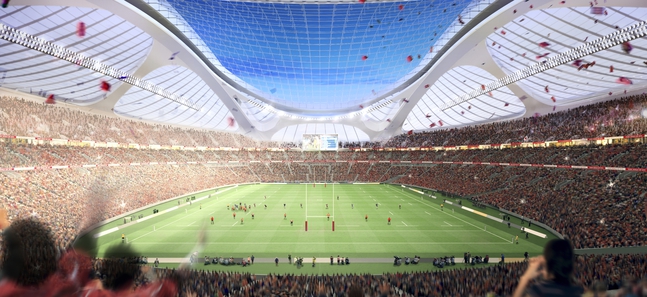 Stadium interior by Zaha Hadid Architects

Your original design came up against some harsh criticism amongst Japanese architects. Do you think any of these concerns were justified?
In principle, no. Let's look at the site, for example. The site selection was made by the government and the Japan Sports Council, way before we were even involved. Previous bids looked at the Tokyo Bay area, but they reverted to the idea of replacing an old memory with a new memory, in the heart of the city. As architects, we know this works better in supporting other businesses in the area and in terms of future usability.
With regards to the concerns expressed over the Gaien district being a sacred area: the whole area has evolved considerably over the years and it's no longer just used for sacred events. It's now full of sporting facilities. The stadium was never going to destroy Meiji Shrine – it would fully support the existing sports hub. As for the scale of the stadium, it was directly linked to the client's wishes and would be instrumental in terms of future bids for big sporting events such as FIFA.
The criticism was unfair and badly informed and not supportive of architecture in general. They focused on stylistic concerns rather than on the overall aim of architecture, which is to benefit society as a whole. I just think they need to be clear about their real motive, because what have they achieved now?
Yes, because is a new design really going to be able to reduce costs at this late stage?
Exactly – ¥130 billion or ¥150 billion is not realistic, especially at the current rate of inflation. London paid ¥150 billion for a very basic stadium in 2012 – one which has been much criticised, is not fit for legacy and has cost a lot in subsequent alterations to make it suitable for football. A design is always going to be flawed if it's not geared towards long-term use. And if their focus now is about changing the design completely, they run the risk of a very standard design.
What would you suggest as a solution now?
We know from experience it's better to work with what we have, rather than start from scratch. We still believe we can moderate the current design to achieve a lower cost. I'd say around the ¥200 billion mark. There are certain parts of the brief that can be modified, however there are certain things that should be retained because they fit the brief.
You've written to the Prime Minister asking for him to reconsider. Have you had any response?
No, we're still waiting.


London-based Zaha Hadid Architects has created 950 projects around the world. Zaha Hadid is one of the world's most renowned architects and was the first woman to be awarded the Pritzker Architecture Prize in 2004 for the Bridge Pavilion in Spain.
Jim Heverin portrait photo by Jacopo Spilimbergo
Zaha Hadid portrait photo by Brigitte Lacombe