Photographer Kayo Ume, who captures everyday scenes that incite laughter, held a solo exhibition (from Saturday August 7 until Sunday August 22) titled 'Umep' in Space O in the 3rd basement floor of Omotesando Hills. With about 1,700 hundred photos on display – including small snaps and large-sized prints of photos taken this year, as well as video pieces – this is the artist's first large-scale exhibition in Tokyo.

The snaps are displayed in chronological order up to the latest photos taken at the exhibition itself. Ume was the winner of the 32nd Ihei Kimura Award for her collection of photos titled 'Umeme'. While she has since released other collections of photos in 'Danshi' and 'Jiichan-sama', 'Umep' is her first exhibition of new works in two years. We headed to the exhibition to find Ume casually chatting with visitors.

My image of you is having a casual style of t-shirt and pants but today you are wearing a purple dress – and you wore a green dress by Pass the Baton at the opening for this exhibtion. You've been looking dressy.
KU: Yeah, I am always looking casual; today just happened to work out this way. I've been here everyday since the preparations for this exhibition got underway. I don't have any time to do any washing and slowly I start running out of things to wear. I'm always left with things that I don't wear. [Laughs] But think of me as not being casual, please!

Among the works are several photos taken of you. Were they taken using your camera? Don't you mind handing over the tool for your work to other people?
KU: You mean the photos where it's like, 'What? Who took these photos?' Because I don't think of my camera as a tool for my work, I have no problem with other people using it. It's the same feeling as when you are in a tourist spot and asking someone nearby 'Can you take my photo?', then handing over your camera. I'm often doing things like dropping it; I'm not too precious about it. [Ume strokes her camera] I'm sorry. [Laughs]

Everything that takes place in your photos takes place right in front of you. Do you ever do anything like stage the shots?
KU: I never set them up. When I am walking around town, there are times when I am searching for a shot and times when I am not. There are times when I am conscious and times when I am not. It's more of a habit than walking around looking around for a photo. Because I don't walk straight, I generally frustrate the people I am walking with. And also, even when I am talking with someone my attention gets diverted, for example, I might notice a refrigerator or clock behind the person. Most days are like that.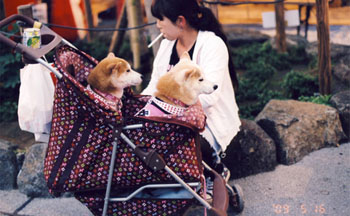 So, you have a real ability to concentrate when you take photos.
KU: No, I don't have any ability. I'm not thinking about it. I also hate deciding on photos for an exhibition and I am over it within one or two minutes. But, even though I say, 'I hate it', if I don't do it, I can't move forward if and I will put other people out.

When you are trying to capture incidental meetings, random moments and the like, you can't ask the subjects 'Can I take your photo?' So how do you go about taking your photos?
KU: I take care to keep a sense of distance so that I don't intrude and so that I don't upset them. The sense of distance is the most difficult part. There are also times when I think that the subject might get upset so I take my photo very quickly.

It is a little bit embarrassing for you in that brief moment, but it has been pointed out that you capture the moment that puts one on the point of laughing.
KU: Yeah, it's funny but shocking. I don't like it, but I am able to laugh. I'm a little embarrassed that I make it into a joke. I make a quick judgement to take a photo while trying to respect the subjects. Later I decide whether to use it or not. However, there are many times when I think, 'I got a great shot' but when I see the photograph it's not that great. I have gotten used to it more recently, but I get too tense and later when I try to calm down, there are times when I can't.

You lived in a long time in Ishikawa, attended a technical school for photography in Osaka and now you are living in Tokyo. When you look at Tokyo as a subject for your photos do you notice anything different about it compared to other cities?
KU: Tokyo is too amazing. Even when I go to other countries I think that Tokyo is amazing. There is too much of everything and there are too many people. The degree of everything is too much. There is too much information. While some people may dislike that, it is something I really like about Tokyo. There are a lot of places where there is no information. Noto Hanto – where I used to live – is also like that. I'm very materialistic. I lived my whole life in the countryside and I couldn't get my hands on things that I wanted very quickly. But in Tokyo, there is nothing I can't get; there is really everything under the sun.

What do you want the most right now?
KU: Now that I am an adult now and living in Tokyo I have bought a lot of different things so there are fewer things that I want. But I have loved stickers from when I was a kid. I even have a lot of stickers on my camera. And I love Kiddy Land. For no real reason, I have bought loads of Miffy cups, so much so that if I had ten people at my place there would be enough for everyone. I like cute things and I like having them near me. I usually buy my clothes in Shinjuku. I often go to Big Camera in Shinjuku and I will often wander around the department stores when I am there.

What's the most expensive thing you have bought recently?
KU: A television. I bought it on kakaku.com. I love television and am always watching it when I am at home. It is a really big flat screen TV. My friends have said, 'You're the queen of royalties' but I say, 'That's not true! I work!' with my eyes glued to the TV. The only celebrity-like item I have is my TV. I have no sofa so I watch it sitting on the floor. And, even though I never cook, I bought a big microwave called Bistro that can cook anything. My microwave is so big that my sister especially says, 'Sis, what do you cook in this? Just how many people are you cooking for?' But I only use it to reheat food. I also bought that on kakaku.com.

So if you like TV, are there any celebrities that you would like to meet in the future?
KU: Yeah, there are a lot. I like Arashi. I was able to meet them thanks to my camera. I watch TV all the time, so I like celebrities. Every time I go to take their photo, I get tense from the thought, 'This is someone from TV!' In the future I would like to take photos of Satoshi Tsumabuki and Jun Kaname because they are Matsuzaka Generation and after all, they do look cool! [Laughs]

Tsumabuki and Kaname are good, but what is great about your photos is that there is nothing in the way of anyone becoming a main character.
KU: Our world wouldn't be what it is without everyone. It's thanks to everyone. When I take photos I am trying to capture a time or place.

So you are 29 now, turning 30 next year, is there anything you want to do while you are still in your twenties?
KU: I would like to put out one more photo book before I turn 30. I have put out 'Umep' but if I do another one, I won't have time to give birth. [Laughs] There are probably things that I should have done as I headed towards thirty but I have never thought like that. But I want to be like a woman in her thirties. I've been told that I am like a boy and I have started to worry about it a bit. My sister has even said, 'Sis, you're like an old man.' [Laughs]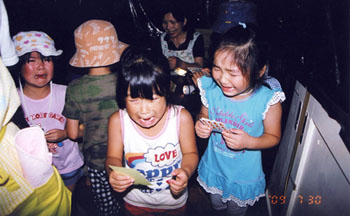 With 30 just around the corner, 'Umep' is a photographic exhibition that captures the daily life around Kayo Umeda. While unfortunately the exhibition has closed in Tokyo, it will be held in October in Osaka; it's well worth checking out.

Kayo Ume: 'Umep: Shutterchance Festival in Ume Kayo Five'

Date: Sat Oct 2-Fri Oct 15

Location: Osaka Hep Hall

Website: www.hephall.com/?p=7342

Translated by E. Kavanagh