Currently on show at Yuka Contemporary gallery in Bunkyo ward is four-person group exhibition 'Angelica 01', which opened on May 8, 2010. The exhibition features mostly two-dimensional works by artists Tomona Matsukawa (second place prize winner in the The 3rd Art_icle Award held in April 2010), Manika Nagare (opening ceremony invitee for the Japan Year 2010 in Turkey), Tomomi Nitta, and paintings and drawings by Matt Hansel. Time Out Tokyo asked artist Manika Nagare about the state of contemporary art.

I heard that you participated in the Japan Year 2010 in Turkey opening ceremony. How was that?
MN: There is a project called 'Sakura – Cherry Tree Planting Project' which is part of the Year of Japan in Turkey. This involves the planting of 1,000 cherry blossom seedlings in various places across Turkey each year for three years, totalling 3,000 cherry trees. The piece that I exhibited when the cherry tree seedlings were given was called 'Yukarihiki' ('Bond') and I got my idea for it from mizuhiki (decorative Japanese cord made from paper).

How did 'Yukarihiki' come about?
MN: The common theme that runs through my artwork is my interest in people.

I am interested in the lives of people that I don't know – the person who I happen to sit next to on the train, or pass in the street – rather than the ones I do know. In my work, I imagine what these people are thinking as they go about their lives. I have really loved imagining people's lives since I was a kid.

I generally do oil paintings. I think about the fragments of things I see in day-to-day life in my own way and draw them. So although I have this interest in people, I actually don't really have any models. My piece 'Yukarihiki' is a different way of expressing this interest in people; this project is centred on communication between people. I made it while directly communicating with people.

I have always had an interest in doing something with mizuhiki and it seemed just right for the giving of the cherry trees, so I did a lot of research about it. This mizuhiki looks like an artwork, but long ago, women of marrying age would learn how to make string out of twisted paper, which they would dye red and tie together. Red represents blood and white represents breast milk so it also carries a meaning that through linking life, people also become linked; the more I learnt about it, the more I found it a really interesting tradition.

For the project, I ran a workshop in five or six different places had people make mizuhiki out of recycled paper. About 200 people participated and I made 'Yukarihiki' by linking the mizuhiki together.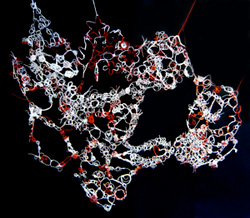 'Yukarihiki' Manika Nagare
Did you also hold workshops in Turkey?
MN: Yeah, I did. I explained that I wanted them to join red and white cords together, but the Turkish participants made the most colourful mizuhiki. [Laughs] Surprisingly, a lot of Japanese people are shocked when I tell them about red symbolising blood and white symbolising breast milk, but I didn't get much of a reaction from Turkish people, which I think comes down to a cultural difference. It seemed that for the Turkish participants it was more important to create something of their own as opposed to working within the theme. By the time I realised, they had already made a rainbow coloured mizuhiki. Right now, I am working out whether I should hold workshops in various locations and continue to spread this work around the world as a long-term project or just wrap it up altogether.
You have made art in Turkey before, haven't you?
MN: Yeah, the first time was in 2002. It was for an exhibition titled 'Kokoro no pan' ('Bread for the heart'), which was held to raise money for the victims of the 1999 earthquake. Fifty artists participated and the idea behind it was this idea that 'Even if Japan sends donations, the victims still won't have enough bread to eat, so instead let's send them artworks that will nourish their souls.' One of the artworks from that exhibition is at the library at Kocaeli University, which is a big university, and they are planning on building an art gallery at some time.

And you held a solo exhibition there, three years later in 2005.
MN: When I think about it like that, I have been going to Turkey every three or four years like I am making fixed point observations. Although the economy is said to be bad, I felt a certain vitality there. I got the impression that this energy is really growing. I have been based in New York before as an artist in residence through the Japanese Agency for Cultural Affairs Grant. I saw the very heart of the world that is centred on America and I got the feeling that this world will go through a grey period in the future.

I think that is very interesting the way that energy is increasing in Turkey, a country that doesn't have a strong commitment to America. So, being connected to Turkey though my artwork, and being connected to American through my artwork has a completely different meaning. Making art through communicating with people from various countries and with various experiences is really exciting for me and is something that I want to continue to do.

Are there many artists in Japan, who like you have practiced overseas?
MN: Many artists are back in Japan; more and more curators and directors who went overseas to study have returned to Japan. This is not because of the bad economic times, but because age-wise it is probably about the right timing for them to come back to Japan to find work after studying. The art world in Japan was until recently very inward looking, but there are some interesting artists in Japan who have been abroad and are now thinking about what they can do for art in Japan. I think that we need to work together and be positive.

How is the environment for art making different in Japan from other places?
MN: The mere existence of artists in Japan is very rare. I was told by someone that I was the first artist they had met. But in New York for example, artists are always about, so much so that one person in a group of friends is probably an artist. In that sense, everything from the smallest detail of daily life is naturally so much easier. But it is really competitive and unless you have the toughness to survive then you won't be able to make it.

So how do you want to broaden your artistic activities in the future?
MN: I am constantly thinking that I want to visit a lot more countries and communicate with people in various places through my work. For me, my life experience is not enough for me to come to conclusions about things purely within myself. I want to keep making art, while continuing to get ideas from what I learn through my contact with others.

'Angelica 01'
Date: Sat May 22
Location: Yuka Contemporary (Full details & map)
Exhibition: yukacontemp.com/pressrelease/pr007.html
Artist official website: www.manikanagare.com/

Translated by E. Kavanagh