Tamako Mitarai wears a deep-blue, hand-knit sweater the colour of the furthest reaches of the ocean. It's a beautiful garment, but also a poignant one: a vivid reminder of the communities still recovering from the devastation of the March 2011 disaster. We're talking in a conference room at the office of renowned copywriter Shigesato Itoi, who collaborated with Mitarai three years ago to found the Kesennuma Knitting Co, a for-profit organisation that produces high-end cardigans and sweaters. Most of the knitters, who make sweaters like the one Mitarai is wearing, lost their homes during the earthquake, tsunami and subsequent fires, which levelled the seaport city of Kesennuma, lowering its elevation by almost two metres. Some have moved into new homes. Others are still living in temporary housing.
'Kesennuma was heavily damaged,' says Mitarai, 29. 'Our main purpose is to create jobs for the people and bring back their sense of dignity through the work.' Itoi and Mitarai first crossed paths because of their mutual interest in Bhutan, a tiny nation in the Himalayas. Mitarai was hired by the Bhutan government in 2010 to promote tourism as part of its Gross National Happiness Commission; Itoi, who was already interested in the country's unique culture, discovered her blog, and a bond was formed. After Mitarai returned to Japan in 2012, Itoi asked her to helm his brainchild, and the idea appealed to her entrepreneurial curiosity. 'Even in a small country like Bhutan, we were able to build a new model that could be respected globally. That kind of can-do mindset is what I gained in Bhutan,' she says. 'Sometimes smallness is the advantage. We can work flexibly. It is easier to create something new. Business-wise, it could be done. That was my sense.'
Mitarai previously spent time helping a local government in Tohoku plan its industrial recovery strategy, so she had seen non-profit organisations being set up with support and funding. However, no-one had been willing to move in and establish a business. In her mind, this is where the rebuilding has to start. 'Industrial recovery is difficult, and a bottom-up approach is needed,' she says. 'To say, "Yes, we are recovered," means people need to be able to live their lives: go to work, buy food, return to their houses and cook dinner. I believe daily life can come back, but the important thing is to ensure there are jobs, and the companies that provide jobs can survive.'
Famous for their nimble fingers, the knitters of Kesennuma are highly regarded, so Mitarai was able to bring in workers with superior skills. This meant she also needed a superior design template, so she sought the assistance of knitwear designer Mariko Mikuni. Together, they also travelled to the Aran Islands off the coast of Ireland, famous for luxury sweaters, to study the knitting industry there.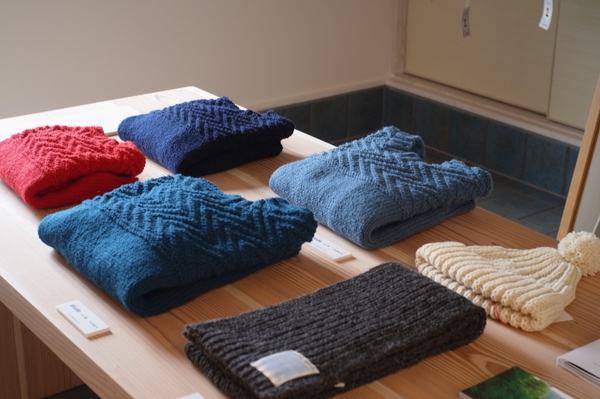 The Kesennuma Knitting Company was officially registered as a company in 2013 and the orders started to pour in. Production was limited, and demand was so high that customers were chosen by a lottery system for the first two years. Mitarai, who learned how to knit the sweaters herself and lives with a host family in Kesennuma, grew tired of turning down customers, some repeatedly, so she started a waiting list instead. The company now contracts 35 women and is earning a profit, but more importantly, Mitarai says families are returning to a sense of normalcy. 'The highest point for the knitters was when I announced that for the first financial year, our profit was positive, so we can pay the tax to the city,' she says. 'One knitter told me, "Now I can walk the city with my head up proudly." She felt happy because she can contribute to the city again.'