On March 11 2011, a force-9 earthquake struck the Pacific coast of Japan, setting off a tsunami that swept inland, wiping out villages and towns, and damaging nuclear power plants. It was the world's fifth strongest earthquake this century, and the most powerful ever on record in Japan. More than half (4,465) of the 8,000 homes in the beautiful town of Rikuzentakata were either damaged or completely destroyed. So it's only fitting that this Iwate Prefecture spot would be 2013's host for the Tour de Sanriku Cycling Challenge – the two-wheeled tournament that started in October 2012 in support of recovery efforts.
Standing near the former site of Rikuzentakata station, it is hard to imagine the stores and houses that used to line the streets of this now-derelict town. In their place, here and there, can be seen what remains of the missing buildings' foundations. But the town's survivors are determined to return to their former way of life, and the Tour de Sanriku has given them something to focus on.
2013's event included three special participants: Tokyoite architect Manabu Chiba; American Greg LeMond, three-time winner of the Tour de France; and Shelly Fredrickson, from Alaska, whose younger brother, Monty, lost his life in the disaster. As an assistant language instructor, Monty taught English at elementary schools in Rikuzentakata before the tsunami hit.
Looking out over the town, Shelly says: 'It's beautiful, absolutely beautiful. The greenery, farms, ocean, the people in this community – I just don't think you can find this in a large city. I'm especially happy to see kids have tennis courts and places to play again. If our children are happy, then we have a good future.' Architect Manabu Chiba is involved in various recovery projects in the area. He recalls 2012's Tour de Sanriku: 'Last year, the roads hadn't been fully repaired and there were numerous places throughout the course where riders had to dismount and walk their bikes. Things have improved now. I was especially impressed to see the ikada rafts used for fishing were back in the ocean. It's a major accomplishment that people can work again.'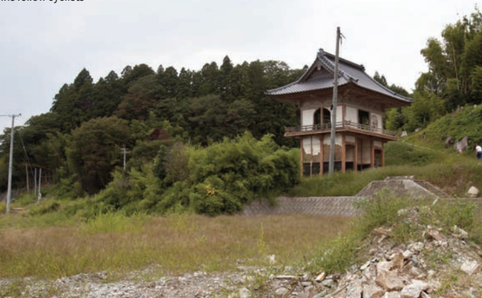 As Rikuzentakata slowly makes progress, so does the Tour de Sanriku: the 2013 course had been a longer and tougher ride (making it more appealing to the athletes, apparently). There were still points where riders had to walk their bikes. But, if someone has the desire to keep on going, no matter the speed, they will reach their goal. As Greg LeMond said, 'I feel the race I've done was a lot easier than what people in Rikuzentaka are facing now. It's a very beautiful area and people are in a good team. I hope they can remain positive and keep moving forward.'
The Tour de Sanriku was held again in 2014 – see www.tour-de-sanriku.com/index_e.html for the details.
ANOTHER WAY TO SHOW YOUR SUPPORT Rikuzentakata's City Museum was destroyed in 2011. Now some artefacts have been recovered, and are currently being restored by specialist volunteers, as part of a Disaster Document Digitalization Project. To make a donation and to find out more, go to tsunami-311.org/?lang=en.
This article originally appeared in the launch issue of Time Out Tokyo magazine.