There are 5,000 sushi restaurants in Tokyo. To comprehend just how many that is, compare the figure to 500 McDonald's outlets or 260 Starbucks cafés. Even though I am a self-confessed 'sushi-bar otaku (geek)' who visits over 100 sushi restaurants a year, it's still not easy to narrow down 5,000 sushi spots to a top ten. To help me choose, I used the following criteria:
The class is high-end (chef's selection from ¥10,000) but not super high-end (from ¥20,000).

You can make a reservation at least two weeks in advance (or there is a good chance of being able to make a reservation).

Not in the Michelin Guide*.

Has a distinctive preparation style.

Not far from the city centre.

Good option for high-end sushi restaurant first-timers, or those who can't speak Japanese.

Sushi shop guide

Before I launch into the top ten list, here's a quick guide on the different kinds of sushi shops in Tokyo, so you can be sure to find what you're looking for.
1. Conveyor belt sushi
The most popular kind of sushi shop, open to everyone and popular among tourists as you don't have to fumble around with Google Translate. It's simply a matter of keeping your eye on the prize as it makes its way around the conveyor belt. Sushi with salmon, avocado and cooked fish is common, and many of these restaurants also sell other dishes like fried chicken, fries and dessert. Expect to spend: ¥1,000-¥3,000
2. Chain shops
A step up from the conveyor belt, while also still offering familiar sushi like salmon or tuna with avocado. They offer set menus but they're not too pricey, and often they'll have pictures of the sushi on offer, which means ordering shouldn't be too difficult even if you don't speak Japanese. Expect to spend: ¥2,000-¥5,000
3. Family-run shops
Throughout Tokyo you'll find these small, usually family-run sushi shops targeted at local customers. They range from offering budget-friendly lunches (less than ¥1,000) to more expensive meals that cross over into category 4 below. Most locals treat this kind of place more like a local bar than a restaurant. Try saying 'nigiri setto menyuu' (nigiri set menu) in your best Japanese accent and, after checking the price, confirm whether it's right for you. Expect to spend: ¥3,000-¥8,000
4. High-end shops
While it is possible to get the full 'sushi in Tokyo experience' at one of the above type shops, this is akin to buying a ¥1,000 bottle of wine and saying you've had the 'wine in Tokyo experience'. High-end sushi shops offer rare ingredients that are limited in supply, kind of like certain types of wine and champagne. These places can be broadly divided into primarily nigirizushi-selling and appetiser (non-sushi)-selling restaurants. The former often only features sashimi besides nigiri. The latter usually features five to ten different kinds of appetisers and ten or so different nigiri. Few cater to English speakers and some have year-long waiting lists, so it's best to call the concierge ahead of time. Your experience at these restaurants depends largely on the owner's personality and intentions, so some research is necessary. The list I've created below will give you a good head start. Expect to spend: From ¥10,000
Top ten sushi restaurants
1. Tsugu Sushimasa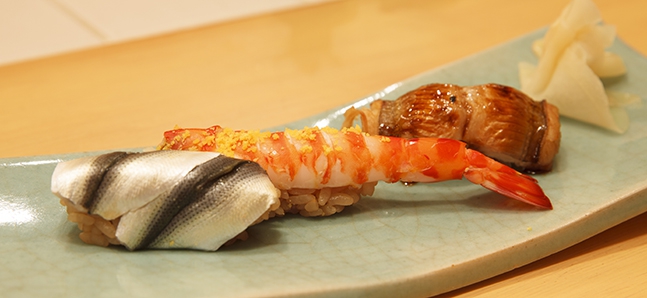 If you thought it was the fish that dictated how sushi tasted, think again. Many of the pros will tell you that it's actually the rice, known as 'shari', that plays the most important role in determining flavour. You can certainly taste the difference at Tsugu Sushimasa. That's because they don't use regular rice vinegar (shirozu) here: instead, they prefer akazu, a red vinegar made from sake lees that was the default option for sushi back in the Edo period (1603-1868). It's light brown in colour, with a stronger taste; think of it as the chardonnay to shirozu's sauvignon blanc. Sushimasa has been going for three generations now, which is what inspired current chef Shogo Sugaya to add the word tsugu (to succeed or inherit) to the restaurant's name. And if you fancy something other than raw fish for dinner, you're in luck: the menu also features a range of grilled fish and other small plates. Expect to pay from ¥10,000 plus tax for an omakase (chef's choice) course. Tsugu Sushimasa's map and opening hours
2. Irifune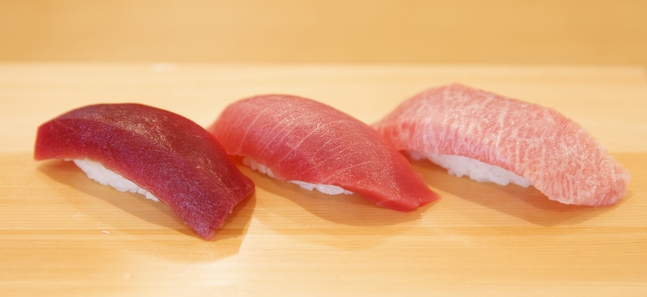 If you asked Japanese diners what their favourite type of sushi was, most would probably pick tuna. You can find all sorts of restaurants that specialise in the fish, from budget kaiten-zushi (conveyor-belt sushi) joints to ultra-swanky places in Ginza that charge ¥3,000 a piece.
 If you want to get the very best tuna sushi at a less eye-watering price, though, you should take your business to Irifune instead. The ¥16,200 Magurozukushi Nigiri (literally, 'all sorts of tuna sushi') set here includes a dozen pieces of nigiri sushi and six rolls made with a variety of cuts (akami, chutoro, otoro and otoro aburi), plus omelette. Chef Katsumi Honda is in his seventies now, but he was just 27 years old when he first opened the restaurant back in 1968. As if that wasn't notable enough, Irifune also stays open 365 days a year, and it doesn't close between lunch and dinner. For a real treat, we recommend bringing along your favourite red wine – yup, you can bring your own if you're sitting at a table – and pairing it with some otoro aburi. Irifune's map and opening hours

3. Ichibancho Teruya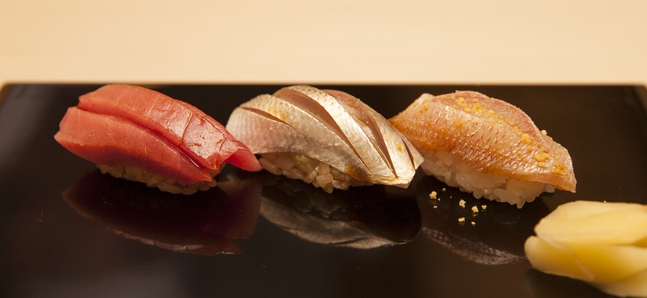 One of the pleasures of eating at a sushi restaurant is chatting with the chef, but there aren't many places in Tokyo where you can do that in English. This is one of them. Teruya Iida moved to New York as a high-school student and started his training at a sushi restaurant in Manhattan, making him one of the few high-end sushi chefs in Tokyo who speaks English fluently. After returning to Japan, he opened his own restaurant. He still practises the Sushi Sho style of serving a wide variety of morsels in small portions, alternating between nigiri (using both shirozu and akazu vinegar) and side dishes. Expect some individual touches, too – including some fastidiously prepared desserts. An omakase course costs ¥19,000. Ichinancho Teruya's map and opening hours





4. Sushi Hayakawa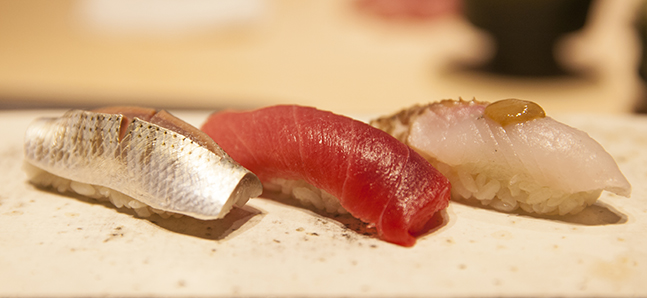 Akira Hayakawa boasts a more diverse CV than the average sushi chef, including stints at restaurants in Roppongi and Ginza that specialise in other types of Japanese cuisine. Working behind a handsome wooden counter at this unmarked Ebisu restaurant, he employs a range of methods you wouldn't normally see at a sushi restaurant. Typical dishes include young sea bream sandwiched between sheets of blossom-scented kelp, and channel rockfish skin braised with burning straw and served with kidneys marinated in soy sauce. Then there's his signature dish, the Hayakawa Special: rich tuna belly served on a charcoal-broiled roll with flakes of truffle. Full courses are ¥18,000 (excl tax), though there's a cheaper ¥8,000 course available on Sundays, when Hayakawa lets his assistant take charge for the night. Sushi Hayakawa's map and opening hours



5. Sushi Hirose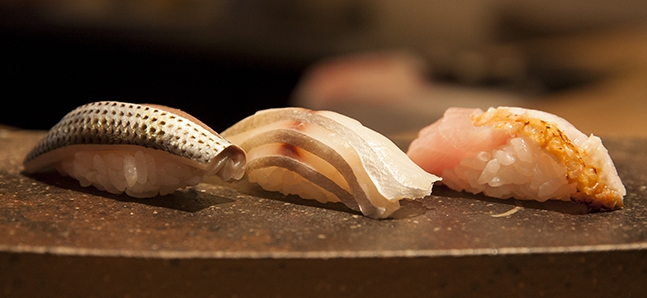 There are more than 30,000 sushi restaurants in all of Japan, but you'll only find a handful of high-end places that keep tuna off the menu. Sushi Hirose is one of them, but it's not out of environmental concerns: chef Ryuji Hirose just says he prefers other kinds of fish. He's a big fan of marinating, which he does by wrapping the fish in kelp and storing it in vinegar to bring out the flavour. Of the 30-odd seafood dishes on offer, a good dozen are prepared in this way; on a recent visit, these included flounder, octopus, sea bass and sea robin. If Hirose's approach seems unusual, it's probably because he didn't work his way up through the ranks like most sushi chefs do: already an expert in other forms of Japanese cuisine, he did a brief apprenticeship and then went straight in at the deep end. Omakase courses start from ¥8,000 (plus tax) if you just want nigiri, and from ¥12,000 (plus tax) with all the trimmings. Sushi Hirose's map and opening hours


6. Masuda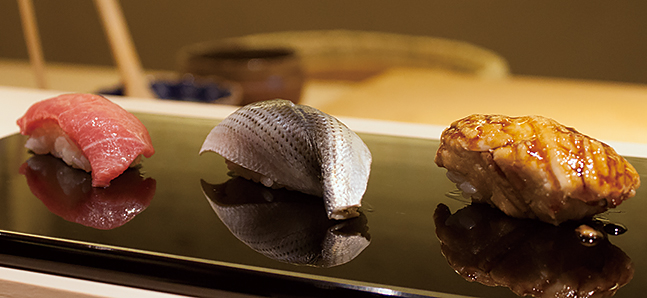 Thanks to 'Jiro Dreams of Sushi' and a visit from President Obama, Sukiyabashi Jiro has become one of those places that's near impossible to get a reservation for. Chef Rei Masuda worked as an apprentice at Jiro for nine years before opening his own restaurant, Masuda, in January 2014. Even though his restaurant is called an alternative to Jiro, there are several key aspects that set it apart. One being the use of sillago and kasugo. Another being the wide selection of appetisers along with stewed and flame-broiled dishes, wine and champagne. Customers can enjoy their two-hour dinner slot in a more relaxed atmosphere, or book a private room that can accommodate six. One thing that Masuda does share with Jiro is a distinctive, vinegary-tasting sushi rice. For the time being, business is going well with Masuda's reputation as 'Jiro's personal pupil', but Jiro's older apprentices like Mizutani and Harutaka have also started gaining popularity. It will be interesting to see what originality Masuda brings to the table in future. *[Update: Masuda was awarded a Michelin star in December 2014]. Masuda's map and opening hours

7. Kizushi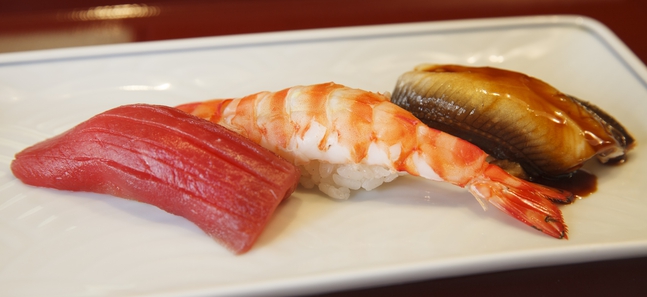 For most Japanese people, sushi is associated not so much with Tokyo but rather with Edo, the city's original name. When Edo became Tokyo in 1868, it was not only social systems but also other aspects of culture such as food, clothing, housing, music and fine art that went through rapid Westernisation. In this context, sushi is considered a symbol of nostalgia, representing the Edo culture that has been preserved from the 19th century and continues to be loved today. If you want to get a feel for Edo style, including the ambience inside a restaurant, try Kizushi in Ningyocho. Their wooden building is more than 60 years old and was originally used as an okiya (lodging house for geishas). Ryuichi Yui, who is the third and current chef of the restaurant, describes the business as 'digging deeper into tradition, rather than being attracted by the latest trends'. 'We are classical sushi, so to speak,' he adds. In addition to orthodox sushi items like tuna, cooked clam and conger eel, the menu also has more uncommon items such as ika no inrou zume (boiled squid stuffed with gourd shavings, ginger, nori seaweed and rice) and tazuna maki (sushi presented as slices of vinegar-marinated gizzard shad, rice and slices of boiled shrimp). Although this is a long-established sushi restaurant, the staff make sure guests, especially first-timers, feel comfortable when they visit. Rumour has it they're discussing renovating, so if you want to have a traditional sushi experience, now is the time to go. Kizushi's map and opening hours

8. Sushi Kuriyagawa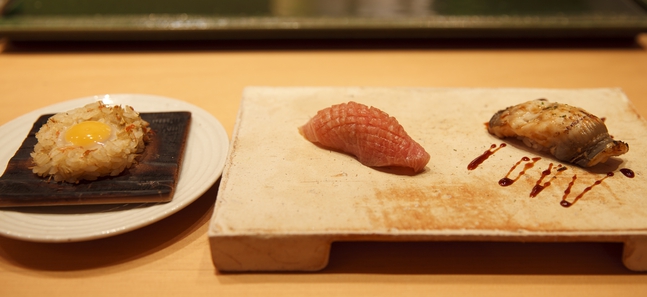 Generally, Tokyo's high-end sushi restaurants place value on tradition. Hardly any of them serve avocado or salmon, and some refuse point blank to serve seared toro (fatty part of tuna), saying that it deviates from the traditions. In this context, Koichi Kuriyagawa, the chef at this restaurant located near the Westin Hotel in Ebisu, describes his cuisine in the following way: 'For both ingredients and seasoning, I don't necessarily use special things, but I do try to serve my guests something they have never had before.' One such unique item is yaki-zushi (grilled sushi), which consists of crab meat, sushi rice and quail egg placed on a small piece of cedar wood and lightly grilled in an oven. Another example is makimono-chazuke (rolled sushi in tea), which consists of rolled sushi placed in a bowl with soup poured over it. In terms of creativity, Sushi Kuriyagawa ranks at the top of Tokyo's high-end restaurants. Thanks to the chef's love of children, babies and kids are welcome if a private room is available, and during weekday lunchtimes a professional babysitter will look after your children at no extra cost while you enjoy sushi at the counter (a reservation is required to use this service). Sushi Kuriyagawa's map and opening hours

9. Sushi Daizen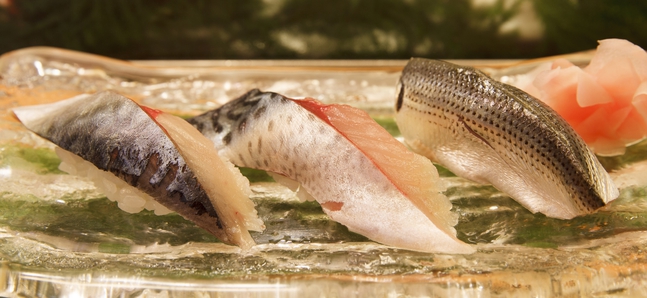 As is advertised at the entrance with big kanji characters meaning 'We serve good mackerel', Sushi Daizen specialises in silver-skinned fish like mackerel, sardines and gizzard shad. Its location – a small space underneath elevated railway tracks with room for only nine seats – is a turn-off for some, but it certainly adds to the atmosphere. You're also welcome to bring along your own drinks, which also goes a long way to creating atmosphere (a good place to stock up is at the liquor store on the second floor of Bic Camera outside Yurakucho Station). The staff don't speak English, but the chef, who's in his seventies, and his son and daughter run the place with that cosy family feel. They only offer set meals and the basic structure is sashimi, a grilled dish, nigiri and miso soup. They sometimes serve oysters depending on the season. As for mackerel, their speciality, they often serve two types with different origins, both as sashimi, so that you can experience the difference in taste. As the freshness of the seafood is their top priority, they only serve freshly caught fish – which means the restaurant is sometimes closed on Wednesdays, Saturdays, Sundays and public holidays, the same days Tsukiji Fish Market is closed. Sushi Daizen's map and opening hours

10. Takesushi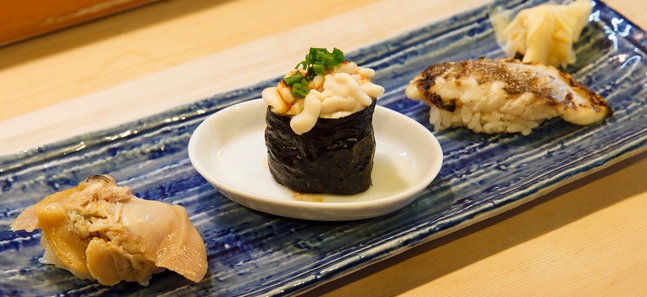 Very few people know about the fish market in Tokyo's Adachi district, or about this high-end sushi restaurant in the same area. Take a close look at the photographs of sushi before ordering. The restaurant's 'three-piece recommendation' contains neither tuna, gizzard shad, nor flounder but is instead made up of seared barracuda, milt and cooked clam. It's more than 30 minutes from Tokyo Station and there aren't many noteworthy attractions in the area, but the two hours you'll spend queueing up for sushi at Tsukiji could be better spent eating in peace here. Your meal will cost half the price too. There's also always a healthy collection of more than 20 types of sake on offer. If you're going on a Saturday, it's best to make a reservation. Takesushi's map and opening hours

Photos by Keisuke Tanigawa
Photos by Yasuhisa Shimbo