The Xx's 2009 debut album, 'Xx', turned out to be the big break for this newcomer band. On May 15 at Daikanyama's Unit, the band held their inaugural performance in Japan – an instant sell-out affair called 'A Night in Tokyo'. Before hitting the stage, The Xx member Oliver Sim took a rare pause to show his smiling face to the camera and to talk with Time Out Tokyo about performing in Japan – something he'd been really looking forward to.

OS: I know Time Out well.

Have you used it?
OS: Yes. Yes – because I live in London, and I used it in Paris few months ago. I give copies to my mother and sister.

You've got to use one as well in Tokyo.
OS: Actually I've been very well looked after here by the record label, and I have friends here who have been taking me around. Maybe they should buy it. [Laughs]

This is your first ever trip to Japan, right? How do you like it so far?
OS: Really incredible. I love these huge kinds of cities. I've been to New York, Berlin and Paris...and Tokyo was just next place I really wanted to visit. It's surpassed my expectations. The thing I found most surprising is just how upwardly built Tokyo is. It's extraordinary; panorama views from everywhere. It's just like I was told.

I'm really looking forward to playing the show, as well. I've been told the Japanese audience is incredibly respectful and very willing to listen. I think specially for a big city like this – I'm used to the kind of shows in New York and London, which are very much kind of arms-crossed, talking – that's just a standard and I love playing there as well, but that's what one might expect from the huge city like this. So I'm looking forward to it. It's going to be unusual but incredible.

I don't know if you know about the big 'X' written on the wall of Liquidroom. Did you hear about that?
OS: Yeah. We had them done in London, New York, Japan and Paris as well. We'll probably see it tomorrow.

None of us have seen you performing live. What's that going to be like? What will be see?
OS: Hopefully the show in Tokyo will be quite intimate. We've just come off a US tour, playing 2,000 people every night in big venues. We've been invested a lot effort, time, and money into a big stage production like lights and props. But when you play in a smaller venue like this time, it's too much to have that all there. You don't need it, and we couldn't interact with the audience [with it]. We only have one album, so you know which songs to expect, but we've been playing our songs constantly for a year. To keep it exciting for ourselves, we changed a lot them, so it's not like the stuff on the album. Hopefully there will be a different experience to it.

That's a rather interesting way to approach it. The album is so complete and has its own world, so I would have expected that the show will be exactly like it – but it's not.
OS: When we became a three piece group, we were forced to change. Some songs may be extended, or we extended them in a way that doesn't work on our record but works live.

You three are getting along well?
OS: Very, very much. I've known Romy since I was three and Jamie since I was eleven, so we're like siblings. We don't get fed up with each other after touring for one year. It would be more unusual if we weren't with each other 24 hours a day.

So does it feel just as unusual when you are doing an interview just yourself here, separate from the other two?
OS: I'm not used to it, but I'm usually the chattier one. Jaime is very shy, but while DJing he's not because he doesn't have to talk. Romy and I visit a lot of his DJ sets, but it's like his time to work, and our time to hang out – ready to have a few hours with some beers.

You like Japanese beer?
OS: Yeah. I'm a big fan of Japanese beer. We go out to dinner and I'm always saying 'Asahi, Asahi.' I thought, like, the dominating part of Japanese food would be sushi, but there was absolutely no sushi. Yesterday we went to a restaurant with a hot metal plate on the table. It was like an omelette in England.
I think that was okonomiyaki.
OS: I don't know what it's called, but that was incredible. When I was a kid, my mom used to rent a room in our home for local students. We had a Japanese lodger called Shinjiro, and I remember him sitting at a dinner table. He taught me words like itadakimasu [Let's eat].

Are you familiar with Japanese characters or that sort of stuff, like animation?
OS: Dragon Ball Z. That's the one I know. I used to be a fan of Goku, and Pokémon took over England for a very long time. Yesterday I went to Kiddy Land, and bought a small kind of fairy creature that wears a pink hat with white 'X'.

That one's from a cartoon called 'One Piece'. Its name is Chopper. By the way, you smell really good. Do you mind telling me what cologne you wear?
OS: I don't know. I think Givenchy. I steal other people's cologne. I think everyone does it sometimes at your friend's house. I'm terrible, actually.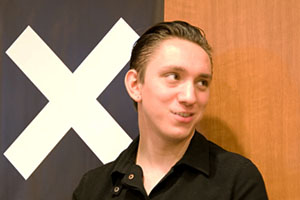 I think you are very popular among the girls.
OS: I'm trying.

You also had your hands done up in black.
OS: Oh – that was Beth Ditto [lead singer of The Gossip] who did that to me. She came to our show in Portland, America and I went to her house. She painted my nails before I knew it.

Do you listen their stuff often?
OS: Beth has a really incredible voice. I've never seen them performing live, but I'm a huge fan of their last two records.

I'm curious about the records you've been listening to a lot, aside from The Gossip stuff.
OS: I've been, like, a lifelong fan of Cocorosie – an American-French band. I saw them perform live twice last week. They kind of fuse classical folk and R&B... Everything is really incredible.

Thanks so much for talking with us!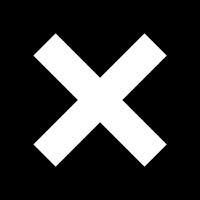 'Xx'
Release date: Dec 9, 2009
Label: Young Turks/Hostess
Label website: www.thexx.jp/