Orbital occupy a special place in the history of dance music. Brothers Phil and Paul Hartnoll first came to prominence during the heyday of the late-'80s UK rave scene, even naming themselves after London's M25 orbital motorway, a vital juncture on the way to many an illegal party. Starting with 1989's 'Chime', they cut some of the most enduring dance tracks of the era, while 1993's Orbital 2 (also known as The Brown Album) and 1996's In Sides rank amongst the finest electronic albums of the '90s.

But Orbital's reputation owed as much to their live shows – in which the brothers took to the stage wearing distinctive torch glasses – as to their recorded output. Their headlining performance on the second stage at England's Glastonbury Festival in 1994 is the stuff of legend, and paved the way for the crossover success of dance acts like The Chemical Brothers and Underworld. Yet while they continued to delight festival-goers during the following decade, the duo's recorded output grew steadily less convincing (novelty Doctor Who theme covers, anyone?), and when they announced that they'd be splitting up in 2004, only the most nostalgic ravers insisted that it was too soon.

Those same nostalgic ravers were probably right at the front of the crowd when Orbital returned to the live scene in 2009. After a string of festival dates, including 2010's Summer Sonic in Japan, the brothers set to work on a new album, while continuing to tour as DJs under the Orbital Sound System banner. It was in the latter capacity that they arrived here last September to play at the Metamorphose outdoor party in Shizuoka Prefecture – only for a typhoon to force organisers to cancel the event at the last minute. But all was not lost: that night, the Hartnoll brothers ended up playing to a way-above-capacity crowd at a hastily arranged party at Unit that night instead, the queues for which stretched nearly as far as Ebisu Station.

This May, they'll be returning for a second attempt at Metamorphose Spring 12, an indoor party where they'll appear alongside The Flaming Lips and many of the other acts who were booked to play in September last year. The album's done, too – it's out today, in fact – meaning that audiences will be getting the full Orbital live experience this time around. TIme Out called Paul Hartnoll to talk about new LP Wonky, cancelled raves, iPads, and why he'd rather be listening to folk music.

We queued for an hour outside Unit for that party after Metamorphose got cancelled, and we still couldn't get in. Was it any good?
'It was really good, yeah. The only shameful bit was that it was really crowded, and it just made you realise what we'd all missed by Metamorphose not happening. It's such a shame to see so many happy people – like, a thousand happy people – and to think, "God, that could've been 8,000. It would've been brilliant." It was funny backstage, as well, because it was full of all the other forlorn musicians that had come over, who didn't have anywhere else to go, so there were all these drunken musicians everywhere.'

Have you experienced anything like that in the past?
'Not really – it doesn't happen very often. Early on, there used to be quite a few cancelled raves, that kind of thing. I remember I was supposed to be playing a big rave in LA with Aphex Twin and Moby, and then right at the last minute the fire department shut it down because they'd made the stage out of three flatbed trucks, and basically left them completely full of petrol. Which, to be honest, I wouldn't have cared about – I was young and stupid then. That was mad, actually: people started to get towards rioting, pelting our van with bricks and that kind of thing, as if it was somehow our fault. The police had to get quite heavy-handed, and they had to get a helicopter in to sort of shove everybody home.'

That sounds a bit harsh…
'That was the only other thing, but that's not due to weather. Glastonbury should be cancelled sometimes: it's bloody awful, Glastonbury, when it's in the mud. But, you know, people carry on. Spirit of the Somme and all that.'

It seems to be something they're pretty good at in England. What was it like playing at Glastonbury again in 2010?
'Yeah, that was brilliant. I love Glastonbury. There's two gigs that I think of as my home gigs: Glastonbury is my home festival, and Brixton Academy is my home gig. That's what it always feels like: it's a real coming home at either of those places, I love 'em. Even though Glastonbury can be full of mud, as shitty as it is, if it's a nice, warm Glastonbury, it's brilliant. Brixton Academy, again, that's a real shit heap sometimes, but it's such a vibey gig – it's such a great gig to actually play.'

You were booked to play as Orbital Sound System at Metamorphose, rather than a full live set. When did you start DJing as Orbital?
'We only started doing that recently. I used to DJ quite a lot, back in the day, and then around the time we stopped, Phil started DJing. One of the things we wanted to do, as Orbital, was try out loads of new stuff, and that was the key to it for us. When we did our first DJing together, we had two new tracks to try out, and then by the end of it we were pretty much trying out a large portion of the album, to see how it went down. I think it helped hurry stuff up: because you knew you had the DJing gig coming up, you'd quickly get a couple of tracks finished because you really wanted to try them out.'

Was that not actually an option when you were playing live back in the day?
'We always used to play new stuff live. For the first five years of our career, I think we were always ahead of the game, playing stuff that was unreleased. The first time we played Glastonbury, I think we played most of Snivilisation before it was even out. Obviously, we didn't know that the done thing at a festival is to play all your hits (not that we had many hits at that point)... Last year, when we were writing the album, we weren't in a position to play live because we didn't have a live set worked out. It always takes us about two months to work on a live set, to get it right, because we improvise with the structure of a track. It's not like a case of laying out your tracks in stripes so that you can mix with them and that kind of thing – you've got to literally break everything down that you might want into tiny pieces, so that you've got it ready to roll at any given time – and that takes time and a lot of thought. When you're in the middle of an album, you haven't got the option of playing live, really, so that's why DJing came about now.'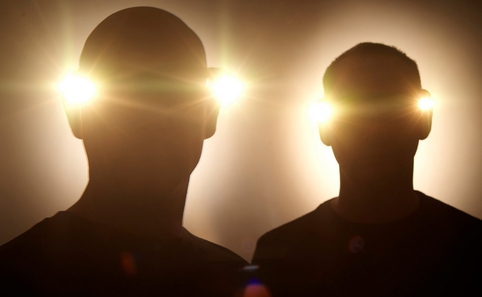 Orbital sporting their trademark torch glasses



The last time I saw Orbital was Phoenix Festival in 1997, but I assume your live setup has changed quite a bit since then?
'Well, yes and no. It's not an awful lot different, because I still love analogue synths. We had a few more digital synths then, which I since kind of got rid of – I'm sticking only to analogue synths live now. We've got rid of the sampler, but that's because we're using a laptop as the brain – that's doing it for sampling. We've still got a 909 drum machine, a 303, things like that… I used to have three MMT-8 sequencers, but now I've got three iPads doing the same thing. So it's a lot freer than it was, but essentially it's still the same kind of setup. It's still to do with improvising with the structure of the songs and all the loops and everything, and fiddling knobs on analogue synths.'

With some of the tracks on the new album, Wonky, it's obvious that you've kept abreast of recent developments in electronic music, but it feels like you've incorporated these elements without being too slavish about it…
'Yeah, totally. I take influence from whatever I hear, that I love, but I'm quite critical as well. I'm never actually trying to copy what I'm hearing, because nine times out of ten I don't actually want to. I've been enjoying dubstep rhythms over the past few years, so that's inevitably going to get in there, but like you say, I'm not slavishly trying to be like, "Right, now I need to compete with the young guys making dubstep." It's not really like that: that's not how I write music. If you look at our career – from the early stuff, which was very Detroit-tinged and acid house-tinged, to later on, getting influence from jungle and drum'n'bass and that kind of thing, progressive house – there's always an influence there, but hopefully we've always maintained our own kind of flavour. Mostly because I don't tend to like a lot of electronic music I listen to: I think it's nearly right, but not quite. I think, "Yeah, that's all right, but it could be better." So consequently, you try and do your own take on how you think it is, or what you want it to sound like. I know that does sound arrogant, but at the same time, that's how you push yourself forwards.'

So electronic music isn't the first thing you reach for when you want to listen to something at home, then?
'I would if it was good, but… (Laughs) I'm terrible. I'm sort of milking it now. But I don't tend to enjoy an awful lot of contemporary electronic music. This morning I was listening to Bobby O: I was listening to 1980s underground gay disco music, because ultimately I found it more inspirational than current electronic music. I've been listening to a lot of Severed Heads recently again, which are one of my all-time favourite electronic bands, from Australia. What do I like that's modern, though? There's one track, the last track on the Wolfram album, that I'm absolutely loving, so there is modern stuff. I like things like Ulrich Schnauss as well, because he's kind of different. But when I go home, the first thing I reach for is contemporary folk music. I listen to a lot of people like The Unthanks and Joanna Newsom. I can't sing, and I'm not a girl, so I listen to female vocals: it's someone doing something with music that I can't do. I think that's my problem with electronic music – it's not that people aren't making good electronic music, but I'm so ensconced in it that I suppose it's then hard to be inspired by other stuff.'

That makes a lot of sense: I guess the mystery often isn't there when you're listening, just because you know how it all fits together.
'It's not so much that with me, actually. You are right: there is that element, which doesn't help, but for me it's more that there's not enough harmonic and melodic content. Dance music, I've always felt a bit bland, really – when it's made purely for the dancefloor. It was never like that, though, with Bobby O music… I suppose we go through phases, don't we? The kind of '80s phase that people are going through is quite good, because everyone's getting back into melodies and harmonies. When we go through kind of minimal techno phases, I find that quite dull, because I like all the sounds but there's just not enough harmonic content for me. And that's why I find it frustrating: it's nearly good. Because it sounds great, but it doesn't deliver the musical content that I want.'

One thing I was curious about: did you have any reservations about releasing new material as Orbital, rather than under a different name?
'No. The closest we ever came to a manifesto was when we released 'Chime', and we said: Right, whatever we do stylistically, we're gonna release under the name Orbital. It doesn't matter if it's changed its style or whatever – we're always going to call it Orbital. Because at the time, there was a real fad for people to sort of, if they did something in a slightly different house style, they'd call it a different name, make up a different pseudonym. If they did something piano house they'd call it one name, and if they did something acid house they'd give it a different name. Everyone knew it was always the same people. We just said, well, let's not do that. Whatever we do, it's always going to be Orbital. That's our simple, hard and fast rule. So it doesn't matter what it sounds like: if we made a punk rock album, we'd call it Orbital. Not that I'm intending on making a punk rock album, but…'

I'd be very interested if you did. Just one last question: do you know Boards of Canada?
'Do I know them?'

You know of them, I assume?
'Yeah, they're one of those bands that have got a bit more sort of harmonic and melodic content to them…'
Because they actually kept the fact that they were brothers secret for a long time. When they finally admitted it, they said: Oh yeah, it was because when we were starting out, people would've just compared us to Orbital otherwise.
(Bursts out laughing)

Do you take that as a compliment?
'Yeah, of course I do. That's a great compliment… I think. (Suddenly uncertain) I dunno, it sounds like one – they don't want to be compared to us, they want to make their own thing. I'm assuming that's a compliment… It could be the other way. It could be they don't want to be compared to us because we're crap!'

I think it's more a slight against lazy music journalists.
'Coming from them and knowing the way they sound, I would imagine it's a compliment. But who knows, who knows? You know what should happen? Boards of Canada should make another album. They haven't done anything new for ages. What are they doing! They should get on with it. They should get themselves a pair of torch glasses each, as well. (Laughs)'

Orbital play at Metamorphose Spring 12, May 12, Makuhari Messe. 'Wonky' is out now, via Beat Records, and released worldwide on April 1