Kate Sikora, Singer-Songwriter
What brings you here today?
KS: I'm just hanging before work.

You've got some heavy looking luggage there, what's inside?
KS: A whole bunch of materials for class, I teach English at an international school.

Do you often hang out in Ebisu?
KS: I love Ebisu. I occasionally stop by Yebisu Garden Place for some free beer… I love free stuff. [Laughs]

Do you know any other city spots where you can hang out for free?
KS: I like the parks— especially Shakuji Park and Yoyogi Park. I also often go to Nakano City Library in Ogikubo.

How long have you been in Tokyo?
KS: I first came to Tokyo in 2005. Since then, I've been back and forth between Tokyo and America. In total, I've been living here for about three and half years.

Why did you come to Tokyo?
KS: I thought that Tokyo represented a new opportunity for me. At the time, I hadn't decided in which direction I should travel, or even what I should do; however, I knew that I wanted to go 'somewhere'. At a party back in the US, I met a friend who had just come back from Japan. I saw many photos and listened to numerous stories. After that I decided to come here and see Japan for myself.

And did Tokyo give you the opportunity you were looking for?
KS: It did! Last summer, I appeared on the Rookie a Go-Go stage at Fuji Rock Festival!!

You played at Fuji Rock?
KS: Well, I'm actually a singer-songwriter. Since 2005, I've had an album on release in America— it was released here in Japan last November. On Jan 20, my band, 'The Loyal We' released a new album here called 'Homes.'

Why choose Tokyo to further your musical career?
KS: Why Tokyo? I often ask myself the same question… I think people in Tokyo are really 'open' to music. Plus, being foreign helps me stand out from the other indie musicians here— I've had a lot of good luck as well. I always try to keep an open mind so that I can take full advantage of any opportunities that come my way.

Are there any Japanese artists you particularly like?
KS: For indie music I like Shugo Tokumura, 4 bonjour's parties and Mamimi Fouksong. For more mainstream music I think groups like Ocean Lane and Polysics are pretty cool.
More from Kate: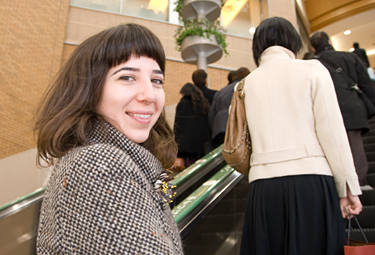 'I'm originally from New Jersey and I love it there, although people are a little too direct. It's a bit hard to handle at times. Japanese people, on the other hand, are so friendly and warm that whenever I return to the US I end up coming back to Japan again!'

'Japanese words I particularly like are "natsukashii" and "honto!?"… and also "a, sokka!" [Laughs]'

'My boyfriend's Japanese. I didn't expect to fall in love with a Japanese guy; however, I did. The initial language barrier proved sometimes tough for us to really understand what each other was thinking. We got through it though, and I think we both learned a lot— including lessons in patience.'

more info on Kate and her music, check out:
www.myspace.com/katesikora
www.myspace.com/theloyalwe
www.contrarede.com
Translated by Brin Wilson