What are you doing in Shibuya today?
I had a meeting to discuss some work arrangements.
What do you do?
I'm a model. I've been modelling since I was 20. I stopped for a while when I was 26 because I entered the Miss Universe Japan 2009 beauty contest. I made it to the last five finalists.
I thought you might be a model. You have a very small face. How tall are you?
172 centimetres.
Who was chosen as Miss Universe Japan in 2009?
It was Emiri Miyasaka.
Why did you decide that you wanted to be a Miss Universe Japan contestant?
While I was modelling I also worked as a teacher, training girls how to walk properly on the runway. At the time, a student asked me exactly what kind of woman the phrase 'a beautiful woman' refers to. It was such a specific question that I couldn't answer it [laughs], so I made it homework. So I did a lot of reading on the Internet and it led me to the Miss Universe contest, which said that it was about the pursuit of female beauty. Not only that, but when I looked at the age limits, you had to be between 18 and 27, which meant it was my last chance to compete. I decided then and there that I would enter.

Are modelling and Miss Universe completely different?
Yes, they are. As a model, you mainly have to present what is put on your body, like clothing or accessories, in an appealing way. But in Miss Universe, you have to show off the attractiveness of your own self. The way you have to walk and pose are also completely different. When I started training for it, I thought it would be easy because I had six years experience as a model, but because the elements that you have to show off are different, what I knew from modelling didn't apply. It was hard work, but it was fun and I gained a sense of how to present myself, so now I think it was a really good experience for me.

Did all of the finalists get along well?
I'm always asked that, but in my year the 20 entrants all got along really well. Of course there were certain conflicts between us as fellow women, but we told each other our bad points and praised each other's good points, and we could all develop and advance as finalists together. Even now we hang around together, and go on trips together.
Strange — I had the idea that you'd all be at each others' throats, but apparently not...
The atmosphere can be completely different depending on the year, but we were all really close. During the training, we were taught to always behave as if we were being watched by others. Usually we have on and off time. For example, I think most people would switch themselves off when they get home. But for us, whether we were getting in the bath, or sleeping — whatever the situation — we had to be conscious of having our switches turned to 'on.' We were told to think that we had no 'off' switch. Physically, those conditions are ok, but mentally it was very tiring. Generally, the fatigue would set in at around the same time for all of us and there would be a very flat feeling running amongst us, but we all understood that we all felt the same way, and we were able to encourage each other and keep on trying.
How long did you have to keep yourself switched on?
For about half a year. These days it's like I'm always half off. [Laughs].
What else do you have to do for the contest?
It's not just about having to be beautiful, sweet and smile all the time; Miss Universe contestants aim at being active women who can do anything, on a global scale. So training also involves things like jujutsu and rock climbing. I had to do a lot of hard kicking! [Laughs].

Is there anything you started as part of your Miss Universe training that you have kept doing?
Probably... not. [Laughs].
Incidentally, do you get paid while you are in training for the contest?
There's no pay whatsoever. Some of the other girls were students, or lived at home, but I was living on my own in Tokyo, away from by parents in Fukui, and I had to get by on what I had and cut down my living expenses. I couldn't really do any modelling work then, so it was really hard. There were other girls living on their own too, and we were all in agony!
How do you think you'll be able to use your experiences from Miss Universe Japan in the future?
At the moment I'm teaching at a modelling school and I have a modelling and a counselling class, but I'm the only teacher there who is still actively involved in modelling. I think it brings me closer to the students, and I want to give them all sorts of advice and listen to their troubles.

Is there anywhere in the near future where we would be able to see you at work?
I'm going to be appearing in the Tokyo Fashion Fuse Valentine Edition show on February 12. It's at a venue called '57' in Roppongi, so please come along!

More from Mitsuyo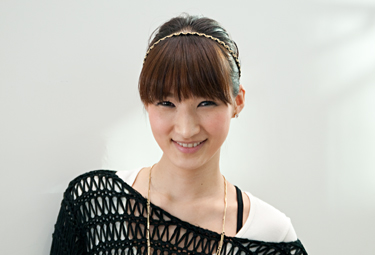 'My favourite part of working as a model is being in fashion shows. Hearing the audience cheering and being under the spotlights feels really amazing. I love that feeling of pleasure.'

'Out of all the brands that I've had to wear for work, my favourites are ones like 'Sly' and 'True Religion.' I like things that are casual and stylish. But when I'm shopping I don't limit myself to any particular shops, I just wander around Shibuya or Harajuku and if I find something I like, I buy it.'

'When I look at the girls walking around the city, I end up noticing so many things that I want to fix. If you want to walk in a graceful way, the first point is to correct your posture. After that, it's to wear shoes you are used to walking in. However beautiful the shoes, if you are walking with your knees sticking out, it's just a waste. I think it's best to walk in a commanding manner, with shoes that you are used to and with good posture. Particularly now, when the weather is cold, there is a tendency to hunch your shoulders and walk quite stiffly, so you should tighten your stomach muscles and stand up straight.'
Translated by Virginia Okno