She's marketing her album through Farmville! She's releasing singles exclusively on digital platforms! What does this say about the music industry? What does Born this Way's message illustrate about contemporary standards regarding gender identity? Why is the artwork so goddamned hideous? With all the discussion around Lady Gaga's second proper album – and it's only her second, remember, despite the fact that it seems like she's been with us forever – it's occasionally worth asking the question, 'hey, what are the songs like?'

And it's a valuable question because Stefani Germanotta, for all of her post-millenial marketing savvy and outré design and fashion choices, is also one heck of a good pop songwriter. Her singles have been, almost without exception, amazingly strong tunes, while The Fame (and its mini-album sequel, The Fame Monster) were a bunch of substandard tracks padding out the bits in between the singles. So, if this was following the general pattern of pop records, we should expect that the singles will be great and the album tracks forgettable. The weird thing, then, is that it's (sort of) the other way around.

It starts with a bang via the high-energy belter 'Marry the Night' before stumbling with the title track, which is, let's make clear, Madonna's 'Express Yourself', and second only to Billy Bragg's 'Sexuality' in terms of well-intentioned 'hey, gay people, it's OK to be gay, you gay people' lyrical clumsiness. 'Government Hooker' harkens back to the twitchy beats of 'LoveGame', the RedOne co-write 'Judas' bangs away adequately with a chorus that recalls the early 90s singles of New Order and Pet Shop Boys welded to faux industrial verses, and 'Americano' sounds like a discofied attempt to write a West Side Story tune.

Things falter with the single 'Hair', which is surprisingly anonymous for a Gaga tune: the heavy autotune and overfamiliar chord progression could be any one of a dozen contemporary popstrels, but 'Scheiße' is a slab of playful electro that transcends its poo-joke basis and 'Bloody Mary' could be the most forlorn piece of sub-dance music since PiL's 'Death Disco'.

That's a hell of a pace to keep up, so it's no surprise that things get wobbly in the album's second half with the forgettable 'Bad Kids' and the idiotically titled 'Highway Unicorn (Road 2 Love)', which is a substandard remake of 'Poker Face', and while both 'Heavy Metal Lover' and the 80s flavoured 'Electric Chapel' are decent tunes, they're also very Gaga-by-numbers.

The biggest surprise is the ghastly 'You and I', which sounds like it should be a Shania Twain song (well, it is produced by Mutt Lange), and while the stomp-stomp-clap rhythm is a nice wink to her Queen namesake, it's a song clearly built purely for live concerts. Its down-home life's-hard-on-the-road theme makes absolutely no sense in the context of the album, but it is also, it should be pointed out, a really, truly, genuinely fucking horrible song. Fortunately 'The Edge of Glory' gets back on message with its relentless dancefloor beat to close the album on a high.

What the album as a whole suggests is that there's been a hell of a lot of studio fiddling going on. Few songs start and end with the same sounds or beats, which makes Born This Way sound as though it's been mixed by a studio engineer with ADD ('It's been 90 seconds! Edit in the squeebly keyboards!') – wonderfully exciting, if occasionally distracting.

So, to sum up: is it good?

Yes, it really is.

Time Out Tokyo rating: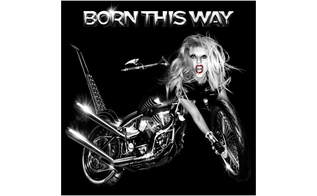 Born This Way is out now on Universal International