Sebo K, Berlin-based DJ and producer, is one of the most notable artists on house music circuit in a city which has seen a growth in popularity following the height of the minimal techno explosion. For almost four years he has been living two lives— one as a full-time student and another as an artist —however come this spring, he will be completing his studies and turning his full focus onto his music.

Keep an eye out for him as he is poised to become an international big-name act. Time Out Tokyo caught him in Berlin just before his second visit to Japan.

Are you originally from Berlin?

Sebo K: No, I was born in a small village in the West of Germany, but my family moved to Berlin when I was 4 years old. I've been living here since, so I spent most of my life here.

And how did you get into DJing?

Sebo K: When I was 16 years old, first, I got interested in breakbeat stuff, something like very early drum'n'bass and jungle. So I was playing that at the beginning for a party that was organized by Alec Empire called 'Bass Terror'. I did that for a couple of years, and then in mid-90s, I discovered house music, and I started to play house music.

Was there a particular experience or a song that got you into house music?

Sebo K: Oh that's hard... but what I can tell you is that at one point, drum'n'bass got too hard for me. There was no groove anymore. I was still interested in electronic music so it was a natural consequence for me to get into house music because there was more groove, and a little bit more laid back than drum'n'bass. So it wasn't one record or one party that made me like house. I was just searching for something new in electronic music.

I heard house music was quite big in Berlin in the 90s. Was it like all around you?

Sebo K: Yeah, but Berlin was more famous for techno. All the clubs in Berlin were basically techno clubs, but a lot of them had another room where they played house. There were a lot of house music, but I would say techno was the main big thing. But for me, techno's vibe was too similar to drum'n'bass, with a more industrial edge, whereas house had much warmer sounds and that's why I liked it.

Would you say you've been a house DJ ever since?

Sebo K: Um, basically yes. Although I also like other directions and I sometimes play harder... it always depends on the crowd. My range is pretty big. I also like minimal stuff... but my passion is house music, for sure.

I think your 'Watergate 04' mix CD which was released last year gave us a good taste of your musical style as well as the club. Could you describe what the Watergate club in Berlin is like?

Sebo K: Yeah, sure. I would say it's a special club. If I explain to those who have never been there, there are windows all across the dance floor and you can see the Spree River, which I think is special because most clubs I know are dark and don't even have windows. But at Watergate, you can see outside and it's very nice at night because all the city lights are reflected on the water. They have a very nice sound system and great lineup there, and they also have this famous LED ceiling lights that now many clubs all over the world are copying. But they were the first to install those lights. I have a quite strong connection to the club because I've been a resident DJ from day one. So people there are all friend of mine.

Was your first visit to Japan about a year ago? You played at Womb in Tokyo.

Sebo K: Yes, I think it was October 2008. This time, I'm touring Australia and Southeast Asia as well.

Do you get to spend a few days in Japan?

Sebo K: Yeah, this time I go with my girlfriend and we are planning to stay for a couple of days. So it's partly our vacation as well. I was so impressed by Japan last time so that I really wanted to show my girlfriend!

What did you like so much about Japan?

Sebo K: Oh, so many things! I really liked the Japanese people's mentality. The way they interact with people were completely different from Germans. They were more friendly and polite. And food was amazing too. I really love sushi as well as other stuff... the culture is totally different from Europe and I really enjoy that kind of 'culture clash'.

Any particular places you liked?

Sebo K: I saw a lot of places, but to be honest, I found a little sad that I didn't find so many traditional culture and architecture in the city. I was expecting to see more of that. I wanted to see some shrines in Tokyo, but I was told that there aren't many. But we also got to go to Kyoto and there I saw many. So that was nice. But I also enjoyed going into all these shops was fun. I really liked that too.

Are there any spots you are planning to visit this time?

Sebo K: No, we haven't made any plans yet. But I got a travel guide, so we'll look through that and hope to see things that I didn't see last time.

Well, I hope you have a great tour! Lastly, tell us what you want to achieve in 2010.

Sebo K: Thank you. I've been a full-time student for the past 4 years and it will be finally over in April! So I'm going to tour around the world more, set up a new studio and spend more time there making music. I'm not making any promises now as far as releases go, but I'll be focused on music for sure!

Profile:
Sebo K has long been a key figure in Berlin's electronic dance music community. Like so many others, Sebo K began DJing in the early '90s, finding his footing as resident DJ at Alec Empire's Bass Terror, Berlin's first UK breakbeat parties. By the mid '90s he had discovered his love for Chicago house and Detroit techno and at the turn of the decade he began his residency at Berlin's legendary Pogo club. Today, Sebo K is a resident at Berlin's Watergate. September 2009 saw the release of his mix album, 'Watergate 04'.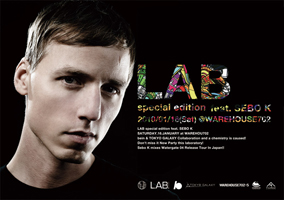 Live performance in Japan 'LAB special edition feat. SEBO K'
Genre: Deep house, technohouse
DJs: [Guest DJ] SEBO K [DJ] herba (Yutaka Kondo & Takaaki Suzuki/bein), TIMO (TOKYO GALAXY) × Shinya Okamoto (Foureal Records), INOSE (bein), Mr.T (meeting spot)

When: Sat Jan 16, opens 11pm
Admission: ¥3,500 at the door, ¥3,000 with flyer
Telephone: (03)6230 0343
Location: WAREHOUSE702
Website: www.warehouse702.com/schedule/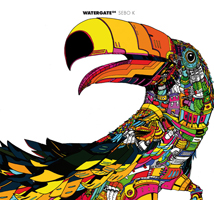 'Watergate 04' Release date Oct 27, 2009, Watergate Records