All eyes will be on South Africa for the continent's first ever World Cup. Japan will go up against Denmark to battle it out on the pitch in their second match, however getting there to see the game is a reality for only those lucky enough to be able to get tickets.
If you want the game without losing all the excitement of seeing it in the stadium, get the next best thing by checking out the game at a public viewing. With a game-worthy screen and superior sound system, Liquidroom is a public viewing of the match sure to draw soccer fans from all over the city.
For 2010's World Cup, Japan is in Group E, which has already pitted it against Cameroon and in this sequel game, Denmark. Come support your favourite team, no matter which side you are with, among other Tokyo soccer fans – and enjoy the excitement of the world cup backed by DJs and VJs on the same floor making it a party to remember.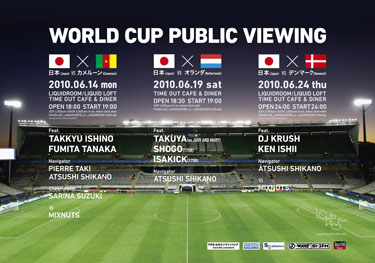 Japan vs Denmark
Date: Thur June 24
Time: 12midnight open/start
Location: Liquidroom (Full details & map)
DJs: DJ Krush/ Ken Ishii
Guest: Atsushi Shikano (Musica)
VJ: Mixnuts
Admission: Door TBA; ¥2,000 adv (plus one drink ¥500) Ticket information: Pia [P-code 816-540], Lawson [L-code 70710], E+, Liquidroom)