With the first World Cup to take place on the African continent, all eyes are turning to South Africa's pitches. Gathered with Japan in Group E is a respect-worthy assemblage of veteran teams. Monday June 14 sees Japan go head-to-head with Cameroon for the first match in the series.

If you're lucky, you've got a ticket and will be right there in the stadium, but since not everyone will be fortunate enough to be there, you can still support the team of your choice along with other fans at a public viewing of the match.

Ebisu's Liquidroom will be hosting one such viewing for the Japan-Cameroon match, along with dance music. The last time such an event took place the German matches were on, and because of the high-quality acoustics and large-scale screen, it proved to be the perfect place to get the roaring ambience of the stadium.

The match isn't the only main event – DJs Takkyu Ishino and Fumiya Tanaka will be hitting the decks along with appearances by MC Pierre Taki and soccer journalist/Musica magazine Editor-in-Chief Atsushi Shikano to round out the football-loving line up.

Cameroon boasts outstanding offensive power, which will be a formidable match for Japan in that all important first group match. From Ebisu to South Africa, support the World Cup players at the Liquidroom by adding your cheer to the crowd.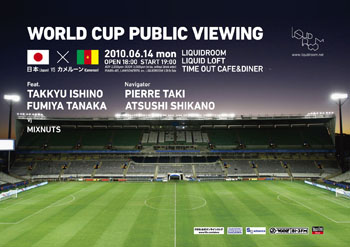 Date: Mon Jun 14
Time: 6pm open, 7pm start
Location: Liquidroom (Full details & map)
DJs: Takkyu Ishino, Fumiya Tanaka
Guests: Pierre Taki, Atsushi Shikano
VJ: Mixnuts
Admission: ¥3,000; ¥2,000 adv (Ticket information: Pia [P-code 816-487], Lawson [L-code 78175], E+, Liquidroom)