Ask your average nonagenarian what targets and goals they have for the future, and you're not likely to get a lot of variety in your responses. You might expect them to target an age – 100 seems likely – or perhaps a family occasion. 'Reach the top judo ranking', on the other hand, would knock most people off their stride.

But that's exactly what Keiko Fukuda managed on July 28, when, at the grand old age of 98, she reached 10th dan – the first woman, and one of only four people to have done so. The extraordinary achievement is the pinnacle of a 76-year career that has seen Fukuda challenge perceptions within the sport throughout.

Born into a Tokyo family of samurai descent in 1913, Keiko Fukuda was encouraged to study the traditional Japanese arts from an early age, albeit those deemed suitable for a young woman. While she enjoyed shodo (calligraphy), ikebana (flower arrangement) and sado (tea ceremony), memories of her samurai grandfather, Hachinosuke Fukuda, rekindled a lingering interest in the martial arts. Grandpa Fukuda had been an important figure in the Tenjin Shin'yo-ryu school of jujutsu, and a former teacher of Jigoro Kano, the recognised father of judo. Kano founded the martial art in the early 1880s, opening the Kokodan Institute for its study and development in 1882. The joshi-bu, or women's branch, opened in 1926.

Keiko Fukuda began studying the martial art in earnest at the age of 21, becoming so heavily involved that she shunned an arranged marriage when her betrothed disapproved of her interests. A personal invitation from Jigoro Kano, who apparently felt indebted to Fukuda's grandfather, led to Keiko joining the Kokodan in 1935, studying under both the founder and Kyuzo Mifune, a man considered by many to be the finest exponent the sport has ever had.
In 1937, Fukuda completed training as a judo instructor, and by 1953 she had achieved 5th dan, one of only four women in the world at that time to have done so. She began demonstrating and teaching judo internationally, notably in the United States, and in 1966 she accepted an offer to teach at Mills College in Oakland, California, where she remained until 1978.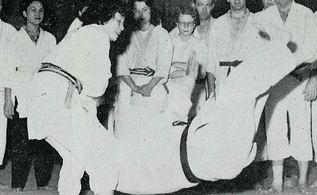 Having shunned marriage due to discrimination earlier in life, Fukuda now faced similar problems again. Despite founding the Soko Joshi Judo Club in San Francisco, even giving up her Japanese citizenship in order to remain in the US and spread the word of her masters, the 5th dan teacher found it impossible to rise any higher in the judo rankings. The early '70s found Keiko Fukuda successfully campaigning against the rule that women must never be allowed to achieve a ranking higher than her current status, and by 1972, she was promoted to 6th dan – the first woman to achieve the rank – giving women the freedom to continue climbing the judo ladder, which she has continued to do ever since.

In her later years, naturally less mobile than she once was, Fukuda has turned her attentions to writing instruction manuals and her autobiography, and she holds notable positions on various judging committees and judo boards in the United States. The Kodokan, where much of her story began, promoted her to 9th dan in 2006 (again, she became the first woman to achieve this ranking). At the time of writing, this remains her official Japanese ranking.

The 98-year-old continues to teach judo three times a week, largely offering insight and instruction from her wheelchair. Her rise to 10th dan was acknowledged by the USA Judo committee. Speaking to the San Francisco Chronicle, she said, 'All my life, this has been my dream', elsewhere claiming the achievement for women's rights as much as for herself.

At the time of writing, Keiko Fukuda's life is being documented in a film that takes its title from her personal motto: Be Strong, Be Gentle, Be Beautiful. The project is self-financed by the director, and viewers who wish to see it completed can donate via the official website. In the meantime, we have posted the trailer for the film below. A full release is expected in 2012.