With Valentine's Day fast approaching, many women in Japan are racking their brains: how to create the perfect chocolate-giving experience? For those in newer relationships, this is all part of the fun. For those in long-term relationships however, the Japanese tradition of giving menfolk chocolates is probably somewhat of a bore. The date and gift type already determined, it takes much effort surprising that special someone on Valentine's Day.

Japanese food makers have never shied away from experimental food combos — shiso Pepsi or soy sauce Kit-Kat, anyone? — and Time Out Tokyo has discovered some new and err, surprising food X chocolate pairings which might just do the trick. Historically used as medicine and currency, chocolate was known as a 'food of the gods' in the time pre-dating Common Era. Four thousand years later, taste for yourself how far chocolate has come.

Chocolate X Hamburger (Ore no Hambagu Yamamoto)
Popular Japanese hamburger restaurant Ore no Hambagu Yamamoto has joined forces with confectionary maker Lotte to create the limited edition 'Ore Ghana,' a hamburger featuring Ghana chocolate. With over ten grams of Ghana Black Chocolate used per burger, the Ore Ghana certainly packs a chocolaty punch. The burger's sauce is a seasonal take on 'ore demi' (Ore no Hambagu Yamamoto's original demi-glace sauce), with balsamic vinegar, red wine and chocolate added to the demi-glace. In order to best compliment its richness, the burger patty and accompanying gravy — pork and chicken accented with duck— is somewhat restrained. Toppings include Vesuvius-like proportions of peanuts, walnuts, Ghana Black Chocolate and vegetables. Give your Valentine's Ore Ghana a grand entrance by requesting it flambéed.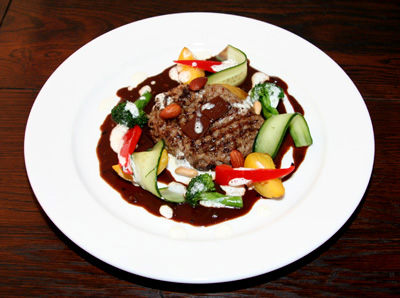 Ore Ghana – From 1200 yen

Until Feb 14; 5pm until close
(refer to the opening hours for each branch listed below)
Website: orenohamburg-yamamoto.com/

Ebisu Main Store

Address: 1F Myogahara Bldg, 4-23-12 Ebisu, Shibuya, Tokyo
Telephone: (03)5475 5701
Open: Mon-Sat 11am-3pm, 5pm-2am; Sun until 11pm

Shibuya Shokudo Branch

Address: 1F Wada Bldg, 3-18-5 Shibuya, Shibuya, Tokyo
Telephone: (03)6914 2941
Open: Mon-Sat 11am-4am; Sun until 11pm

Taiyo Branch

Address: 1F Nakamura Bldg, 3-26-1 Higashi, Shibuya, Tokyo
Telephone: (03)6419 8991
Open: daily 11am-3pm, 5pm-11pm
Chocolate X Ramen (Men-ya Musashi Bukotsu)
Ramen is arguably Japan's favourite dish. This popular ramen shop and Lotte attracted much attention last Valentine's due to a most intriguing specialty item: Miso Ghana ramen. What, you missed out? Fear not: because the Japanese love of ramen knows no bounds, 'Miso Ghana' is making a repeat appearance in 2010. Flavoured with Ghana milk chocolate, this latest version is topped with a yuzu-infused foam. The broth — a complex blend of pork stock, red and white miso — provides a base in which medium thick noodles are immersed. Minced pork mixed with melted Ghana milk chocolate is perched on top, a chocolate square and the aforementioned yuzu foam providing the final flourishes. Due to the overwhelming popularity of this dish last year, a limited number of 'Miso Ghana' cup noodles are now on sale at Circle K and Sunkus convenience stores.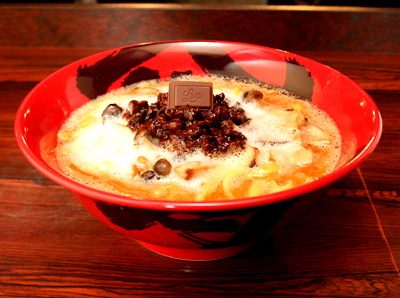 Miso Ghana 2010: 850 yen

Until Feb 14; 2pm-9.30pm (20 dishes per day)
Men-ya Musashi Bukotsu

Address: 6-7-3 Ueno, Taito, Tokyo
Telephone: (03)3834 6528
Open: daily 11am-9.30pm
Website: www.m634.com/bukotsu.html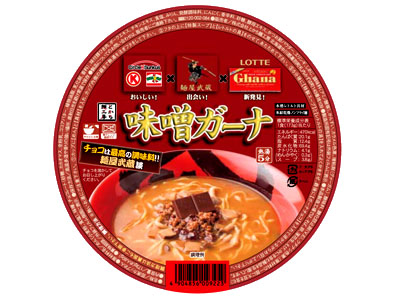 Miso Ghana Cup Noodles: 298 yen

Miso Ghana Cup Noodle
Available nationwide until stock sells out (200,000 cups)
at limited Circle K and Sunkus stores
Website: www.circleksunkus.jp/english/

Chocolate X Mexican Food (Tepito)
For those yearning for something a little less adventurous in the chocolate X food stakes, look no further than Tepito's Mole Poblano: chicken generously covered in traditional Mexican chocolate sauce. A current mainstay of Easter and other festive occasions in Mexico, the sauce is spicy rather than sweet. Tepito also presents live music. With no better way to serenade your loved one, check the schedule to enjoy authentic Mexican music with your food.

Address: 3F KM Bldg, 2-34-8 Kitazawa, Setagaya, Tokyo
Telephone: (03)3460 1077
Open: Tue-Sun 6pm-11.30pm, Sun until 10pm; Fri-Sun 12noon-3pm; closed Mon & nat. holidays
Website: www.tepito.jp/

Chocolate X Natural Mexican Cuisine (Cantina La Fiesta)
Cantina La Fiesta serves first-rate Mexican food made purely from high quality ingredients and no manufactured flavorings. The restaurant's mole poblano chocolate sauce boasts four kinds of nuts and seven kinds of spices. Simmered for three days and served with chicken, the spicy sauce is perfectly matched with Mexican rice.

Address: 2F Hana Tsubaki Bldg, 3-15-23 Roppongi, Minato, Tokyo
Telephone: (03)3475 4412
Website: www.lafiesta-tokyo.com/home/index-e.html

Chocolate X Italian Special Course (Trattoria Ammazza)
Attention all chocoholics: each of the dishes in Trattoria Ammazza's 'Chocolatier' course features cocoa or chocolate. The antipasto's profiteroles are made using cocoa-flavoured choux pastry; the pasta (bucatini) kneaded with cocoa; and the beef cheeks main partnered with a fig and chocolate sauce. Dessert is a more normal-sounding chocolate ice cream that tastes anything but. Inspired by northern Italian cuisine, the course costs 4800 yen and is available until March 31 (also available White Day). Reservations are essential and must be made two days in advance.

Address: 1F Nagashima Bldg, 6-37-1 Hirai, Edogawa, Tokyo
Telephone: (03)3618 5255
Open: Tue-Sun 12pm-2pm, 6pm-10pm
Closed: Mon & every third Sun
Website: ammazza.hp.infoseek.co.jp/

Chocolate X Pizza (Brick oven Pizza Catolica)
Champion artisanal pizza maker Azuma Moriyama studied pizza making in northern Italy's Catolica. His 'Chocolate Pizza' is simple: pizza dough made using the best quality Italian flour, topped with chocolate sauce. Baked in a genuine Italian brick pizza oven and with no hidden ingredients, the pizza is a joyous tastebud treat.

Address: 5-29-6 Higashi Mukoujima, Sumida, Tokyo
Telephone: (03)3618 6747
Open: Tue-Fri 11.30am-2pm, 5pm-9pm; Sat-Sun & nat. holidays 11.30am-9pm
Website: www.mtg.or.fm/cattolica/

Chocolate X Beer (La Cachette Kagurazaka)
At La Cachette, customers can choose from a selection of over 50 kinds of local and imported beers. The bar has put together a special collection of Valentine's Day domestic brews, all of which are made from chocolate malt. These chocolaty beers include Sankt Gallen's Chocolate Stout (available on tap).

Address: 3F Sankyo Dai 22 Bldg, 1-10 Kagurazaka, Shinjuku, Tokyo
Telephone: (03)3513 0823
Open: Mon-Sat 5pm-1am, nat. holidays Tue-Sat 5pm-12am
Website: www.la-cachette.jp/

Chocolate X Hotel & Beauty (The Prince Park Tower Hotel)
Ladies: need some pampering yourself this Valentine's? The Prince Park Tower Hotel's 'Hotel Chocolate Time' promotion adds a chocolate touch to its hour long beauty treatment and a meal at the hotel's Lobby Lounge restaurant. Indulge at the hotel's Strelitzia Garden salon as a sweet smelling chocolate pack is applied to your back and legs. Relaxed and refreshed, you can then enjoy a meal at the Lobby Lounge, choosing from an American Clubhouse sandwich, pasta or a prawn pilaf. Female customers are welcome to try 'Hotel Chocolate Time' in pairs or by themselves.

Address: 4-8-1 Shiba Koen, Minato, Tokyo
Telephone: (03)5400 1111
Open: Lobby Lounge 11am-10pm (last order 9.30pm)
Strelitzia Garden: 11am-8pm (reception until 6.30pm)
Cost: 2 people 20,600 yen or 1 person 10,300 yen (women only)
Telephone: Strelitzia Garden (0120)175 705 (reservations)
Website: www.princehotels.co.jp/parktower/restaurant/event/chocolat/

Related articles
・Tokyo's top 7 doughnut shops
 Grab your doughnut fix at these no-fail spots
・Julie & Julia
 Movie review from Time Out Tokyo
・Global Brand, Tokyo only
 Ginza Edition: Häagen-Dazs keeps it in the capital

Translated by E. Kavanagh