Of the 800+ responses we had to our Time Out Tokyo Sex Survey, just over a third of you were kind enough to reveal which pick-up lines you use when trying to woo strangers. Before we reveal what these actually were, though, here are a few interesting facts.

Most common line
Unsurprisingly, the most common line our readers claimed success with simply used the words 'kawaii' (cute), 'kakkoi' (cool), or their translations.

Most common subject
A little over 10 percent of our readers used a suggestion of food (or green tea) as a way to get the fun underway. To paraphrase a cliché: the way to a Tokyoite's bed is through his/her stomach.

International relations
Predictably, cultural differences were a common theme – and produced some alarming results. Be warned, there are at least two foreigners out there picking people up with the line, 'Hi, I'm French', one guy who may approach you speaking Finnish, one fellow asking for help with his Japanese homework, and more than a handful simply asking, 'Do you speak English?' It's hard to imagine that people are that easily seduced (though the Finnish accent is pretty sexy, we must admit). The most toe-curling in this category was, 'I'd be willing to learn Japanese to get to know you.' Run! Just run!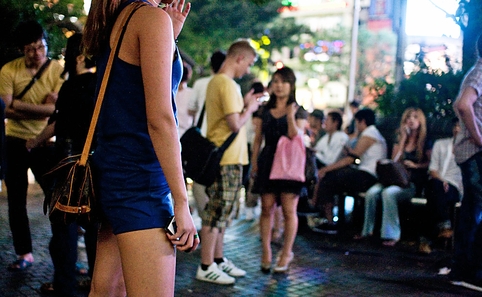 Lines from our English-speaking readers
These tended to be more direct, and often fairly cheesy (though our Japanese readers certainly weren't slackers in that department). A few typical 'winners'...

'Are you on TV?'
'Have you ever kissed a foreigner?'
'Are you a bottom or a top?'
'I want to drink miso soup with you'
'It's my first night in Tokyo...'
'I think we missed the last train home...'
'Let's do "an exchange lesson"'
'Wanna get out of here and fuck?'
'You. Me. Now.'

Lines from our Japanese-speaking readers
We've presented these in both languages, in case you feel like making a little vocab list for yourself. Aren't we kind? (Note: a few of these have been edited for clarity)

'Are you the princess I've been waiting for all this time?'
君は僕が待ち焦がれていたプリンセス?
Kimi wa boku ga machikogareteita purinsesu?

'It's past curfew at my dormitory, and I've nowhere to stay...'
うちの女子寮は門限があって、今夜は泊るとこがないんだ。。。
Uchi no joshi-ryo wa mongen ga atte, kon'ya wa tomaru toko ga nai'n da...

'Please! Teach me the first three digits of your phone number!'
お願い!携帯の最初の3ケタだけ教えて!
Onegai! Keitai no saisho no san-keta dake oshiete!

'Isn't this fate?'
これって運命じゃない?
Kore'tte unmei ja nai?

'Are you lonely? I'm lonely. Let's be together.'
さみしくない?俺は寂しい。一緒にいて。
Samishikunai? Ore wa samishii. Issho ni ite.

'Let's fuck!'
やらせて
Yarasete

'I'm not wearing a bra today...'
今日ノーブラなんです。。。
Kyo no bra nan desu...

'Let me feel your muscles!'
筋肉触らせて!
Kin'niku sawarasete!