What does it take to make it into Newsweek Japan's annual '100 Most Respected Japanese People in the World' list? You might presume the people who made the cut would be industry leaders and innovators, possibly working in fashion or technology. Or maybe they'd be leading exponents of a traditional Japanese artform, or perhaps a world-beating female footballer. In the case of Masako Ono, who was included in the list in 2008, it was for none of these things. Oddly enough, it was for excellence in the field of Indian dance.
Ono specialises in odissi, the classical dance form that originated in Orissa, in the southeast of the country. It's a style that's been referred to as 'moving sculpture' (avid pop pickers of a certain age will recognise it from its appearance in Michael Jackson's 'Black or White' video), and it's incredibly hard to master: in Masako's case, it required five years of intense training at the distinguished Nrityagram School of Indian Classical Dance. Hers is a story of perseverance and discipline that is hard not to respect.
While she was back in the country to teach some workshops, Time Out Tokyo took the opportunity to meet the dancer for a lengthy chat in Shibuya's Centre-Gai.

What led you to start dancing?
Well, my parents met at a modern dance school and, since I was young, I was taken along to dance classes. There was an instructor there, Masako Yokoi, who taught me the techniques of modern dance pioneer Martha Graham. It was very strict, so I really didn't like it (laughs).

What kind of dance were your parents involved in?
My father went to Tokyo University, and was there at a time when the student movement was at its peak. He threw himself fully into student activism and was forced to leave. Apparently he was interested at the time in butoh and other forms of modern dance.

You started out dancing in a variety of styles, didn't you?
I was taken to the dance studio several times a week, and I remember that it could be quite painful because my body wasn't used to it. But as I watched the different dancers, I came to think that hip-hop dance was the most stylish. When I was a university student, I joined a hip-hop dance school and went many times a week, but somehow, when I danced, it didn't look quite right. My own dance style had already got so refined that I just couldn't get into hip-hop dance (laughs). I was a student and I had a part-time job, so I couldn't do myself up in the hip-hop look either, like the other girls who had dreadlocks. The Tokyo University of Foreign Studies, which I was attending at the time, has a lot of classes where you can learn about a range of international cultures, and in PE class we did Balinese dance. Thinking about it now, it's actually very similar to Indian dance. It's really fascinating to use things like your eyes and fingertips to dance. Because I was studying in the Indian and Pakistani language department, I thought I could travel to India and see traditional Indian dance at the same time. I also loved the Taj Mahal.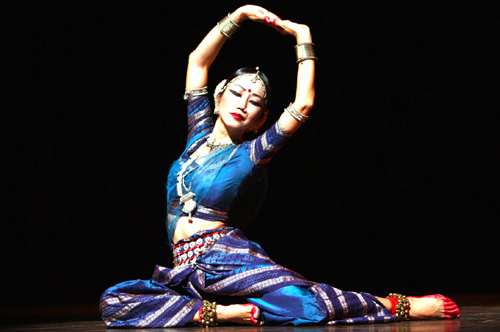 Was it a difficult form of dance to study outside India?
Yes, it was. This was fifteen years ago, and at the time I looked around a lot, but the kind of dance I wanted to do couldn't be studied in Japan. If you want to study it in Japan nowadays, you can.
Was the dance from Orissa what you wanted to study from the start?
There are seven kinds of Indian classical dance, but at the time I didn't really know anything about it. So first I found an instructor who would teach me, and I studied Bharata Natyam, the oldest form of Indian classical dance, which developed mainly in the Tamil region in Southern India. I actually started attending a school in India, but Bharata Natyam is a really up-tempo style of dance and I ended up thinking that it wasn't quite right for me. But at the same time the director of Harubaruya, which sells Indian clothing and world folk crafts [its main store is in Kichijoji], had also come to India to study and was in the same class as me. She said, 'Masako, I think the dance for you could be Odissi,' and she lent me a video. The minute I saw it I thought, 'This is it!'

If you were explaining it to beginners, how would you describe the dance?
As being impossible! It's a dance that is impossible to master immediately. Fundamentally, you need to make your joints flexible and you have to stand completely straight. It's quite an academic form of dance, and there are many complicated elements, but if you can grasp the basic points, you should be able to learn it.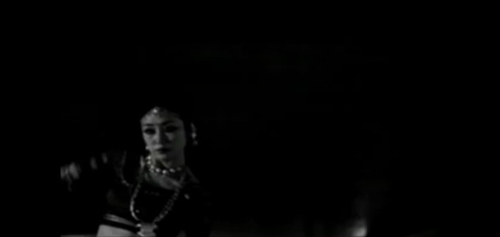 Were there any other Japanese dancers who were able to achieve the same level of skill as you did?
There weren't any in Japan at all, but there were two other women who were interested in Odissi. They also came to India and attended classes for about three months, but that was about it. There are many hurdles to overcome to get into Nrityagram, the school I went to in India, and usually you can't get into just like that. But I happened to enrol at a time when the original founder and head, Protima Gauri Bedi, was still there. I got the feeling from her that, 'If you are Japanese, you are from another country, so come as soon as you can.' But after I had started, Protima passed away and the system changed, so that suddenly things like the screening of application documents became very strict. Incidentally, 'nritya' means dance, and 'gram' means village.

If you were to try to enrol now, would you be able to get in?
It would be impossible to go to that school. It's a dance community that has no 'graduation' as such, so if you weren't prepared to leave your family behind and go with a feeling that it would be your permanent home, it would be very difficult. Everything about the school is strict. If you don't reach the level of skill the school demands, you can't hold any solo performances, and they'll only allow you to do workshops. But even if they gave me permission for a workshop, it would have to be planned at a time when people from the school were in Japan and it would be to help them put on a good performance. So it was basically a kind of apprentice system. For me, I'd gone to the point of throwing away a job to go to India and I was desperate to achieve what I wanted. I hadn't joined the school because I wanted to be a coordinator, so I quit (laughs).

Did you have any particular plans after you quit Nrityagram?
Absolutely none at all. It was a situation of, what will become of me in India? Just as I arrived back home, I had an offer to teach at Parco's Culture Center. But about a month before the Culture Center classes were due to start, a black, female jazz singer who had been staying at the Westin appeared at one of my workshops. She seemed impressed and asked me to teach her privately. While I was teaching her, I saw that she was this amazing black woman performing here in Japan and I came to think, if that's the case, then perhaps I too could go to India and try to make it on my own as a performer. That's when I decided to go back to India and start dancing there again.

Did you go back to Bangalore, the city where Nrityagram was established?
No, this time I decided to live in the state of Orissa, which is where the heart of Odissi dance is. Before I went to India, my body was still stiff, and I didn't really have the proper physique of a dancer. But while I was studying yoga at Nrityagram, I was also learning most of the basics of classical Indian dance. At Nrityagram, you live in the school and there is absolutely no opportunity to speak with ordinary people. From morning until evening you have to do things like cleaning and weeding. But when I moved to Orissa, I kind of remembered that I'm a woman, too! I may have become a little idle in Orissa, but I achieved a kind of mental freedom.

What is the difference between Nrityagram and Odissi dance?
Nrityagram is academic, physical and very technically sophisticated, but Odissi's choreography is somehow less mechanical - stylish in a more sensuous way. The Odissi repertoire contains many dances, and most have stories related to gods like Shiva. There are over 100 dances, and the dances change depending on the teacher.

Where can young people who would like to start learning classical Indian dance go to study it?
They should come along to the Odissi dance workshops I'm holding every month in Omotesando. I teach very carefully, starting with the basics. I'd recommend the classes held every Thursday at 7pm at Citizen Plaza in Takadanobaba for people who want to move on from there to more serious study. My students are the instructors, and they teach the basic steps. People who have experience dancing, be it anything from hip-hop to modern dance to jazz, and who are physically prepared for dance, tend to progress more quickly. Also, those who have mastered all of the classes and want to study in India itself are welcome to visit my studio there.

For more information on her dance classes and performances, head to the official Masako Ono website

Translated by Virginia Okno