Partly because some rail fans have, in the past, occasionally been known to take their hobby a little too seriously, many of them have – up until relatively recently – tended to shy away from openly proclaiming their passion. Historically, train buffs have been keen on collecting items such as tickets, model trains, train drumheads, sideboards, identification plates and uniforms to satisfy their interest. However, with the stigmas associated with being a rail fan finally beginning to fade, horizons have now broadened to include items such as cell phone straps and even alarm clocks that mimic melodies of station-specific train departures. With the list of train related goodies growing, here is a guide to some of the Tokyo spots that offer a treasure trove of new and vintage train items.

Norimono Club
Located in Ichigaya, Norimono Club sells a selection of transport related items including models, and both Japanese and western books. As the name implies – norimono meaning 'a form of transport' or 'vehicle' – they deal in items relating not just to railways but also to automobiles, aircraft, ships and various other norimono. Because the shop is operated by the book publishers Ikaros Publications, who carry a vast range of magazines and books relating to various forms of transportation, this is one shop in which true enthusiasts won't be disappointed. Additionally, Norimono Club also offer a service whereby, for a commission, the shop will sell relevant items on behalf of customers.
(Full details & map)
Kotsu Shobo
Kotsu Shobo, a long-standing shop that sells a variety of railway related items, is well-known and particularly popular amongst collectors. They carry a range of items such as platform tickets from stations that no longer operate, train tickets, and a selection of rare old-fashioned JR prepaid 'orange cards'. Many items the shop offers could be viewed as things that only a die-hard rail fan would appreciate, and many only have value as collection-building showpieces. Other items on sale here include old ticket punches that many people may not recognise nowadays, sideboards displaying the destination of trains from yesteryear, and various old-school items such as a range of uniforms worn by train crews from the bygone days of the rail system.
(Full details & map)
The Railway Museum (Museum Shop)
Japan is said to have more rail fans than any other country in the world, and one of its most impressive transport museums is The Railway Museum, located in Saitama City. Opened in 2007, the museum is comparable to the world famous National Railway Museum located in York, England – the country that pioneered rail travel. With a vast range of exhibits, the museum not only delves into the history and development of railways but also into more practical aspects, such as how they work. Plus they also have an impressive museum shop; visiting the museum is just as fun as the shop, and is a must for serious train buffs. Here's an overview of what you can see before you head to the shop to check out the merch.

History Zone
The museum consists of two main sections: the History Zone and the Learning Zone. After passing through the museum entrance, (Suica and Pasmo accepted) the first space visitors encounter is the museum's History Zone, which opens out to the right.

In this vast space, you'll find almost thirty genuine trains on show, with exhibits ranging from locomotives that were active during the Meiji era to more up-to-date models that have only recently been taken out of service. In the centre of the exhibition is a giant revolving floor, on top of which is a Class C57 Steam Locomotive (nicknamed 'The Noble Lady' due to its fine looks and particularly neat appearance), which, in a show of whistle blowing, revolves a number of times each day to create a bit of a spectacle. Also on display here are lavishly constructed observation carriages from the early Showa era, limited express trains that once operated nationwide, sleeping cars, and even a six-car Imperial train. The exhibitions are set up in fashion that makes it easy to follow a timeline; however, you can take in the exhibitions and experience their presence in any order you wish. To build on this, as of 2009, the museum is also exhibiting the world famous Series 0 Shinkansen (the first generation bullet train) – complete with its loveable bullet-like nose.

A short ride up an escalator will bring you up to the second floor, which both overlooks the first floor display and exhibits a range of different uniforms (laid out in chronological order), as well as various other items including tickets and posters.

Learning Zone
Although this section is entitled the Learning Zone, it's not the kind of formal, bland and boring place that the name might suggest; rather, it's a fun interactive area with something to offer both kids and adults. To the left of the entrance you'll find a number of simulators, including one for a commuter train, bullet train and steam locomotive (SL) simulators that run for about ten minutes. The SL simulator requires a fee of ¥500, but the others are available free of charge. As one might imagine, this particular corner of the museum is especially popular, so you'll need to first reserve your place via a reservation machine located by the entrance.
On the second floor of the Learning Zone you'll find a huge HO scale model train diorama that incorporates approximately 1,400 metres of track and has been designed to symbolise the continuous nature of Japan's railways – trains which run 24 hours a day, 365 days a year. Beautifully crafted and incorporating intricate details, the model is both stunning in the daytime and even more impressive when its evening lights turn on. Additionally, the second floor is also home to a library that opens on Saturdays, Sundays and national holidays, as well as a Motorman Experience Classroom, where visitors can receive specialist instruction whilst sitting in front of their own personal mock up train dashboard – complete with dials and a large video display.

On weekends and public holidays the simulators and the Mini Operating Train (more below) is often in very high demand, but spaces in the Motorman Experience Classroom are often available. Sessions are taught by an actual train conductor, last for approximately 40 minutes and cost ¥500.

Other zones
The museum's Mini Operating Train experience, reservations for which can be made via a machine in by the museum entrance for ¥200, allows visitors to try their hand at operating a miniature train that runs on tracks outside. Be warned, though, correctly navigating your way according to the signals is harder than it looks, and if you're not careful, before you know it you'll be gripping the handle too tightly, taking yourself too seriously and trying to get everything exactly spot on. In addition to its various exhibits and attractions, the museum also houses various facilities including a café, and a restaurant run by Nihon Shokudo (a long-standing company renowned for operating numerous dinning cars in Japan) that offers train cuisine with a nostalgic flavour, with a menu including items such as curry, spaghetti, and the particularly popular (although limited-time-only) 'Hachikuma Rice' – once a favourite amongst Japanese train conductors. Also on offer are the popular boxed station lunches, known as ekiben. As an added touch, guests are welcome to enjoy a bite to eat in a special Lunch Train located outside which – until relatively recently – served as part of a limited express train. With real trains passing by the museum outside, as you sit here eating your lunch it's easy to imagine that you're actually in a real train yourself, adding to the atmosphere of the location.
Museum Shop
Museum shops on both the first and second floors offer a slew of items ranging from relatively common souvenir items such as key holders, stationary and picture postcards, to more unusual items such as freight train timetables, and a range of literature not easily found elsewhere. Additionally, the shop also carries a range of official merchandise from countries other than Japan, including official Paris Metro and the Swedish Railway merch. Current best sellers here include straps that carry the names of Tokyo stations, hashi-tetsu chopsticks modelled after speeding shinkansen (below), and the ever-popular sekitan-arare biscuits that are coloured black and shaped to give the impression of bamboo charcoal briquettes used in the old fashioned trains.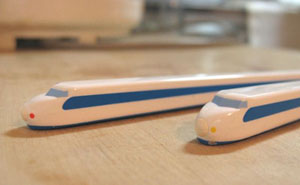 Translated by Brin Wilson