Planning a trip to Japan? We've rounded up six of the best new hotels, in Tokyo and beyond, to suit all budgets: three affordable spots for travellers stopping over in the heart of Tokyo's shopping and entertainment districts, and three exclusive resorts for adventurers going to Kyoto, Okinawa and the Yamashiro hot spring area.
If you're staying in Tokyo
Caravan Tokyo: the glamper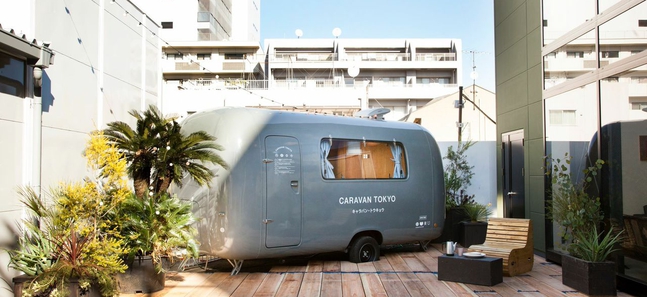 What if I don't want to rough it? Parked inside Aoyama's Commune246 space since December 2014, Caravan Tokyo lets you camp out in one of Tokyo's most fashionable neighbourhoods, but there'll be no rubbing sticks together here. The stylish grey caravan was built from the ground up by local craftsmen, and each and every detail has been carefully thought out. This unique accommodation option is equipped with every convenience, including a double bed, bathroom and shower, iPhone-compatible audio system, air-conditioning, wi-fi and access to a shared office area in case you need to catch up on work emails. Space is limited, sure, but the location, right in the middle of Omotesando, suggests that you probably won't be spending much time inside anyway.
The nitty gritty The caravan can be booked through Airbnb, with rates starting from ¥17,000 per night. Map and contact details
First Cabin Tsukiji: first-class capsules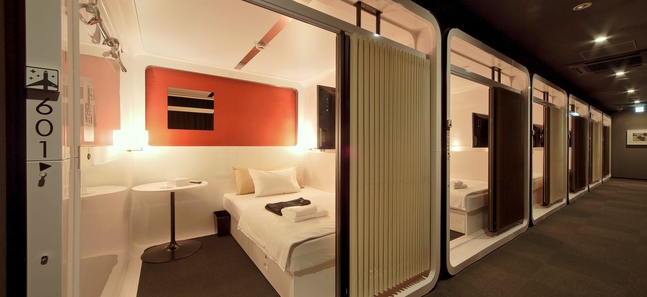 What's with the name? The folks behind the First Cabin chain are all about making the most of limited space, which is why they've chosen to decorate their hotels in a style reminiscent of first-class seats in an aeroplane. The idea is budget accommodation with a hint of designer sophistication. This Tsukiji location opened in January 2015 (they also have branches in Haneda Airport and Akihabara) and features 160 cabins – divided up by gender, as is customary with capsule-style hotels, with 119 for men and 41 for women. Oh, and it's close to Tsukiji fish market.
The nitty gritty Security system, a large communal bath and a café and bar that's open from 5am to 10am, and again from 5pm to midnight. From ¥4,500 per night, short stay ¥900 for one hour. Map and contact details
Khaosan Tokyo Origami: quirky hostel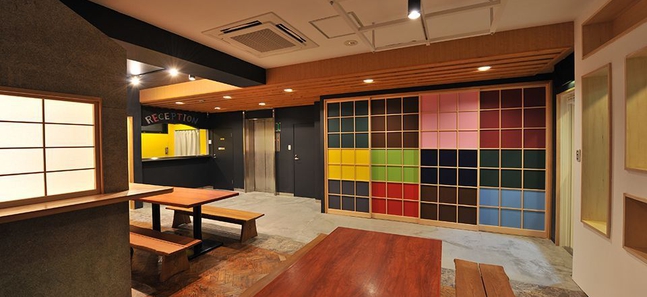 What's the main attraction? The Khaosan hostel chain is well-known among budget travellers for its excellent service and extensive network, but it's the variety that really impresses: each branch is designed and decorated in a unique, creative way. Opened in October 2014, Origami is their latest Asakusa venture and is dubbed a 'decorative hostel', complete with an on-site gallery and a cosy common area. Catering to single travellers and large groups, Origami emphasises interaction among staff and guests, hosting regular workshops and events. And the location is great – just a few minutes' walk through Asakusa and you'll arrive at Sensoji temple.
The nitty gritty There's a communal kitchen, laundry and dryer space. Rooms range from singles and doubles to eight-bed dorms, available from ¥3,000. Map and contact details
If you're travelling beyond Tokyo
Kai Kaga: the renovated ryokan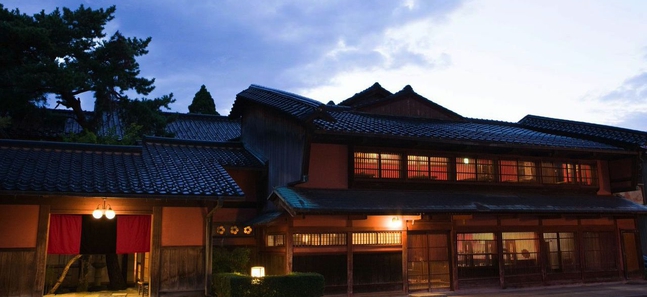 What's new? The recent extension of the Hokuriku Shinkansen line is bringing an influx of visitors to what was once one of Japan's least-explored regions. That might explain why this venerable ryokan, located in the popular hot spring area of Yamashiro in Ishikawa Prefecture, is currently undergoing a major renovation. Hoshino Resorts Kai Kaga was originally established in 1624, not far from the Sea of Japan coast, and is a registered tangible cultural property. Due for completion this summer, the renovation will retain the ryokan's traditional atmosphere while adding new open-air baths to 18 of the 48 rooms, and enhancing the decor with traditional Kaga crafts. Better yet, Kai Kaga will also be far more accessible now, with a journey of approximately 2.5 hours from Tokyo.
The nitty gritty See website for more information and room rates.
Suiran: high-rolling in Kyoto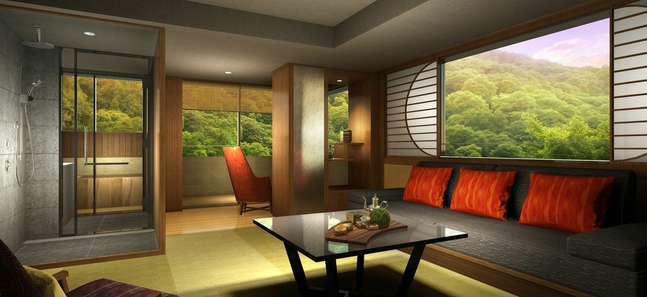 What's so special about it? It's not often that you get to spend the night at a UNESCO World Heritage site. This opulent Japanese-style hotel is next to Tenryuji, a handsome 14th century temple located in the touristy Arashiyama district in western Kyoto. Opened on March 23 by Starwood Hotels and Mori Trust Co, Suiran might just be the classiest place to stay in the entire city. With just 39 rooms, and surrounded by the greenery of a traditional Japanese garden, the hotel should appeal to anyone looking for a luxury hideaway with a traditional feel.
The nitty gritty From ¥65,000 per night. For more information, click here
Hyatt Regency Naha, Okinawa: island luxury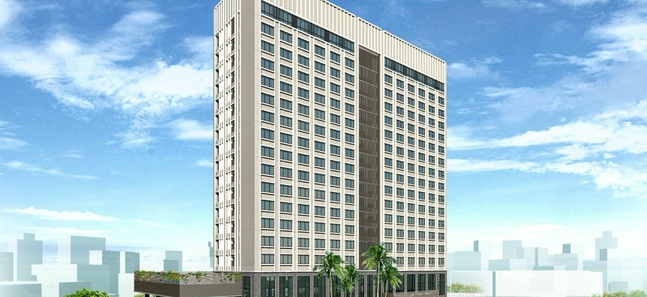 What can I look forward to? High-end accommodation options have traditionally been in short supply in Okinawa, Japan's southernmost prefecture. But that's all starting to change: following the opening of the deluxe Hilton Okinawa Chatan Resort last year, the Hyatt hotel group is due to unveil its first property there in summer 2015. Located in Naha, the prefectural capital, the hotel aims to attract business and leisure travellers alike, with 294 guest rooms, an outdoor swimming pool, fitness club and top-notch customer service. If you're looking to splurge, it's also within walking distance of popular shopping streets Kokusai-dori and Yachimun-dori.
The nitty gritty Naha International Airport is only 6.5km away. Room rates still to be announced, please check the website.


This article originally appeared in the spring 2015 issue of Time Out Tokyo magazine.