Tokyo has many speciality cuisines such as dozeu (pronounced dojo, Japanese loach) cuisine and monjya yaki. However, if you take a look at the ingredients, dojo used in dozeu cuisine has been bred in Oita or Fukushima and the cabbage used in monjya yaki is usually from nearby Chiba or Kanagawa prefectures. It makes one think that it's not really local cuisine at all because the traditional idea behind regional cuisine is that it uses specialty products produced within a region, which are then cooked using techniques handed down from long ago. So then what exactly is Tokyo cuisine? The Peninsula Tokyo is tackling this question by taking a new approach.

The Peninsula Tokyo has sweeping views of one of the symbols of Tokyo, the Imperial Palace, which is located nearby. For a limited time the hotel is offering the 'Enriching Your Life and Community Lunch/Dinner', which features ingredients produced in Tokyo. In recent times, more and more restaurants are giving a nod to the idea of self-sufficiency and the environment by creating dishes using Tokyo produced ingredients. However, the The Lobby – which features continental dining – and is located on the first floor of The Peninsula, is a little different from the rest.

The restaurant not only incorporates Tokyo-grown foods such as Tokyo shamo chicken and Senju negi onions, but also Tokyo-produced drinks including Hoppy, Ramune, and Denki Bran from Asakusa in its dishes, providing diners with a completely original dining experience. Their Black Hoppy-braised domestic pork with braised shintorina greens and sweet potato puree uses the beer-like beverage Hoppy Black Label, which has been produced in Tokyo since 1948. Whereas wine or bouillon is usually used as a base for braised dishes, the carbonic acid in the Hoppy brings out the depth and taste of the meat. The sauce enrobing the meat has a lightly sweet and salty taste, and the pork is to tender it melts in your mouth. The accompanying shintorina is a traditional 'Edo Tokyo vegetable', which has been grown in Tokyo for many years; for a while, Chinese vegetables took the spotlight but recently shintorina is back in the popular graces.

'Black Hoppy-braised domestic pork
with braised shintorina greens and sweet potato puree'
The desserts are also extremely interesting. The 'Ogasawara passion fruit sorbet with fruit of the season in Sumida ward Azuma Ramune' is accented with ramune, a soft drink that has been made in Azumabashi in Sumida ward since 1925. Just when you are captivated by the beautifully presented dessert, a server approaches with a bottle of the classic drink, ramune. Before your eyes, the bottle is tilted and poured over the dessert. As the tension rises at this unusual 'performance', the overwhelming sweet fragrance brings a smile to your face. The marriage of the sour sorbet and the sweet lemonade-like drink has an indescribable beauty. The Lobby's head chef, Jun Ishii, was born in downtown Tokyo. His talent at finding this exquisite match is due to his in-depth knowledge of Tokyo ingredients and products.

Tokyo, for some time, has become a city where one could taste world cuisine, with the dishes themselves being very diverse. As such, it's interesting that right now, this restaurant is trying to create a new Tokyo regional cuisine through cooking methods from various countries. The Lobby also offers a prix fixe menu incorporating ashitaba (Japanese angelica) from Hachijoshima and komatsuna (Japanese mustard spinach) from Edogawa. Hei Fung Terrace, which serves traditional Cantonese cuisine, and Peter, which serves international cuisine, are also offering dishes made using Tokyo ingredients as part of the 'Enriching Your Life' themed special. This new style of regional food touches on a part of Tokyo culture, so dig in to get an insight into present day Tokyo.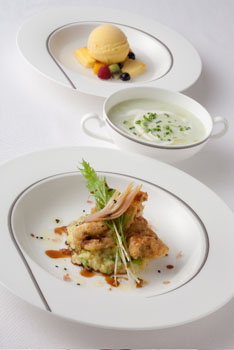 The Lobby 'Enriching Your Life and Community Lunch'
¥2,950 (incl coffee or tea)
The Peninsula Tokyo
'Enriching Your Life and Community Lunch/Dinner'
Period: Until Tue Dec 21
Location: The Peninsula Tokyo (Full details & map)
Translated by E. Kavanagh