Anyone with even the slightest interest in modern Japanese culture will probably have stumbled across the term 'kawaii' by now. Though it roughly translates as 'cute' in English, it's a concept that seems to encapsulate so much more than that: from the fashionable streets of Harajuku to the big-eyed mascots that watch over Tokyo's wards, it's practically inescapable. As Manami Okazaki writes in a new book on the subject: 'You are just as likely to hear a table, car, building, doughnut or plane referred to as kawaii – and in Japan, quite often, the most banal things are cute.' In Kawaii! Japan's Culture of Cute (Prestel), Okazaki and photographer Geoff Johnson explore the phenomenon from its simple origins right up to its modern day manifestations of sweet sweets, cutesy cosplay and kimono-wearing cats, stopping along the way for interviews with the likes of FRUiTS editor Shoichi Aoki, Gloomy creator Mori Chack and Goth-loli model Rin Rin. In this exclusive extract, Keiko Nakahara, curator of Tokyo's Yayoi-Yumeji Museum, delves back to when the trend first started a century ago...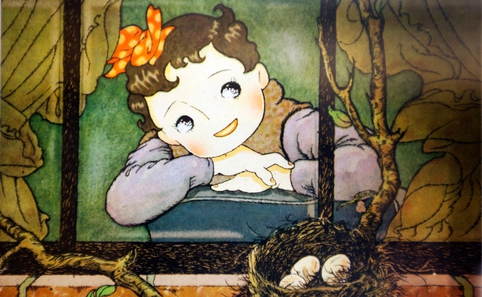 Keiko Nakamura, curator, Yayoi-Yumeji Museum

In Japan, there are kawaii items everywhere you look. Any product you can think of has a kawaii equivalent waiting coquettishly in its box for a cute-obsessed customer to come along and take it home. Where does this culture come from? The Yayoi-Yumeji Museum, which is made up of two spaces, the Yayoi Museum and Takehisa Yumeji Museum, is dedicated to girls' magazine illustrators. It hosts many exhibitions each year, with the goal of promoting knowledge about kawaii's rich history.

What does kawaii mean exactly?
It is the appeal of adolescence, when one is not yet an adult. Kawaii things are usually soft, bright, round and small. They aren't aggressive or belligerent, they give you peace of mind and a sense of security. Originally, the word was used to describe people who were beneath you. It was acceptable to use it when referring to objects, but you wouldn't use it for your superiors or schoolmates. But since the mid-'80s girls have generally preferred to be called kawaii rather than pretty.

What are the historical roots of kawaii culture?

I consider 1914 the birth year of kawaii in Japan. That's when illustrator Yumeji Takehisa opened a shop in Nihonbashi that sold numerous goods aimed at schoolgirls – what we now refer to as 'fancy goods'. Items that were desirable at the time included woodblock prints, embroidery, cards, illustrated books, umbrellas, dolls and kimono collars. Up until then, there hadn't really been any shops that were aimed at a particular clientele based on age or gender, but the customers of this store were mostly young women. At the time, of course, they weren't using the term 'fancy goods', but komamono.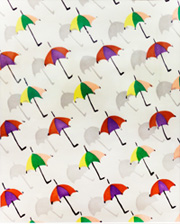 Takehisa was influenced by foreign cultures, and his goods showed an aesthetic meeting of East and West. For example, he designed coloured paper that he decorated with drawings of poisonous mushrooms. At the time, in Japan, that wasn't done, but in the West in the early 1900s poisonous mushrooms appeared on cards or in illustrated books. He also designed chiyogami paper with motifs such as umbrellas and matchsticks (pictured). At the time, chiyogami was usually printed with traditional yuzen patterns, so his thinking was very innovative and a lot of people came to copy him. Takehisa placed importance on the cuteness of his designs and referred to them as kawaii. However, this is a rare example of the word being used at the time, as it wasn't a commonly used word, as it is now.

Takehisa was seen as an innovator: he had a real talent for doing things no one was doing and making them popular. For example, he would embroider strawberries or flowers into kimono collars. The kimono itself was really drab at the time, so haneri collars were really important. Nowadays, these collars are white, but back then they were the focal point of the kimono, and they were made to be as conspicuous as possible. The orthodox motifs were chrysanthemums or sakura – things such as strawberries were totally unheard of and people were astounded.

How have Japanese notions of beauty changed over time?
If you compare the work of Takehisa and the painter Ryushi Kawabata, their notions of what constitutes beauty are very different. Takehisa's illustrations look cute in comparison to Kawabata's work because there is a roundness to them – especially the eyes. Kawabata paints eyes in the shape that is common in Japanese classical painting; having small eyes and a slender physique was considered to be the ideal. Round eyes were traditionally seen as vulgar, although the ideal changed with foreign contact. Artists began to follow Takehisa's style, and one of these was Junichi Nakahara, who drew eyes very large. He introduced the idea that girls on paper didn't have to replicate reality.

The Great Kanto earthquake happened in 1923, and Tokyo was obliterated. From that time, Takehisa's popularity declined and various designers became prominent, although at the time they weren't called designers – they were called zuanka, and were all influenced by Takehisa. Kaichi Kobayashi, from Kyoto, who draws quite mature looking images, was one of these designers. He made envelopes and letter paper for schoolgirls.

What were these letter sets used for?

They were becoming increasingly important items for schoolgirls. Before the Taisho era [1912-26], girls went to elementary school and then got married or went to work, but during this period more girls continued their education. They were generally from upper middle-class families and had a lot of spare time, which they spent writing letters. Meeting up with boys was strictly forbidden at girls' schools, so they would play games where they would write love letters to their classmates instead, or to girls they looked up to or thought were cute – almost every day! At the time, of course, there was no internet, so letter sets became very important and were the hit item of the era.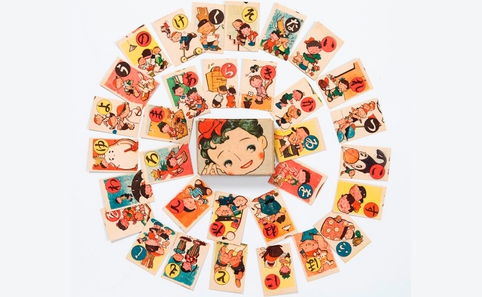 People who followed directly from Takehisa's trend included artists such as Nakahara, who opened a goods shop called Himawariya [sunflower], and Katsuji Matsumoto, who was active from the beginning of the Showa era [1926-89]. Matsumoto is thought to be the originator of shojo manga in Japan, and Kurukuru Kurumi-chan the first example of it. The protagonist, Kurumi-chan, is considered the first character icon. There were Kurumi-chan kisekai dolls [dress-up paper dolls] and stickers, as well as postcards that were meant to encourage troops during the war. The story itself is really quite simple: Kurumi is a five-year-old who is always merry, and hence loveable. It is uncomplicated, and audiences today might wonder why it was so popular.
In the '50s and '60s a lot of fancy goods came on the market as Japan's economy grew. There were improvements in raw materials and technological advances. Directly after the war there was a baby boom, and, as these babies grew up to be teenagers, the market for goods aimed at this age group increased.

Rune Naito's name comes up a lot in reference to kawaii culture. How influential is his work?
He popularised the word 'kawaii'. When you look at his drawings, the ratio of body length to the size of the head suggests the proportions of a very little girl. The facial features are those of a newborn baby, with a large, round head. The distance from the hairline to the eyebrows is really long, giving the face a large forehead, and the nose and mouth are really small. His work was initially seen as a bit weird, but became very popular.

Prior to this era, Japanese women had to mature and become adults quickly because poverty was rampant, and people were encouraged to have a lot of children to provide a labour force and recruits for the army. In fact, it was common for families to have between seven and ten kids. When the men went to war, the women had to work. In the mid-1950s the guys went back to work and the girls didn't have to grow up so fast.



When did seminal shojo manga artists come into the picture?
Artists such as Masako Watanabe and Macoto Takahashi, who drew gorgeous, opulent images, became the most influential people in terms of manufacturing goods. Ado Mizumori was also hugely influential, separating her work from its predecessors by adding a touch of eroticism to the cuteness. For example, her characters had large, round bottoms and appeared in kissing scenes. You could say this was the beginning of ero-kawaii [erotic cute]. From there, the notion of kawaii branched off in different directions, including kimo-kawaii, shibu-kawaii, and otona-kawaii. Perhaps it's because of these sub genres that Japan didn't grow bored of the notion of kawaii and it continues today.



How did Sanrio goods become explosively popular?
From the mid-'60s to the '70s, manga such as Candy Candy and Sailor Moon were very important, as were dolls such as Licca-chan. In the '80s, Tokyo Disneyland opened and sold many goods, making it common for everyone to have at least one Disney item in their house. The birth of Hello Kitty in 1974 was a landmark event too. Though Sanrio had been around previously, selling strawberry-themed goods or Ado Mizumori products, nothing came close to the Hello Kitty boom.

Why were so many goods produced during this time?
This was connected to the oil and dollar crisis [due to the 1973 Arab oil embargo]. Up until then, the general goods industry had been aimed at exports to America, but because of the economic climate of the time they had to focus on the domestic market instead. The success of Hello Kitty led to the realisation that if you made something cute, it would sell. As a result, various companies jumped on the goods-manufacturing bandwagon.

When the economic bubble burst, Japanese people had less disposable income and wanted to buy inexpensive things, so 100-yen shops started up. A lot of fancy goods came to be manufactured just for this market, and, because of this, they came to be seen as kitsch and cheap. Before this generation, it was upper-class girls who had bought kawaii, but now everyone could have inexpensive fancy goods. At one point the industry even wanted to rebrand them 'variety goods', but, unsurprisingly, that idea didn't take off. Since then, there has been a stream of hit characters, such as Tarepanda from San-X, and similar companies continue to make more and more kawaii items. 

This is an excerpt from Kawaii: Japan's Culture of Cute by Manami Okazaki and Geoff Johnson, available now via Amazon Japan and at major bookstores. Republished with permission.

See kawaii-book.blogspot.jp for further details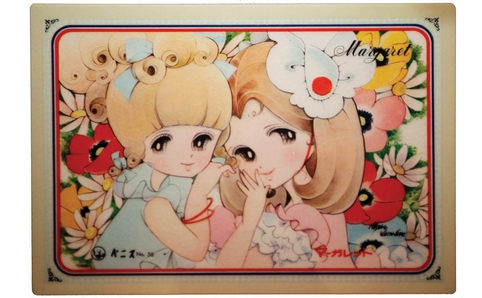 Interview by Manami Okazaki