With both the lingering September heat and humidity, even now one of the best ways to cool-off is to hit the pool. Of course there are the more expensive pool options – complete with cabanas and towel service – however, following the still-strong desire to save some cash, we've decided to hunt down pools that charge and admission of ¥500 or less. Whilst some municipal pools are reserved for the exclusive use of that particular ward's local residents, public officials and students, the pools we've chosen are all open to the general public – regardless of whether they live in the area or not. If you're looking for a brand new place to swim, a 50m pool – or even a pool for infants – Tokyo has a public pool to suit.
Sumida City Gymnasium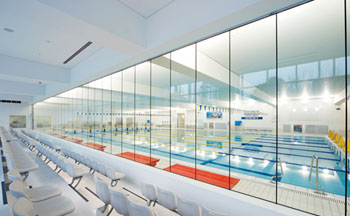 Sumida City Gymnasium opened in April 2010 and houses a 25m pool that's divided into seven lanes. Additionally, the facility also houses a 50cm deep pool for infants and an air bubble pool. What's more, because swimmers and customers using other facilities on the premises share the same changing rooms, swimmers are also free to use the gymnasium's bathing facilities after they've finished taking their dip. In addition to a swimming school and various exercise classes, the facility also offers swimming lessons taught by former Olympic gold medallist Ai Shibata – check the website for further details.

Open: 9am-10.30pm (closed the third Mon of each month)
Admission: (2 hours) ¥500 junior high school students and older
(Full details & map)

Shinagawa Kumin Park Outdoor Swimming Pools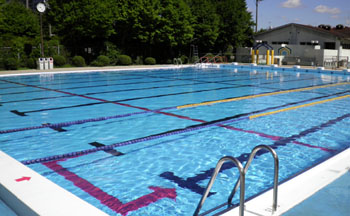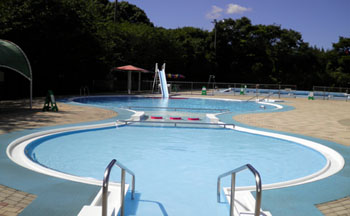 The two pools at Shinagawa Kumin Park pools (one measuring 25m by 19m and one smaller children's pool) are situated outdoors and are only open during summer – this year, until Sunday September 12. In addition to the two pools, Shinagawa Kumin Park is also home to Shinagawa Aquarium – priced at ¥1,300 for adults and high school students, and ¥600 for junior and elementary school students (¥800 and ¥400 respectively for Shinagawa residents). Each year, after the summer swimming season ends, the pools here are transformed into fishing ponds, offering guests the chance to fish for goldfish and herabuna (farmed carp).

Open: Morning Session 9am-12.30pm, Afternoon Session 1.15-4.15pm, Evening Session 5-8pm (Wed, Sat, Sun until Aug 31)
Admission: (3 hours) ¥400 high school students and older; ¥200 junior high school students; ¥100 elementary school students, up to elementary school age and chaperones Free
(Full details & map)

Meguro Citizens Center Gymnasium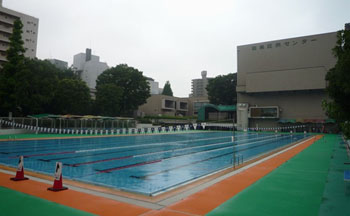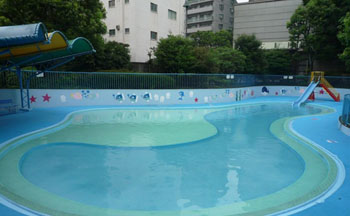 Meguro Citizens Center Gymnasium is home to two summer season outdoor pools, one pool for adults that measures 50m by 20m and a smaller pool for children that ranges from 30 to 50cm in depth – both open this year until Friday September 10. In addition to providing lanes for more serious swimmers, the facility also provides an area of the pool in which visitors can use inflatable toys, such as beach balls, floats and swimming rings – on the conditions that the toys measure no more than 1.4m and provided the pool isn't overly crowded. In the case of adverse weather conditions or atmospheric temperatures the outdoor pool facilities may occasionally be subject to closure. The facility also houses a 25m indoor pool – the admission fees for which are charged separately.

Open: Outdoor pool 10am-8pm, Indoor pool 9am-10pm
Admission: (2 hours) Outdoor pool ¥200; ¥100 junior high school students and younger/age 65 and older; Indoor pool ¥200; ¥150 senior citizens (age 65 and older); ¥150 children (age 3 to junior high school) Over two hours, additional charges are in 90min increments
(Full details & map)

Katsushika City Sogo Sports Center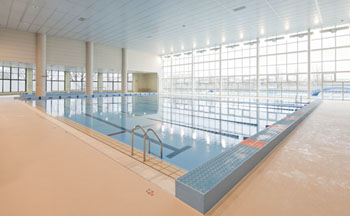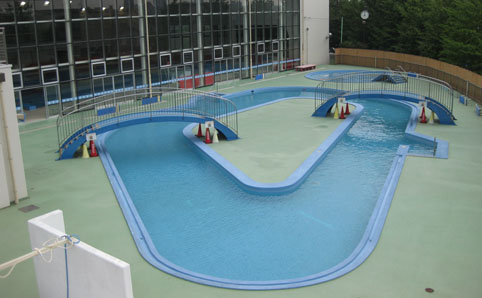 Katsushika City Sogo Sports Center hosts two heated indoor pools (open throughout the year), and an outdoor pool with flowing water that's open during the summer. The main indoor pool has nine lanes and measures 25m in length, ranges from 1.2m to 1.5m in depth. The second of the two indoor pools – a pool for beginners – measures 15m by 6m and has a depth of only 0.9m. The outdoor pool, which features flowing water, measures 8m in length, has a depth of 1m and is particularly popular with children – open this year until Monday September 20 (a public holiday).

Open: Indoor pool 9am-9pm, Outdoor pool 9am-6.30pm (subject to change or closing according to weather)
Admission: (2 hours) ¥300 high school students and older; ¥100 elementary and junior high school students; infants Free (with up to two chaperones)
(Full details & map)

Edogawa-ku Sports Land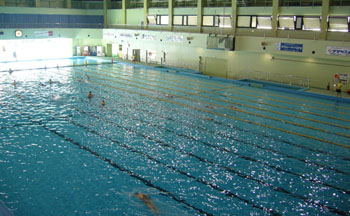 Edogawa-ku Sports Land boasts the only indoor 50m pool within Edogawa ward. Divided into various sections, the pool includes a lane for aqua-walking, a beginner's lane, a one-way lane that runs the length of the pool, and a section with no dividing ropes that's reserved for free swimming and generally having fun. There's also an outdoor pool for children, which parents or guardians are allowed to enter without having to get changed into a bathing suit. Open during summer only – closing this summer on Sunday September 5 – the pool re-opens during winter as an ice skating rink.

Open: Day Session 9am-5pm, Evening Session 6-9pm (Thur until 8pm); Outdoor infant pool open from noon
Admission: ¥200 high school students and older; ¥50 elementary and junior high school students; infants Free
(Full details & map)

Translated by Brin Wilson