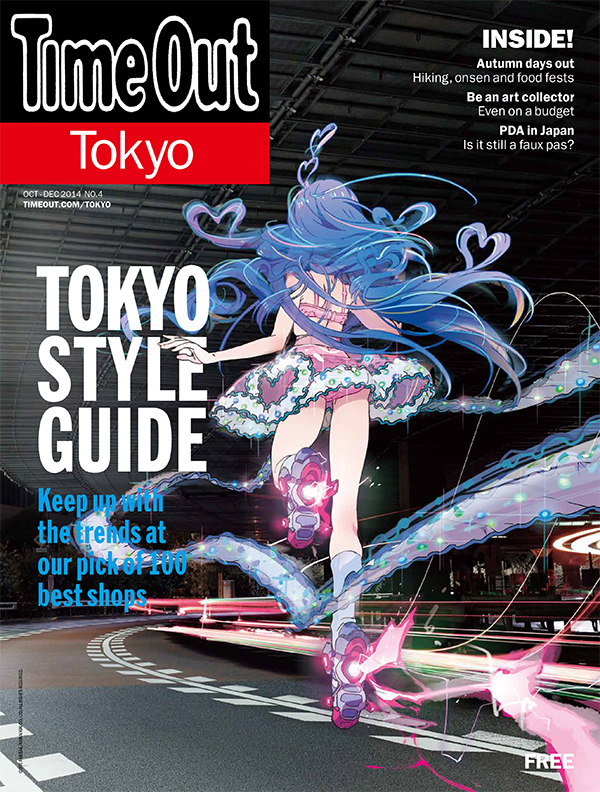 On shelf from September 30, the fourth issue of Time Out Tokyo magazine acts as the ultimate style guide for those who love to shop. Featuring a whopping 16-page guide to the '100 best shops in Tokyo', this issue is your path to retail nirvana, whether you're keen to kit yourself out in subculture gear (like our manga girl on the cover), or you're looking for vintage, decor, books or vinyl.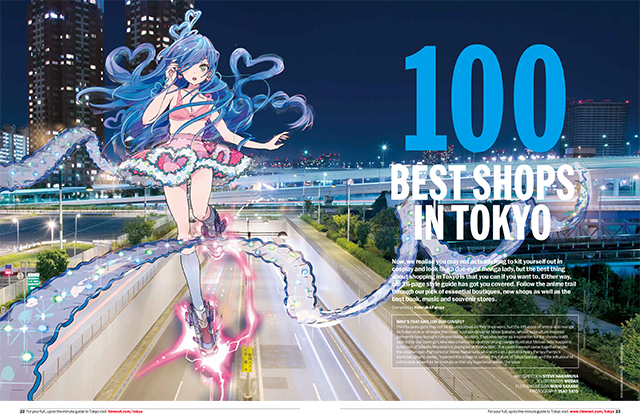 The cover for this issue is the work of Mebae, a cutting-edge illustrator with the Takashi Murakami-led Kaikai Kiki company, and Steve Nakamura, who's worked as art director for J-pop idol Kyary Pamyu Pamyu and also produced the covers for our past two issues. In addition, the cover character's outfit was designed by Mikio Sakabe, one of the leading authorities on subculture styles in Japan. Here's what each artist had to say about their vision for the cover:
Steve Nakamura, art director 'The theme of the issue is style in Tokyo, so I wanted to focus on this city's constantly changing trends. Our cover draws on fantasy, subculture, technology, Tokyo's ultra-modern landscape and "Lolita" eroticism, and portrays a mysterious girl racing forward on a half-real, half-fantasy Tokyo street. Her wild and electric hair flutters in the wind and her innocence mixes uneasily with the amount of skin she's showing. We have no idea where she's going, but she'll certainly show us the way to something exciting.'
Mebae, illustrator 'Steve and Mikio came to me with a complete concept, which Steve described as "futuristic and speedy". I worked off of that, adding a little something sexy and creating a fragile-looking but powerful character whose sights are set squarely on the future. I think Japanese culture and fashion is great at constantly crossing the border between the real and the fictitious, so hopefully this image reflects that.'
Mikio Sakabe, fashion designer 'I wanted to express something minimal in the face of the image's overwhelming "Japaneseness", so I decided on something cute but still unstable, complete with an addictive sexiness and a futuristic vibe.'

Release details:
Title: Time Out Tokyo Magazine no. 4
Publication frequency: Four times per year (planned issues: 2014 - March, June, September, December)
Format: 297 mm x 225 mm (slightly larger than A4), 84 pages
Price: Free
Copies: 100,000

Distribution points
Distributed at over 300 locations nationwide. Please note that copies of the magazine may be limited at each distribution point.

Airports:
Haneda Airport

Tourist information centres:
Shibuya Station Tourist Information Desk
Shibuya Tourist Information Centre
Tokyo Tourist Information Centre at Tokyo Metropolitan Government Building
Asakusa Culture Tourist Information Center

Train stations:
Tochomae Station, Shinjuku Station, Asakusa Station, Ginza Station, Roppongi Station etc.

Hotels:
Conrad Tokyo
Mandarin Oriental Tokyo
The Peninsula Tokyo
The Ritz-Carlton Tokyo
etc.

Shops:
Tsutaya Daikanyama T-Site
Tsutaya Tokyo Roppongi
Tokyu Hands Shibuya
Books Kinokuniya Tokyo

All HUB and 82 Ale House locations in the Kanto region:
Tokyo
Hub: Asakusa, Roppongi, Roppongi No. 2, Ikebukuro West Exit, Ikebukuro West Exit Park, Ikebukuro East Exit, Ikebukuro East Exit Annex, Shinjuku Kabukicho, Shinjuku West Exit, Shinjuku South Exit, Shinjuku Yasukuni-dori, Takadanobaba, Tokyo Opera City, Ebisu, Gaienmae, Shibuya, Shibuya No. 2, Harajuku, Yoyogi West Exit, Kamata West Exit, Gotanda West Exit, Ueno, Ueno Shinobazu-dori, Ginza Corridor, Shinbashi, Hibiya, Yaesu, Akihabara, Ichigaya, Ochanomizu, Tokyo Dome City, Kinshicho, Kitasenju, Kichijoji, Kichijoji South Exit, Hachioji, Machida
82 Ale House: Ikebukuro East Exit, Shinjuku Sanchome, Shinjuku West Exit, Takadanobaba Clovers, Shibuya Miyamasuzaka, Akasaka, Kamiyacho, Gotanda West Exit, Shinagawa, Hamamatsucho, Mita, Tsukiji, Higashi-Ginza, Akiba Tolim, Kanda, Kanda East Exit, Kinshicho
Chiba
Hub: Kaihin-makuhari, Kashiwa West, Shinurayasu, Chiba Fujimi, Funabashi
Saitama
Hub: Omiya West, Omiya East, Tokorozawa Prope Dori
Kanagawa
Hub: Kawasaki, Keio Hiyoshi, Colette・Mare Minatomirai, Sagami Ono, Yokohama Tsuruyamachi, Yokohama West
82 Ale House: Kannai, Yokohama West
By Time Out Tokyo Editors