Despite some recent reports to the contrary, Japanese music fans seem to be slowly but steadily abandoning physical records and catching up with the global trend of buying music online. This movement is unlikely to slow in the years to come, creating fears that the island nation's stores specialising in CDs might soon be facing the kind of mass extinction that struck record shops in the US and Europe during the first decade of the new millennium. One of the most famous victims of this sea change in the industry was Tower Records, the US-born disc empire that finally went bankrupt in 2006.
For now, however, this legendary name lives on in Japan, where the local Tower incarnation is still the market leader and its Shibuya store remains an area landmark. This curious state of affairs is also what brought actor-director Colin Hanks (yes, he's Tom's son) and producer Sean Stuart to these shores: the duo is currently working on All Things Must Pass: The Rise and Fall of Tower Records, a documentary focusing on the life and work of Tower founder Russell Solomon and his associates. We caught up with Colin and Sean in Tokyo, a city that's played an immense part in the history of this subcultural icon.
Why did you decide to make this film?
Colin: Sean and I both grew up in Sacramento [California, the birthplace of Tower Records]. Sacramento is a relatively small town and not a lot of things come from there, so we were always really proud of the fact that we had such a big, worldwide company. I remember having a conversation with someone else from Sacramento around the time that the stores were closing in the US, and we were talking about how sad it was. My friend basically said 'Just to think, it's so amazing that this guy started by selling records out of his dad's drug store in the '30s and '40s', and I remember being like 'what, I've never heard that before'. She then filled me in on Russ Solomon and how Tower got started, and I pretty much instantaneously thought 'that's a documentary right there'. I then mentioned it to Sean a few weeks later, and that was basically the beginning of our seven-year journey.
Sean: It was a no-brainer. You had an incredible story of this man and what he had accomplished, starting from nothing and growing this business that become an international fixture and delivered music to so many thousands of people. It really was a story that we felt needed to be told.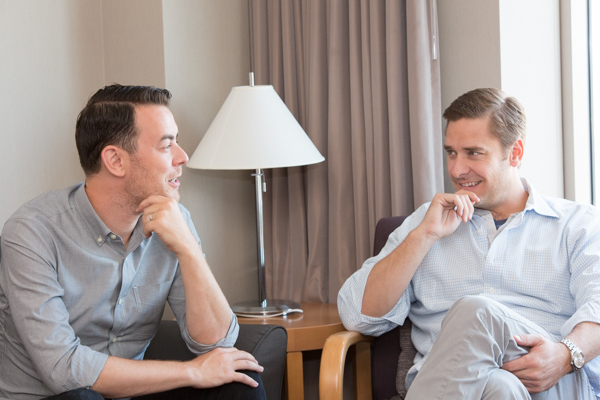 What's your personal connection with Tower Records, and what was the very first thing you bought at the store?
C: I actually remember buying my first Public Enemy record at Tower, and a bunch of cassette singles too. Didn't we buy tickets to Stone Temple Pilots?
S: Yeah, they had the Ticketmaster. Part of the allure of Tower was that you could buy concert tickets there, so we bought some to Stone Temple Pilots. 1994, Aqua Arena?
C: Aqua Arena, second row. One of the many skeletons in my concert closet.
S: Yeah [laughs]. I don't remember the first record I bought, but I do remember buying one my father recommended: Jimmy Cliff's Many Rivers to Cross.
You mentioned that your first visit to Tower was in 1994 – around the time when the business was expanding throughout the US. What was it about Tower that appealed to you?
S: It had to be the selection, right?
C: The selection and the extensive catalogues were what really set it apart. I wasn't super aware of the differences between Tower and other stores at the time, but I did know that Tower had a better selection than any of the other retail chains. I would see Tower in both northern and southern California, and there were no better stores. I was kind of excited when Sacramento got its first Virgin Megastore, but although the store looked nice, the selection wasn't as good [as Tower's].
S: Tower always had an edginess, an attitude to it. You walked in there and it just felt like the people there knew what they were doing. They knew the products they were selling and really cared about selling records that matter. As for Virgin, it felt more commercial, like a department store. I think this had a lot to do with the way Tower ran their business – it was very personalised in each city.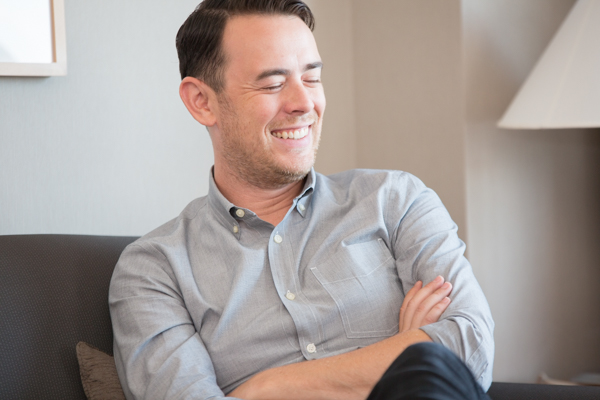 You mentioned that Tower had 'edge' – was that really something new at the time?
S: You know, I think a lot of companies want a very clean and conformist feel to what they do and what they represent. One of the things we love about this company and about this documentary is that Russ Solomon created a business model that let the people in the store be who they really were. Be unique, be interesting, have long hair, your own clothes – all things you don't typically see in a large business. I think it was just a unique environment, and you'd feel that. You walk in and you feel like you're seeing something cool and interesting, in a way that you didn't find anywhere else.
Compared to other stores, did you feel like the selection was carefully curated?
C: Without a doubt. Tower always really prided itself on the fact that each store represented its own area, its neighbourhood, its prefecture. Although they were all Tower stores, each store was run in its own way, had its own selection and looked different, all under the same brand. The people that worked at each store made it their own store, so they were able to decide what to sell. It was never corporate telling the stores what to sell, it was the store giving the people what they wanted. Corporate would then hear from the stores and know what's selling now. Also, to touch a bit on what Sean said, I always looked at the clerks and the people who worked at Tower and thought they were the coolest people on earth. That was the only retail store I ever wanted to work at, and applied to work there during college. They told me there were so many applicants that they'd never hire me.
What was your first impression of Russ?
C: I was very nervous. We were very nervous because here we were, asking a complete stranger if we could make a documentary about his life. It's not a normal first conversation. Still, I was really blown away by how laid-back and comfortable he was. He was around 82 years old but it felt like talking to a young(ish) man. He's a great guy, he's got a razor-sharp wit, he's funny.
S: He's the most modest person you'll ever meet. He takes no credit for what happened and gives the credit to everyone else. He was the guy who started it, he had the idea, but he'll tell you he thinks everyone else was responsible for what it became and how great it became. I think of the number of times he turned to us and said 'I think you guys are crazy for making this documentary, who's gonna want to watch this?', but that's just the modesty he has.
C: He also said 'How are you gonna make any money' [laughs].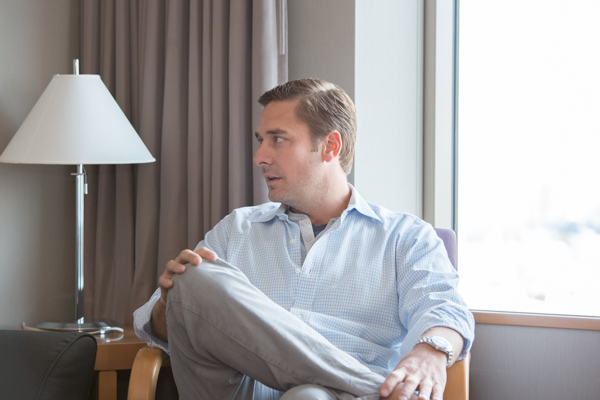 What made you decide to go for a documentary style?
C: I always find it more interesting to hear a story from the people who lived it. Personally, I like documentaries, I watch documentaries a lot. I enjoy them immensely. So I don't know, I never thought for a second of making a narrative film out of it.
S: Yeah, you find a great story like this with a great character and a great storyline and the truth is often a lot more entertaining than the fictionalisation of it.
C: Also, I make movies, I make TV shows, I make plays: I'm an actor, and it [making a documentary] seemed like something fun and different.
Does Tokyo still play an important role in the film?
C: I'd take out the word 'still' and say 'most definitely'. From the moment we started really digging in and learning about the history of the company, we found out that Tower actually started in Japan before the east coast of the US, before New York or anything. We found that Tower opening stores in Japan and becoming such a great success was arguably the most important chapter of the company, so Japan has always been crucial to the Tower story. This wouldn't be much of a Tower documentary if we didn't discuss Japan. So for us, in our many years of trying to raise funds and having meetings about the film, we always said 'we gotta go to Japan and film Japan'. So for us to be here right now is a great thrill and an honour.
What's the difference between the Tokyo store and other stores?
C: First, as Tower no longer exists in the US, being able to walk into the Shibuya store, or any other store for that matter, is like walking into the past for us. It's a good feeling – strange but good. I went to the London Piccadilly location, one of their biggest stores, but the Shibuya store is unlike anything I've ever seen: the look and feel of each floor is very different. Stores like that don't exist in the US any more.
S: I think it's hard to compare with something that doesn't exist any more. Japanese culture and American culture are different in so many ways, but for the most part, the culture of music, loving music, buying music and selling music come with a lot of core similarities. The stores look the same, they feel the same – if you take the Kawasaki store and put it into a mall in Sacramento, it fits right in.
The title mentions Tower's 'rise and fall'. What do you think we can learn from the Tower story?
C: Well it's interesting: in the US, the story is 'rise and fall', but not here in Japan. First off, I think the history of Russ and the history of the company make for very interesting snapshots of a specific time and place in American pop culture. We're going to explore that in the film, but also plan on really celebrating the 'family' of Tower people that Russ put together. Obviously, there were so many thousands of people that worked at Tower Records, so it's impossible to tell the entire story. There's a core group of people that Russ is very close with, people he spent his entire working life with – 20, 30, 40 years – so we want to celebrate that.
S: I also think there are very interesting cultural aspects to this project. In America, culturally, we're beginning to see the erosion of stores: people aren't visiting stores as much. They're not shopping [in physical stores] and interacting with human beings. It's something that's missing in American culture. Then, we come here to Japan and there's an eight-storey building full of people shopping, interacting, seeing each other. I think that's an important thing. It's great to see it happening here, and it makes me sad that we don't have that any more.
What stage are you at right now with the documentary?
C: We're at the beginning of the end [laughs]. No, we're very close, we've started editing the film and will hopefully have a version to show people soon.
Finally, how has your trip been so far?
S: Colin's been to Japan before, but this is my first time. The food is incredible and there's just an energy about Tokyo that's incredibly invigorating. I think when you're producing something, you want your energy level high, and this city is just full of energy – it's great.
C: I'm really happy to be back. I had such an amazing time the first time I was here, so it's very nice to be here. It feels familiar. I wish we were here longer, could go to a baseball game, had more time to go shopping, but it's very nice to be back. I very much look forward to our next visit, whenever that may be.