For years Luc Besson has been bringing strong heroines to the big screen (think 'La Femme Nikita', 'Leon', 'The Fifth Element', and 'The Messenger'). The thirteenth film under his direction is an adaptation of the popular French comic series starting in 1976, 'Adèle Blanc-Sec'. This fantasy adventure revolves around a young, quick-witted and attractive novelist turned investigative journalist, whose travels take her from Paris to Egypt in search of a magic elixir.

Adèle is on the trail of the wonders of the world, and next on her list of treasures is a life-saving elixir, which she hopes will save her dying sister. Adèle flies to Egypt where along the way she finds a mummy as a clue and she runs into her arch nemesis Dieuleveult. Meanwhile in Paris, a fossilized dinosaur egg on display in a museum hatches, terrorising the inhabitants of the city and plunging Paris into a state of panic. Adèle flies back to Paris to get the professor who brought the dinosaur back to life to examine the mummy.

In his other films, Luc Besson has cast relatively (then) unknown actresses in the lead roles such as Natalie Portman ('Leon') and Milla Jovovich ('The Fifth Element', 'The Messenger') from which they have gone on to make big careers. This time, however, playing the role of our new heroine Adèle is young French actress Louise Bourgoin. While Bourgoin started out as a television weather presenter, it was for her unconventional performances dressed up in costumes such as a DJ, pirate and Disney characters – or later– appearing live on air covered in blood (or drinking and smoking) that she gained the most popularity. In 2008 she made her long awaited screen debut. The next year she was nominated for a César Award for Most Promising Actress. While she may have once been a dress-up weather lady, it will be interesting to see how she will again transform herself into the role of Adèle.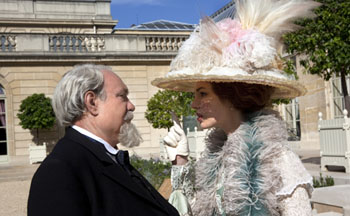 The Extraordinary Adventures of Adèle Blanc-Sec
France, 2010
Japanese title: Adèle: Farao to Fukkatsu no Hiyaku
Opened: July 3
Director: Luc Besson
Cast: Louise Bourgoin, Mathieu Almaric, Jacky Nercessian, Nicolas Giraud
Distributor: Asmik Ace
Website: adele.asmik-ace.co.jp/

The Hangover
With his marriage in less than two days, a bridegroom and his friends travel to Las Vegas for his bachelor party. The next morning they awake to a killer hangover, their room completely trashed, the groom missing and – for some reason – a baby in the closet. What could have gone on the night before?

USA, 2009
Japanese title: Hangover! Kieta Hanamuko to Shijyou Saiaku no Futsukayoi
Opened: July 3
Director: Todd Phillips
Cast: Bradley Cooper, Ed Helms, Heather Graham, Zack Galifianakis
Distributor: Warner Bros. Pictures
Website: wwws.warnerbros.co.jp/thehangover/

Bayside Shakedown The Movie 3: Let the Guys Loose!
This is number three in the smash hit Bayside Shakedown series which took over 1000 billion yen at the box office for both the first and second instalments. Seven years have passed since the bizarre serial murders which plagued the bayside police station. The station is moving to a new location, and while in the midst of moving a series of incidents occur. To make matters worse, three of Aoshima's hand guns are stolen from the police station and a series of murders unfold.

Japan, 2010
Japanese title: Odoru Daisousasen The Movie 3: Yatsura wo Kaihou Seyo!
Opened: July 3
Director: Katsuyuki Motohiro
Cast: Yuji Oda, Toshiro Yanagiba, Eri Fukatsu, Yusuke Santamaria, Atsushi Ito, Yuki Uchida, Koutaro Koizumi, Susumu Terajima
Distributor: Toho
Website: www.odoru.com/

The Cove
This is a hard-hitting documentary about the secret hunting of dolphins in Taiji, Wakayama prefecture.

USA, 2009
Opened: July 3
Director: Louie Psihoyos
Cast: Louie Psihoyos, Richard O'Barry, Hayden Panettiere
Distributor: Unplugged
Website: thecove-2010.com/

Repo Men
In the near future, artificial organs will be able to extend human life – but only if you can keep up with the payments. The main character is a repo-man for the pricey organs, and after becoming just like the people he hunts down is out to discover the truth. A sci-fi action-suspense thriller starring Jude Law.

USA, 2010
Japanese title: Repossession Men
Opened: July 2
Director: Miguel Sapochnik
Cast: Jude Law, Forest Whitaker
Distributor: Toho-Towa
Website: repo-men.jp/
Translated by E. Kavanagh