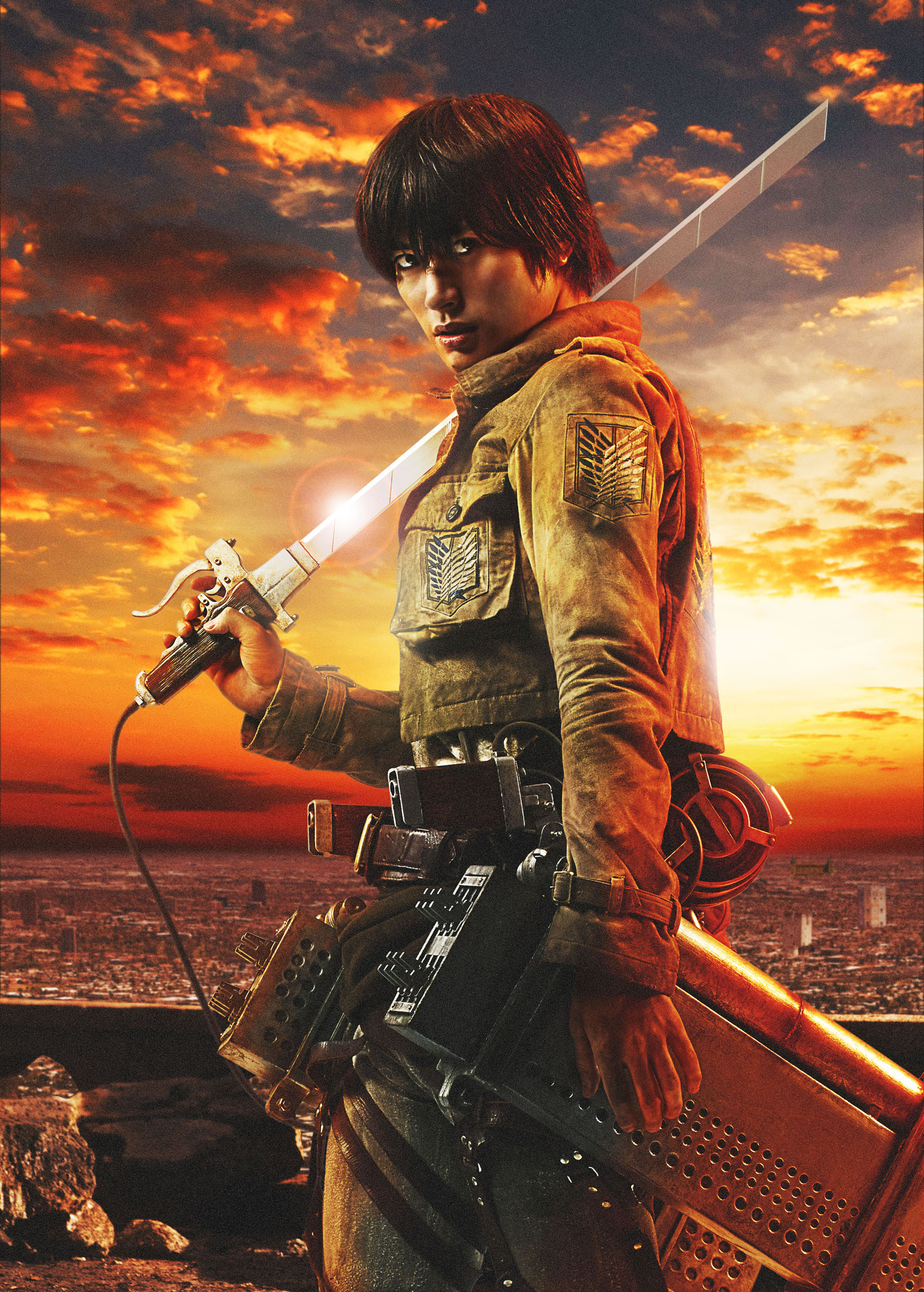 Haruma Miura stars as Eren in 'Attack on Titan'. PHOTO: © HAJIME ISAYAMA/KODANSHA © ATTACK ON TITAN PRODUCTION COMMITTEE
Even for residents of Tokyo whose knowledge of anime doesn't extend much beyond 'Dragon Ball Z', it would've been hard not to take notice of 'Attack on Titan', the manga-cum-anime about the battle between humanity and giants whose primary food source is, uh, humanity.
The manga comic, which debuted in 2009, has been adapted into anime, video games, a Marvel comics crossover, a Universal Studios Japan 4D show, and now not one but two live-action films, both set to debut in summer 2015.
'Attack on Titan' is just the latest manga to get the live-action treatment. Though adapting comics for the big screen is a practice that stretches back to the '70s (see 'Lady Snowblood', which heavily inspired Quentin Tarantino's 'Kill Bill'), in recent years it's become a practical industry, with 2014 alone seeing the release of several high-budget releases that did big bucks at the Japanese box office. Just what's behind this manga-to-live-action trend?
One factor, no doubt, is the range of audiences that live-action adaptations attract. Take 'Rurouni Kenshin', the 2013-2014 film trilogy about assassin-turned-hero Kenshin and his efforts to bring peace to Meiji-era Japan. It scored huge numbers by bringing in two distinct groups: fans nostalgic for the original manga (sometimes called 'Samurai X' abroad) which ran from 1994 to 1999, plus fans of heart throb stars Takeru Satoh and Emi Takei.
Another factor is the advancement of computer graphics technology, which has turned previously unadaptable manga into candidates for big-screen treatment. Just look at November 2014's 'Parasyte', the first half of a two-film adaptation of the '90s manga about a boy and his parasitic but friendly talking alien hand. Reportedly bought up by a Hollywood studio in the early Noughties, 'Parasyte's' time in rights purgatory ended up being the best thing for it, with director and visual effects whiz Takashi Yamazaki bringing the film's host of creepy baddies to life in way that would've been impossible (or looked horribly cheesy) just a few years ago.
The same goes for 'Attack on Titan' – a big part of the success or failure of the live-action films will rest on how effectively they can recreate the manga's lumbering, ceaselessly-grinning giants. Luckily, the adaptation is the hands of director Shinji Higuchi, a veteran SFX man whose effects work stretches back to the 'Gamera' films of the '90s. It's anyone's guess what Higuchi's titans will look like, but his trial run can be seen in an 'Attack on Titan'/Subaru tie-in commercial that debuted in early 2014, featuring a Subaru Forester outrunning some live-action giants (watch the ad below). A series of teaser posters for the films, showing off the cast in costume, included new characters not in the manga, setting off a flurry of speculation online about how close to the original story the films will cleave. Our not-so-controversial prediction: regardless of how these movies turn out, the profit they're going to rake in will be titanic.
'Attack on Titan' is set to be released in two parts, with the first film scheduled for release in Japan on August 1, 2015 and the second on September 19. More info here.
Watch the 'Attack on Titan'/Subaru commercial:
Something for the ladies

These manga-to-live-action films aren't just action flicks – plenty of shoujo (young women) manga have also been given the live-action green light in recent years. November 2014 saw the release of 'Clover' (watch the trailer below), an office-lady love triangle romance based on a late '90s manga, which starred none other than 'Rurouni Kenshin' co-star Emi Takei. And in December 2014 came 'Princess Jellyfish', the story of a no-boys-allowed university dorm occupied exclusively by young female otaku. An exhibition at Shibuya's Parco building in anticipation of the film required male guests to don a piece of female clothing before entering.