Planning a trip to Tokyo and want to learn more about Japanese culture before you arrive? Below is our pick of the top ten Japanese films you should watch to learn more about the country's history, culture and modern society. Also, read about how manga is coming to life through the trend of bringing Japanese comics to the big screen. Then, once you're here, take a cinematic tour through Tokyo, and discover Tokyo's old-school cinemas where you'll get a real feel for the country's Showa era.
Tokyo Story (1953), drama
The plot When an old couple visit their children in Tokyo, their kids are too caught up with city life to spend time with them. Their widowed daughter-in law, by contrast, takes them in.
What you'll learn See what Tokyo and Onomichi looked like during the golden Showa era in this Yasujiro Ozu masterpiece that questions what it means to be family.

Tetsuo: The Iron Man (1989), cult horror, sci-fi
The plot A 'metal fetishist' gets knocked over by a car, then takes revenge by slowly turning the driver's body into one big piece of metal.
What you'll learn Like Katsuhiro Otomo's 'Akira', this film is said to be one of Japan's representative cult classics. It's a graphic, underground, black-and white film that illustrates why Japanese horror out-spooks the rest.
Sonatine (1993), crime drama
The plot One of Takeshi Kitano's (aka Beat Takeshi) most praised films. He directs and stars as a Tokyo yakuza member who is sent to Okinawa to resolve a gang dispute.
What you'll learn Get insight into yakuza culture and the beauty of Okinawa, but also what an orthodox summer holiday is like in Japan.
Air Doll (2009), fantasy drama
The plot Inflatable sex doll comes to life, starts an adventure in the human world and falls in love with the guy from the rental video shop, where she also starts working.
What you'll learn What happens behind closed doors in the lives of single salarymen as director Hirokazu Koreeda explores the loneliness of living in a modern, massive city.
I Give My First Love To You (2009), romance
The plot Based on an eponymous manga, this was one of 2009's highest grossing movies in Japan and follows the relationship between Takuma, who is told he won't live past 20 because of a heart condition, and his childhood friend Mayu.
What you'll learn Although 'Air Doll' would have you think otherwise, innocent first love is alive and well in Japan.
Shinjuku Swan (May 30, 2015), action
The plot This live-action film adaptation of Ken Wakui's manga series sees penniless Tatsuhiko Shiratori take a job as a scout who recruits women for the adult entertainment business.
What you'll learn With many of Wakui's own real-life experiences serving as inspiration, you'll be getting a proper behind-the-scenes look at Japan's infamous red-light district, Kabukicho.
THE ANIME CONTENDERS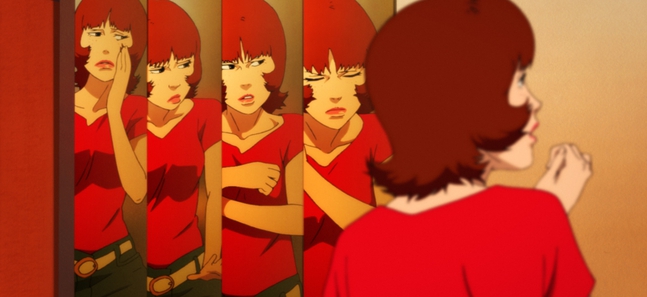 Paprika (2006)
While research psychologist Dr Atsuko Chiba is involved in the development of a device to monitor people's consciousness, she has two personas. She invents a device called the 'DC mini', which allows the user to view people's dreams. And as dream detective 'Paprika', she helps her patients by entering their dreams to remove their trauma and heal mental illness. The film is based on Yasutaka Tsutsui's 1993 novel.
The Girl Who Leapt Through Time (2006)
A high-school teen discovers she can time-hop and attempts to use her power to change things for the better. See a different style of Japanese animation that forgoes the usual cute, oversized facial features and also balances fantasy with daily life in Japan.
Princess Mononoke (1997)
Cursed by a demon, a tribal prince sets out on a quest for a cure, meets a girl raised by wolves and gets caught up in a struggle between nature and the forces of 'progress' in this most morally complex of Hayao Miyazaki masterpieces. The story portrays how respect for natural life and the environment forms the basis of the Japanese worldview. Take this lesson to heart – or prepare to face the wrath of ancient spirits and grumpy apes with questionable grammar.
Grave of the Fireflies (1988)
Young Seita and Setsuko struggle to survive World War II and end up living in a cave. Based on a semiautobiographical novel by Akiyuki Nosaka and animated by the famed Studio Ghibli, this is known as one of the best anti-war films, giving viewers a poignant look at the consequences of war.

This article originally appeared in the spring 2015 issue of Time Out Tokyo magazine.