Once again, Hibiya Park is hosting Oktoberfest, a 10-day beer festival inspired by the famous 16-day beer festival of the same name held annually in Munich, Germany. Since its first showing in 1810, the original event – now one the most famous events in Germany – has become the largest beer festival in the world. The present day Munich Oktoberfest is truly a mecca for beer lovers; over six million people attend the event, which runs from late September to early October – and it will be celebrating its 200th anniversary this year.
In a similar fashion, 2010 also marks a special year for the Hibiya event, which began in 2006 and this year celebrates its 5th anniversary. Contrary to the name, however, and with the notion that early summer is the ideal season to enjoy a German beer or three, the Hibiya Oktoberfest takes place in May.
The event is localised around a marquee by the water fountain in Hibiya Park and offers a wide variety of quality German beers, including three new varieties: Einbecker, Franziskaner Weiss Dunkel, and Schwarze Weissbier. Around the marquee, you'll also find a range of stands offering the expected genuine German beers as well as sausages, pretzels and other German delicacies. Keep an eye out for the German folk musical group Grasletin Musi, who will be giving daily performances at various times throughout the festival. Also worth hunting down are the people handing out ¥200 discount coupons that can be traded against the price of a beer: more information can be found in the twitter feed at twitter.com/oktoberfest1810.
During the weekends the crowds can reach gargantuan proportions; the best time to go is to avoid the melee is between noon and about 4pm on weekdays. All in all, approximately 50,000 people are expected to attend the event, making this particular festival not only a great chance to let your hair down, eat, drink, sing and dance, but also to experience Japan's largest beer festival.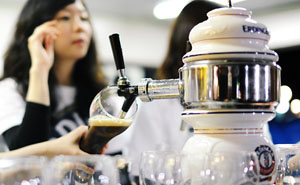 Hibiya Oktoberfest 2010

Date: Until Sun May 30
Time: Mon-Sat 12noon-9:30pm, Sun 11am-9pm (LO 30 minutes before closing)
Location: Hibiya Park (by the water fountain)
Adress: 1-3 Hibiya Koen, Chiyoda, Tokyo
Admission: Free (not including food and drink; ¥1,000 glass refundable glass deposit)
Website: oktober-fest.jp/hibiya/
Translated by Brin Wilson